In life, despite our differences, we women do have certain things in common that we love to indulge ourselves with. You could be from a different country, have a different profession or be any age; what we all share is our love for cosmetics. There is one particular cosmetic that has a special place in most of our hearts; I am of course talking about nail polishes.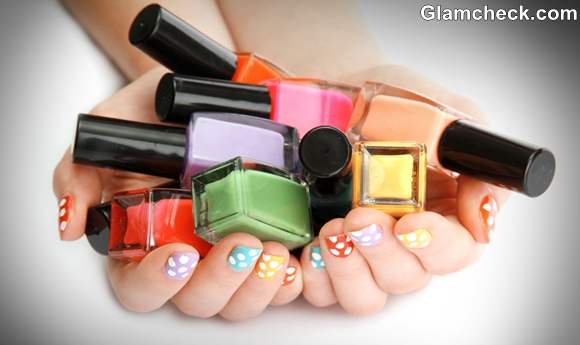 How to Make Nail Polish Last Longer
In today's age of variety, making every nail polish last as long as it can is essential. There are so many times where just when you think you've found the perfect nail polish, it goes out of production. And to avoid that from happening, you have to buy bottles and stock up beforehand because you know you're probably not going to find the exact shade again. Or you may have recently got your nails freshly manicured, only to have the paint chip a few days later leaving your nails looking uncared for. Or then again, you may have saved up to buy a particularly expensive brand of nail polish only to find it unusable after a while due to carelessness on your part. In cases like these, a few pointers can help you make the most of your nail polish.
Keep Your Nails Healthy
Did you know that the health of your nails could affect the longevity of your nail polish? The way a nail polish works is that the polish attaches itself to the surface of your nail which in turn determines how long the polish is going to last. Nails can be made strong and healthy with cream & oil massages, so make sure to get them done regularly.
Tips:
Almond oil, olive oil or castor oil is very good for nail strengthening. Just rub them over your nails and cuticles.
Dip your finger nails in cider or apple vinegar for a few minutes before painting them and allow them to dry naturally. This will enable the nail polish to adhere to the surface of your finger nails better.
Avoid using the tips of your nails as tools. Instead use the pads of your fingers for activities like holding things or typing.
If your nail has oils on the surface, the polish is likely to chip off faster. So in order to protect your nail, use some nail polish remover to remove the excess oil and dirt. This helps bind the polish better.
Remember the list; first use soapy water (you can use a toothbrush to clean your nails), trim, file and buff your nails, moisturize your cuticles, wash your hands and remove excess oils. Now your nails are ready to paint.
Invest in Quality Products
While buying nail polishes, we sometimes trade quantity with quality. So instead of buying one really good nail polish, we end up buying a few cheaper ones. This not only results in frequent chipping of your nail polish, but it also reduces the quality of your nail. The only way to break this cycle is to buy a product of good quality. It doesn't have to be a very expensive one, but do make sure that it's from a reliable brand.
Tips:
While choosing your polish, avoid darker colors since they chip faster than lighter ones.
Also, remember that sparkly nail polishes last longer because the sparkles cling to the surface of the nail
Put Them in the Fridge
You've probably heard this one before. Nail polishes last longer when placed in a fridge or cooler. Just make sure that you don't freeze them. The texture of your nail polish can change if you don't keep it in a cool place.
Recycle
'Want not, waste not.' Recycling a cosmetic is something that all of us should do on a regular basis. This is especially true for all you fashionistas out there who would rather throw away perfectly good cosmetics as soon as the season changes than continue using them until they get over.
While I definitely advocate throwing out cosmetics that have crossed their expiry date, I also think that we should make the most of what's left before we reach that stage. So use your nail polishes as long as you can, without it expiring or drying up.
Tip: Dilute really thick nail polishes with nail polish remover for easier application. While that may be an immediate solution, your polish is likelier to peel quicker than if you'd used a newer polish.
Store Them Right
The right temperature conditions help keep any cosmetic from becoming unusable. Keep your nail polishes in a cool, dry place that doesn't have too much moisture. For people who live by the beach or in other such areas where the climate is humid or the temperatures are extreme, make sure to keep the cap of the bottles tightly shut and place them in a fridge.
Use Them Correctly
Here are a few tips on using your nail polishes correctly.
When nail polishes are manufactured, if you notice a clear layer of liquid above the nail polish, then you must remember to make sure you roll the bottle instead of shaking it. This helps eliminate air bubbles and also helps evenly mix the two layers for a perfect coat.
You could paint your nails after your bath or pre-soak your hands in lukewarm soapy water and pat them dry before applying your polish. You could also use vinegar. Your nail polish could have a longer life if you dampen your nails with vinegar and let it dry before applying nail polish.
Using a base coat is essential while applying nail polish. This helps protect your nails from getting stained. But if your nails are stained from before, soak them in some lemon juice for about 10 minutes to remove the yellow tinge that may appear on them. This usually happens if you haven't removed your previous nail polish for a long time.
Apply your nail polish in multiple coats. Let one coat dry a bit before applying the next coat. Also keep in mind that the amount of polish on your brush should be consistent every time for an even layer and that the paint is neither too thick nor too thin.
Too many layers cause the paint to peel away faster and a very thick coat gets air bubbles. So make sure to have one base coat, a double coat of your favorite polish, and a top coat.
And lastly, applying a top coat is of the utmost importance. A clear gloss works well as it gives your nails a shiny look and helps protect the nail polish beneath. The top coat can be the same as the base coat. Also, you can harden the top coat by soaking your hands in cold water for a few minutes after the top coat has dried.
These are just a few ways to help make your nail polishes last longer. While there are a few more tips that I'm sure most of you have heard of, just have lots of fun while using nail polishes. Don't forget that the true magic is all on your fingers!!
Shutterstock