Winters are a big ticket season for the fashion world. September hence is sort of the New Year for fashion, and the September issue of publications the most important. But why so, many wonder. It's the layers! Think about how many items you can sport from your wardrobe when it gets cold and how stripped down summers feel in contrast.
It is the layering that makes it possible for us to combine our summer loves with winter wear. One such key item is the skirt. This feminine item is as loved in winters by fashionistas as in the warmer weather. Though the fabrication often changes, the winter skirts are heavier and warmer. But experiment is the key, and here are some great ways to style a skirt in winters.
For Mild Cold
When it just starts to get slightly chilly, and you do not exactly need many layers – styling a skirt becomes the easiest.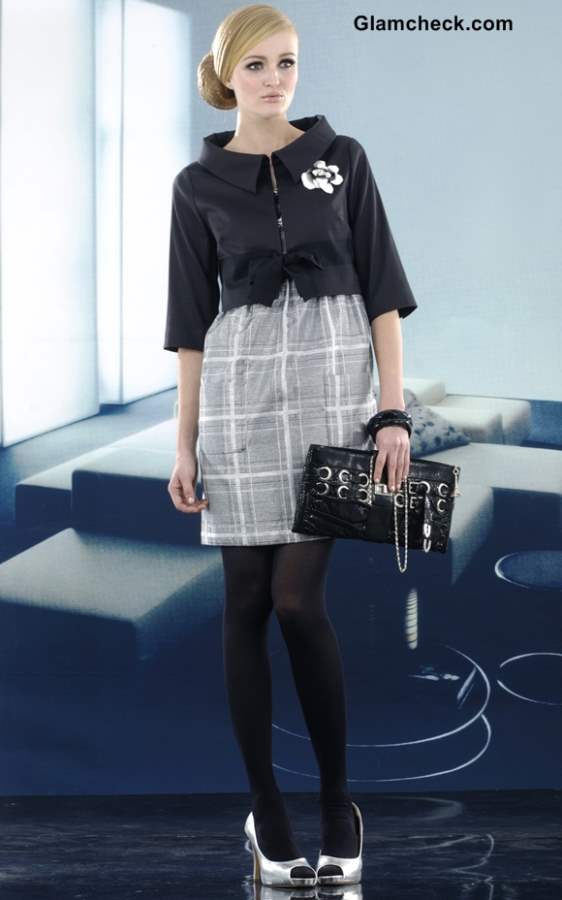 How to Stylishly wear Skirts in Winters
High waist skirts with plaids or solid colors can be transformed into an evening look quickly.
Pair a neutral skirt with black nylon stockings and a cropped jacket to match.
Accessorize with a clutch and peep toes. With the metallic trend in full swing, the heels can be silver or gold according to your color combination of the outfit. Also if the wrists are visible, a cuff or wrist watch is a must.
Style your hair in a side bun for chic vibe and accentuate eyes with volumizing mascara.
If the outfit feels plain and the jacket does not have enough detailing, simply add a brooch.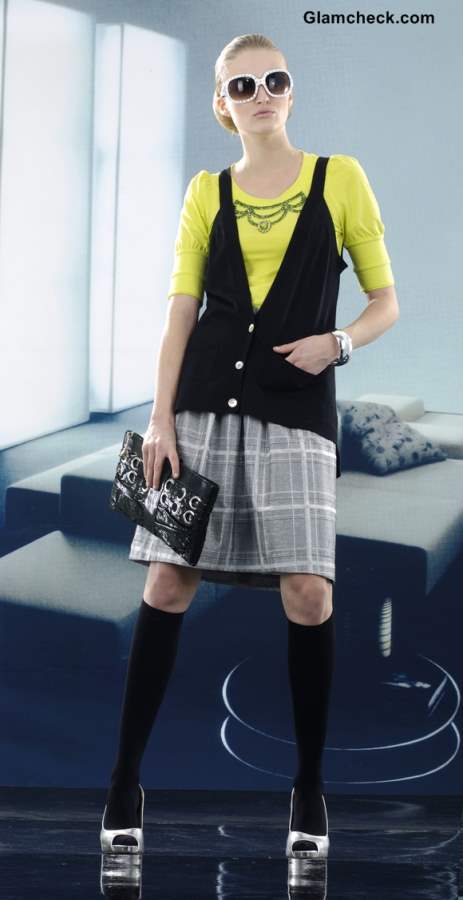 How to wear Skirts in Winters
Keeping many pieces same, the outfit can be styled for day time too.
Pair the neutral skirt with a bright jewel print tee. Layer with a black sleeveless buttoned cardigan.
Knee high socks matched with the cardigan in black and metallic peep toes complete the outfit.
A flattering pair of sunglasses, a hand-held bag and a metal cuff for the wrist should be your accessories of choice.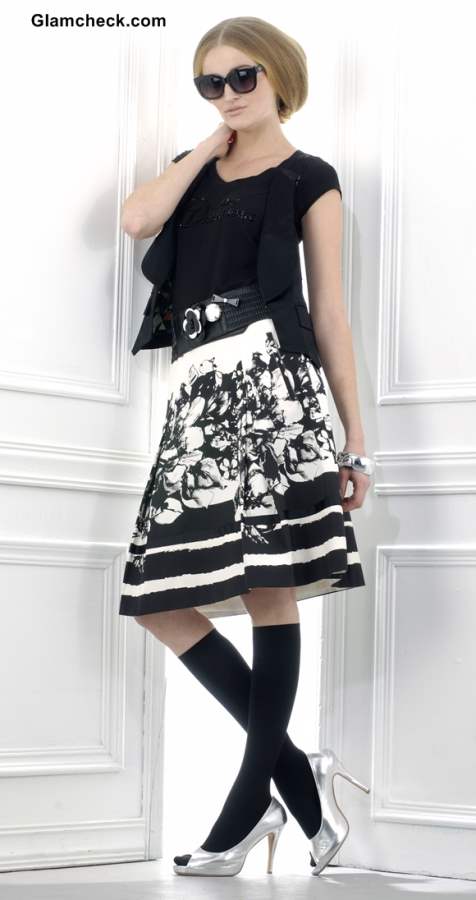 Wearing Skirts in Winters
A monochromatic outfit with a printed A-line skirt hitting the knees is exceedingly chic.
Choose a medium sized black and white floral and striped print. Combine with a cap sleeves tee and black open waistcoat.
Wear long nylon stockings in black and metallic peep toes. A cinching waist belt can be an added focal point.
A bouffant and black acetate sunglasses complete the look.
Long sleeves under Short Sleeves
The trend which was first popularized a few years ago amongst boys, has evolved to be unisex and is a key to winter layering. Done right it can still be fashionable and goes very well with skirts.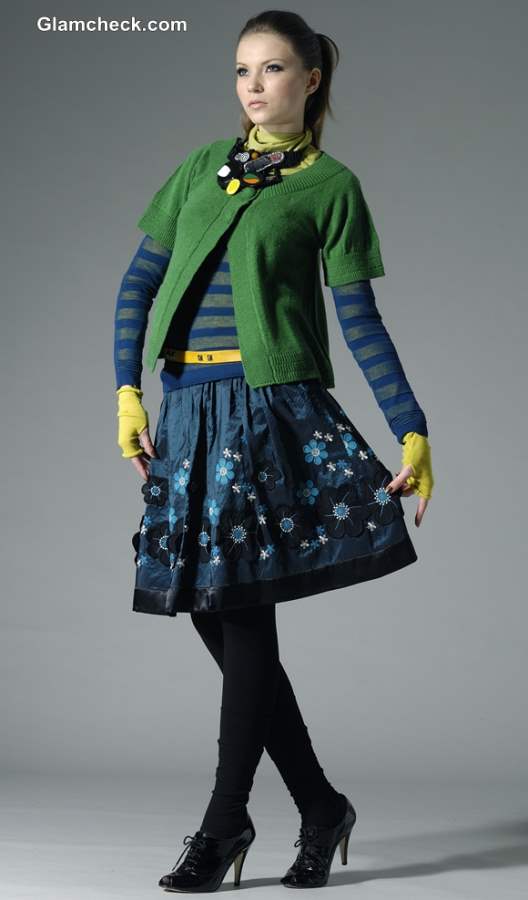 Wearing Skirts in Winters – layering
Start with a muted floral gathered skirt in a dark color like midnight blue. Layer first with a bright turtle neck with thumb hole detail (great sleeves which double up as gloves).
Combine a striped sweater in full sleeves and top off with a cute half sleeved cardigan.
Be sure to keep the color combination of the whole outfit harmonious. Here only the yellow sleeves and green cardigan catch attention. Rest is muted.
Wear black leggings and booties along with. Complete with a ponytail.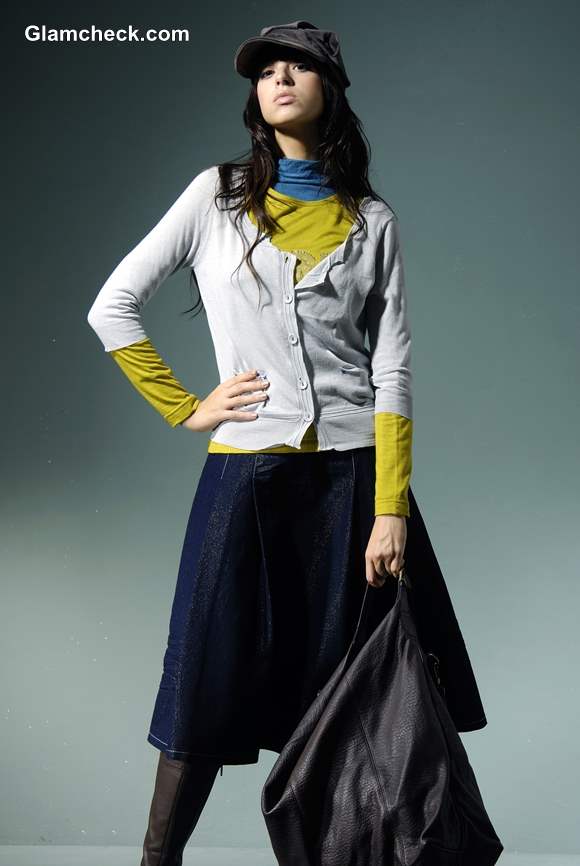 layering Skirts in Winters
A pleated denim A-line skirt can also be styled in a similar way.
Pair with tees in two contrast color say yellow and cerulean. Make sure the necklines differ so that the layering is visible. We suggest the cerulean in turtle neck and the yellow one with a scoop neck.
A grey three-quarter sleeved cardigan with an even deeper scoop neck completed the torso layering.
If required wear stockings or else complete with knee high boots.
A slouchy bag and cap add to the uber cool vibe of the look.
Leave the hair naturally wavy and open.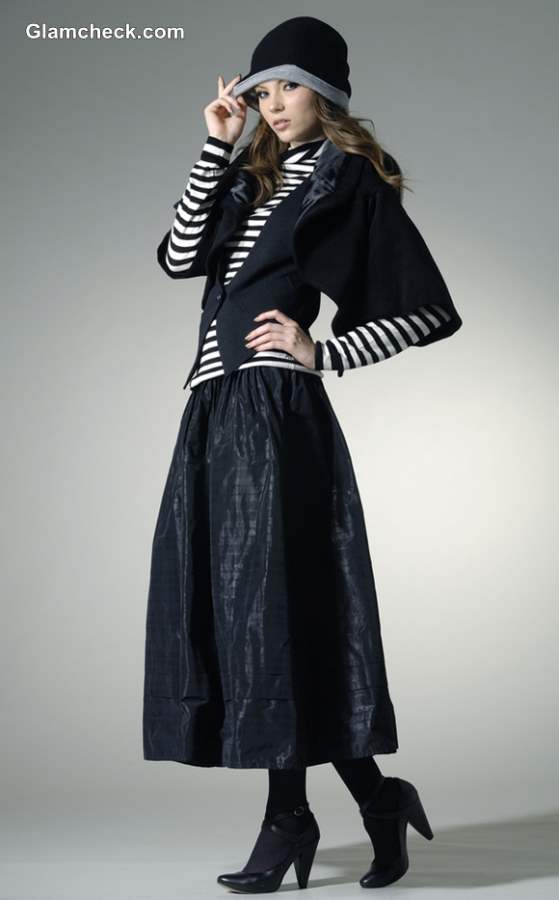 layering Skirts in Winters-dressing tips
A full skirt is great for winters. And is trending on the runways currently.
Stick to a monochromatic look and pair a luxe full skirt in black with a black and white striped tee.
To complete the skirt silhouette, the jacket should have accentuated proportions too. Tailored with accentuated short sleeves is a great way to go.
Keep yourself warm with a beanie and open wavy hair.
A pair of leggings with a pair of Mary Janes polish the look.
Accentuate with accessories
In the many layers, as evident accessories play an important role. It is also possible to bring out your skirt while combining it with slightly bold accessories.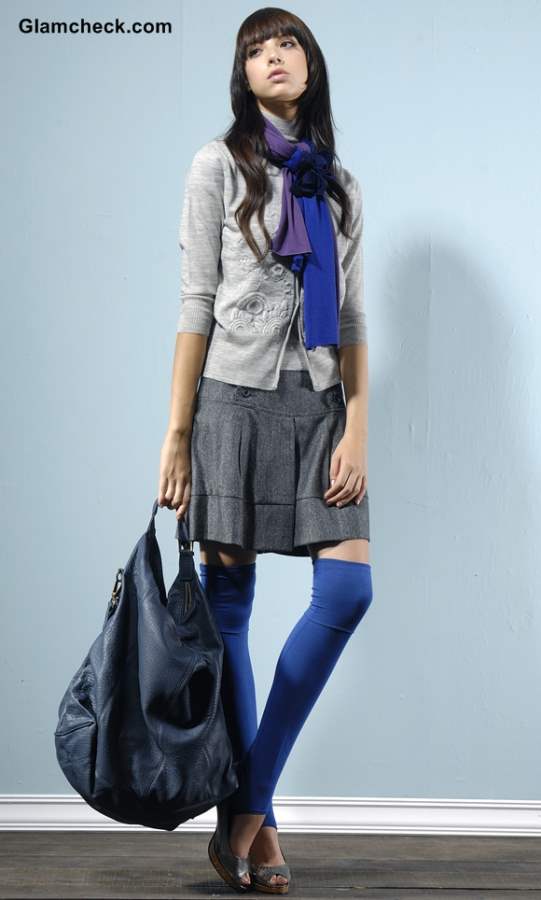 How to layer skirts in winters
Winter brings with a lot of grey. Style your grey pleated skirt with Klein blue.
Pair the dark grey skirt with a light grey tee and cardigan.
Wrap a warm scarf around the neck in many shades of blue or mauve.
Match a pair of thigh-high leg warmers in the bold bright hue.
Finish with metallic peep toes and a big slouchy shoulder bag in the same family of blue.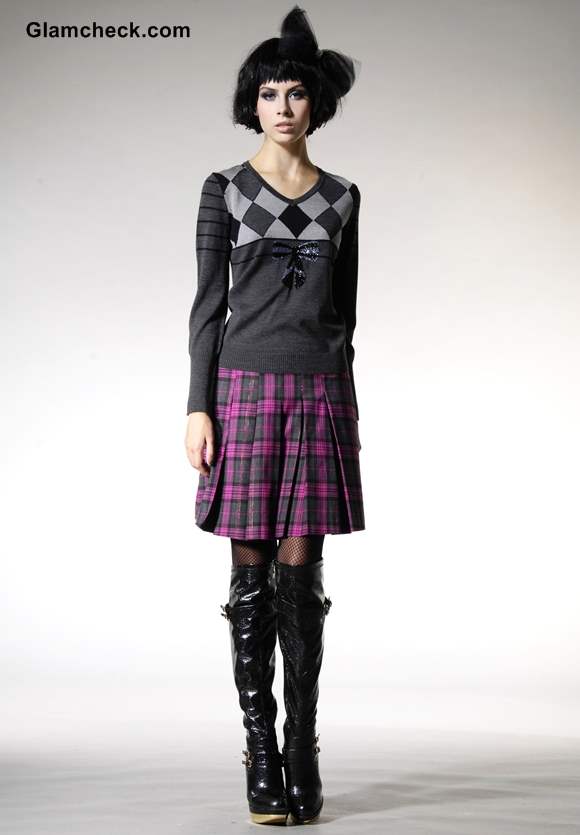 How to layer skirts in winters-Dressing tips
Even with a bright plaid skirt, the accessories can be an added focal point.
Pair your skirt with a neutral patterned cardigan.
Patent leather thigh-high boots are the perfect companion for this outfit.
Wear fish net stockings underneath, for the oomph factor.
Heavy outerwear
When the look is focused on many layers for the colder winter months; the skirt acts as a complement to the whole outfit. We elaborate with both a neutral and patterned skirt.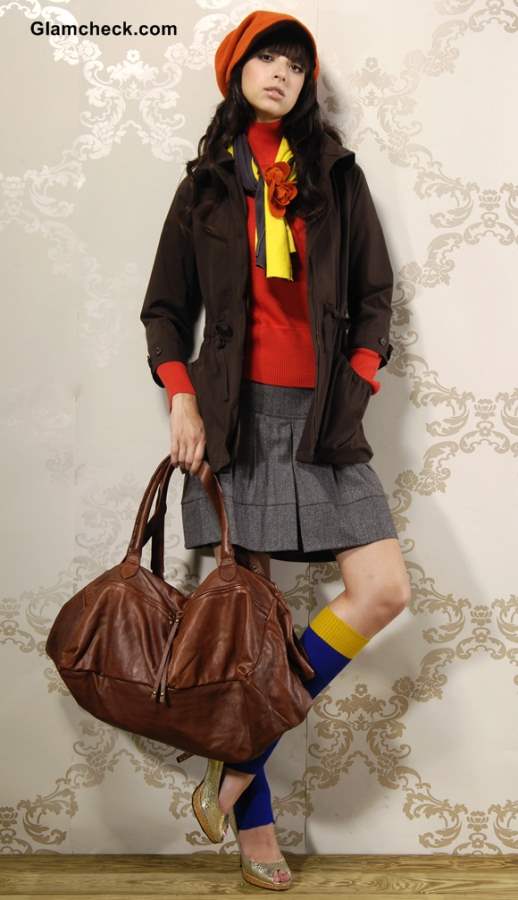 Layering skirts in winters
A dark grey pleated skirt can be brightened up with multiple layers.
Combine with a red turtle neck. Throw a dark parka jacket on top, making sure its hem hits above or just at hips – nothing longer.
A bright beanie and scarf wrapped around the neck add to the cheer.
Leg warmers in a cheerful blue and yellow with gold peep toes gel well with the look.
Don't be afraid to carry a big leather bag along.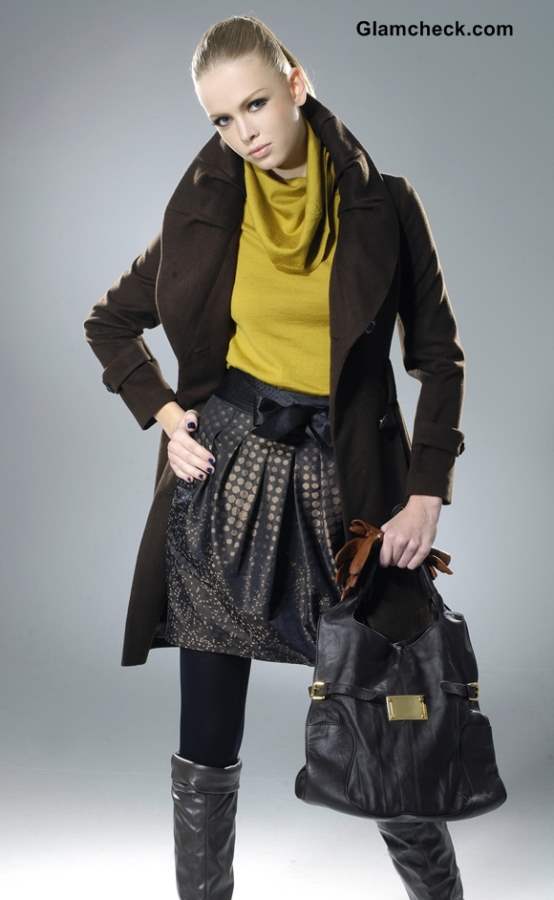 Winter fashion – Layering skirts
A short printed tulip skirt is very feminine and perfect to layer under heavy outerwear.
Pair with a bright cowl neck sweater tucked in. Wear a dark over coat with tailored lapels or a trench.
Black leggings and knee-high boots in a slightly lighter hue but harmonious color keep you warm and stylish.
Carry your gloves along and a black tote.
A slick ponytail, with no flyaway hair will be ultimate polished addition to the look.
Successfully layering a skirt in winters can break the monotony of layers and add femininity to all the volume. And with tips like these, we hope it's an easy dressing option for all our women readers.
Shutterstock