Party season at Tao Beach has officially begun. The 2013 grand opening on May 4 was just the first of scores of parties that will be thrown there over the coming months.
Holly Madison turned up to join in the celebrations.
What she wore:
Blue bikini with floral beach cover-up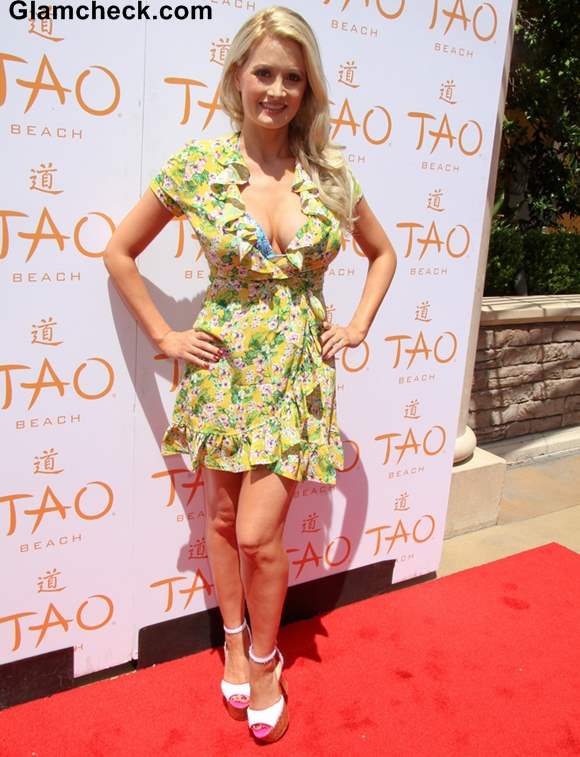 Holly Madison at Tao Beach Season Opening 2013
This is the first time Holly has shown off her curves since she had her baby. She looked as stunning as ever in a yellow floral-print wraparound beach cover-up over a blue string bikini.
Check out the massive white and pink stacked ankle-strap heels she accessorized with.
It's a fun, flirty look that highlights her assets well. Loving the empire waistline and the frills along the hem of the cover-up too.
Hair and makeup:
Curly hair; rosy tones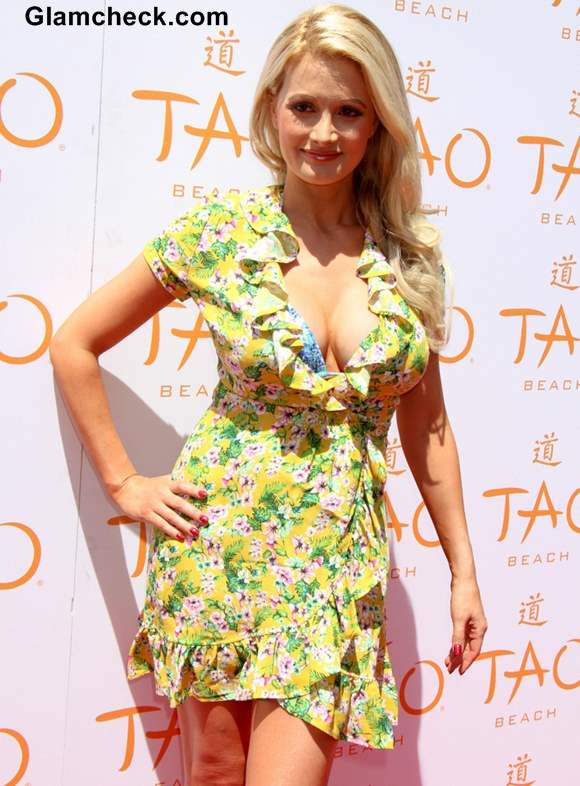 Holly Madison 2013 at Tao Beach Season Opening
Holly styled her golden lock in glossy waves with curls at the ends, the mass of it brushed over one shoulder. Glossy pink lips complemented her pink cheeks while her eyes were lined so they could stand out from all the glow.
Other celebs at the do included Odette Annabel, Busta Rhymes, Mario Lopez, Laura Croft, Ray Rice, Trinidad James, Ashlee Simpson, Claire Sinclair, Aziz Ansari, Josh Strickland and many more biggies from showbiz.
Several of the female celebs disappeared into a VIP cabana for some of the time to celebrate someone's bachelorette party. Meanwhile, Busta Rhymes performed his hit single Look at me now when DJ Eric D-Lux took a break from entertaining the crowd. 
P R Photos