Did your little angel recently get her bangs and you are wondering what all styles would look lovely on her? Well, long hair with bangs look rather cute and chic on little girls. So first, you have made a great choice, quite fashionable too, so to add. Second, it is quite easy to style them well. Due to the hairstyle being very feminine, majorly dresses and skirts will look great on her.
You can also experiment with accessories like sunglasses and necklaces. Though, a great styling tip would be to avoid earrings in most cases as the face will already be occupied with hair. With these little tips in mind and some specific styling ideas below, your little one is sure to perfect the new look in no time.
Look 1 –  Summer Dress with Accessories and Open Hair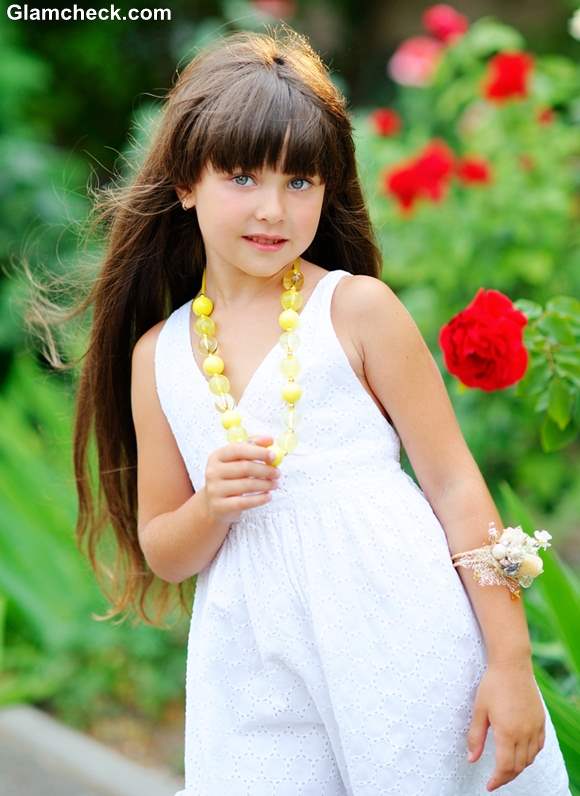 Hair style Ideas for Little Girls with Long Hair and Bangs
Summer dresses are ageless and more so when they are pristine white. Choose an overlap empire style for your little lady and let her look like an angel.
White dresses are simple to accessorize with color. Add a vivid bead necklace of a color of her choice. We recommend white with sunshine yellow, a very summer friendly combination.
You can add a delicate bracelet or a cuff too in this look. The ethereal ones with corsage compliment the mood of this style exceptionally well.
Leave the hair open with this look. Comb her tresses well with a brush, as long hair are high maintenance in general. If you have the time, comb several times (and encourage her to do so) during the day.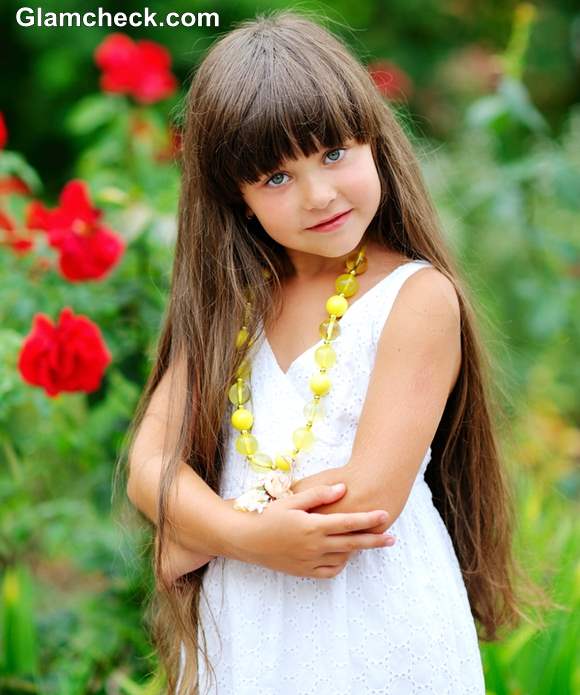 Styling blunt bangs with long hair – little girls hairstyle
Match ballet flats or flip flops with her necklace or simply go for white.
Look 2 – Frilly Dress with sunglasses and open hair
Kids love color, and so do we as it really brings out their fun character.
Choose bright color frill dress for her that she loves. The cut-away neckline with embellished neck looks very pretty on little girls.
Blue, pink, purple all are colors a girl loves. Match her trinkets with her dress as kids jewelry is available in every imaginable color.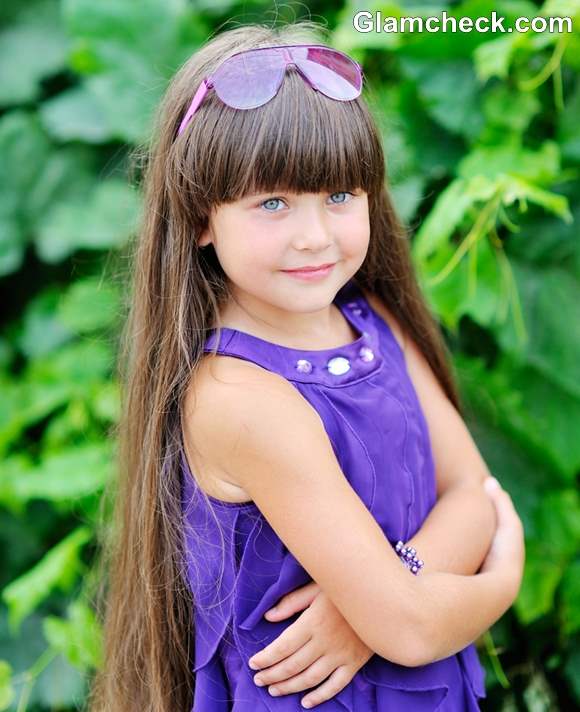 Little girls hairstyles – Long hair with blunt bangs
With an embellished neckline, skip a necklace and only go for a bracelet. You could also make her wear a cute colored kids watch if you please.
Add tinted sunglasses to this look. Choose them in a similar hue as the dress. You girl can wear them in the sun or simply slide over her head otherwise.
Keep the hair open, well combed and de-tangled just like the first look.
Add a contrasting pair of ballerinas with the look.
Look 3 – Mod A-line dress with High Pony
60s mod A-Line dresses are look lovely on a little girl. Remember how endearing Twiggy looked in them. For little girls that look innocence of course naturally in these dresses. Choose a cool color, a front pleat style and fancy empire-line belt.
You can also look for dresses in gingham checks and with contrast detailing on hem and neckline.
Beads necklaces, almost like faux pearls in colors look great with such a dress. You can knot a long necklace (the way in the picture) to make it a unique style.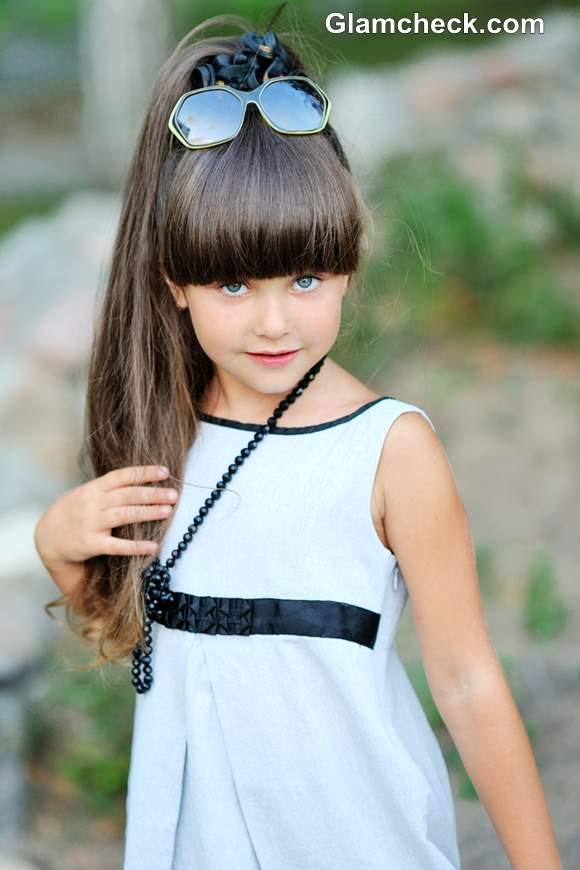 Little girls hairstyle – Blunt Bangs with Ponytail
Tie her hair up in a high pony using a cute matching scrunchie. It's your little princess and you can choose a flamboyant and over-the-top rubber band. It only adds a focus point.
Choose an interesting pair of sunglasses for her to go with this look. Think geometric, think of unusual shapes. After all, it is her time to explore fun products when the adults stick to safe and the classics.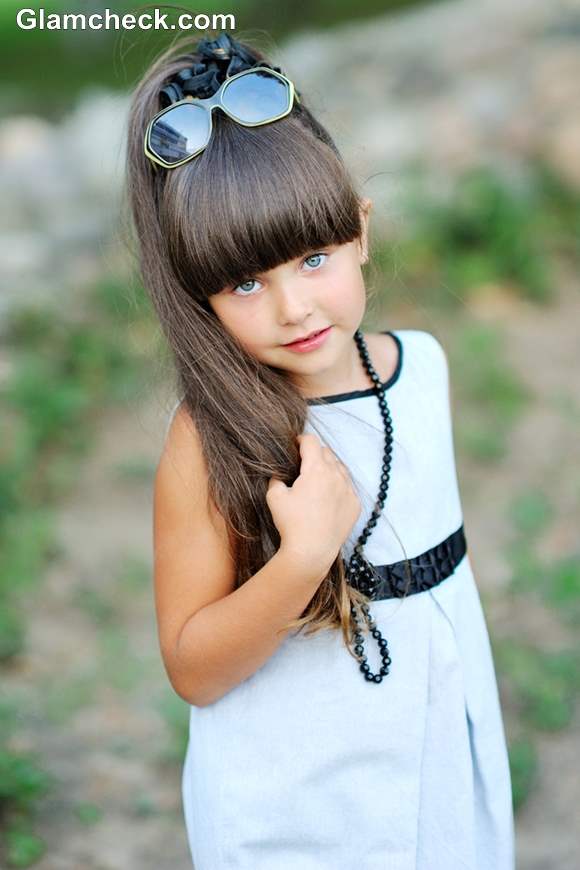 Little girls hairstyle – Ponytail with Blunt Bangs
With these creative looks by your side, you too can make your little girl look beautiful with long hair and bangs. She would only thank you later for making these wonderful style choices for her.
Shutterstock