So the BIG DAY is nearing and you are set to get your gorgeous wedding dress, shoes and even looking for hairstyle inspirations. But as a bride, are you neglecting all the manicures you can possibly have on the special day? Let us put some great ideas in your head then.
Maybe when your mother got married, the nails were not that important. But with the rise in nail art culture and DIYs available all over, nails are not short of an accessory. And that is in daily life, on a super significant occasion like your own wedding – it is good to put in some great thought. But we will make your life easier by giving you an extensive list of inspirations.
French Manicure
The classic manicure that looks elegant with any wedding gown is the French manicure. Easy to do, the kits are available everywhere and it never goes out of style.  You can achieve it with shorter nails too, just file them in a curve, buffer and do the manicure French style.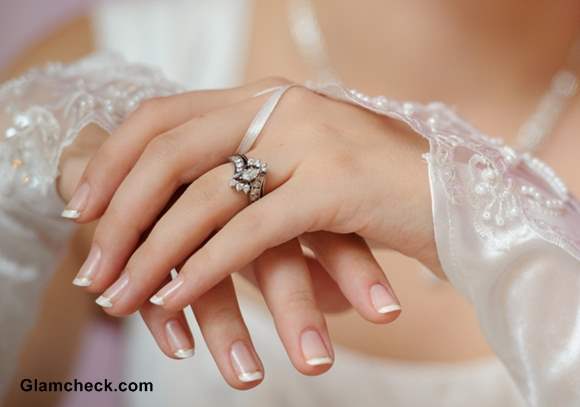 Wedding Nail Art Ideas
A slightly bolder alternative to short nails is longer nails filed in square shape. Then doing the French manicure will add a unique touch to your nails. The shape, of course sets it apart from others in a subtle and sober way. But with French manicures, always remember to biff well and apply a good glossy top coat.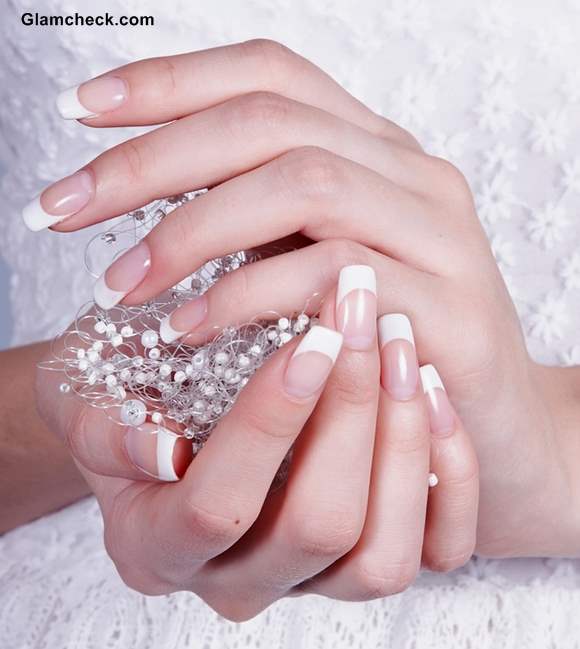 Wedding Nail Art French Manicure
A colorful twist to the French manicure is doing your square tips in a bright color. Think of your favorite or go with a raspberry pink.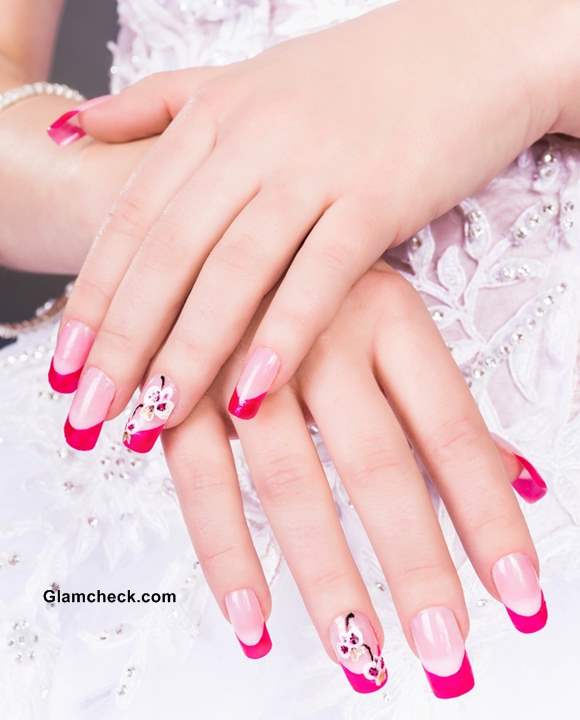 Wedding Nail Art Ideas French Manicure
It is a very flattering color and suits the occasion very well. Paint little flowers on single nails in each hand, to further add an aesthetic element.
Floral Paint  and Swaroski Manicure
Talking about painting flowers on only single nail, painted flowers on all nails is a raging trend right now. You can also combine the above idea with this one; your love for French manicure and black and white painted flowers. Acrylic and gel nails give ample surface for making statement white tips. Paint black flowers on top. Don't fill them, just outlines of flowers for a delicate look. Apply a glossy top coat afterwards.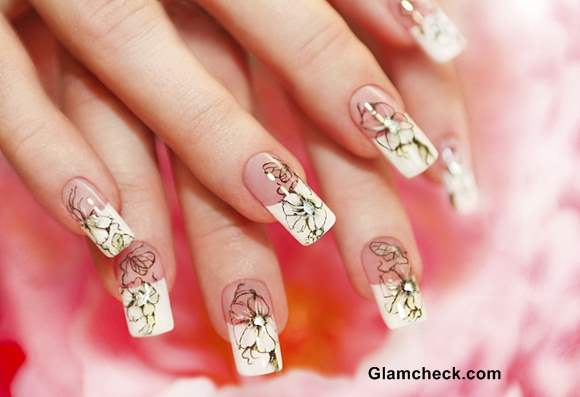 Wedding Nail Art Ideas Manicure
For your wedding with an intricate gown, the idea of a slight bling is very befitting.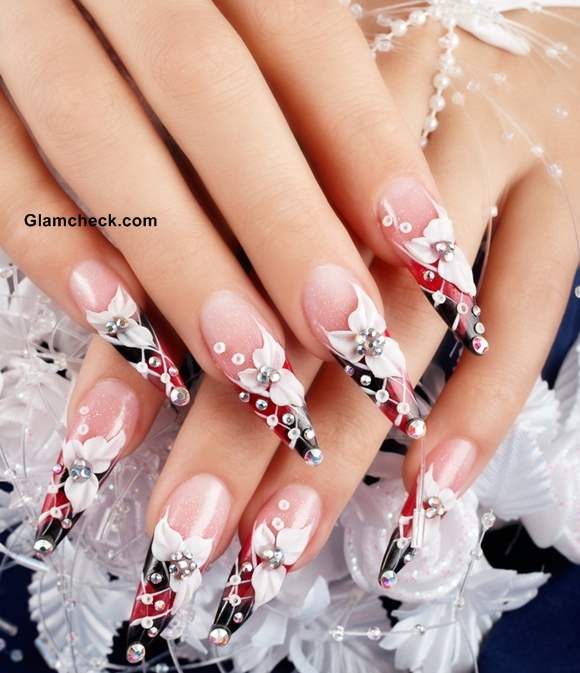 Wedding Nail Art Pictures
By adding acrylic or gel nails to your existing ones, you can have rather unique pointed shape to start with. Buff the nail for shine. Paint those tips with black and white flowers. Add red for an accent. Place Swaroski crystals on the design to add a glamorous touch. Never forget a protecting top coat.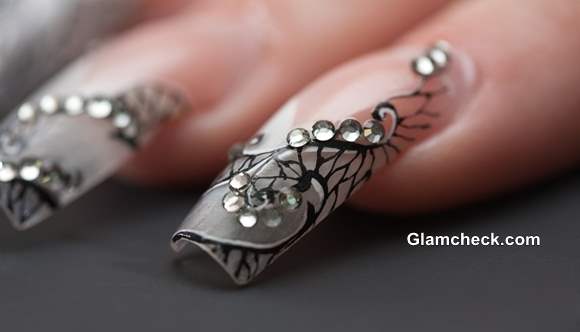 Wedding Nail Art Designs
If pointed tips and colors is not your thing, stick to the classic black and white. Shape the acrylic or gel nails in a square shape. Get inspired from intricate lines, maybe ever the lace of your dress. Fine lines always tend to look even more intricate when done in black. With a clear coat below, paint the black design. Stick crystals and finish with top coat.
Pearl Shine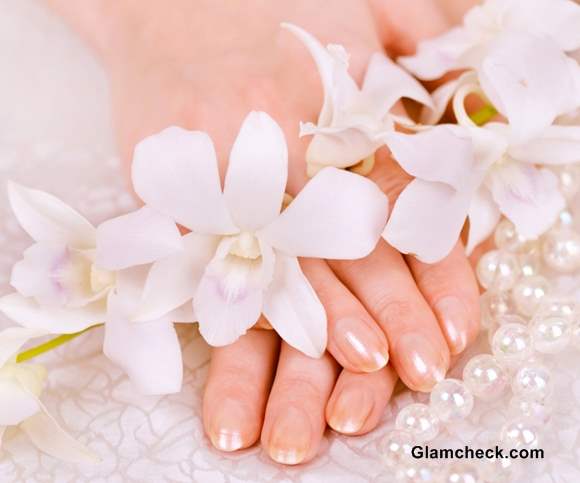 Bridal Wedding Nail Art
A wedding dress looks ethereal with pearl jewelry. Many of you may have planned on wearing it already. How about you take the pearl shine as an inspiration? There are nail paints available in pearl like shiny finishes. Choose one that matched your skin tone. It will give you a great over all look to the hands.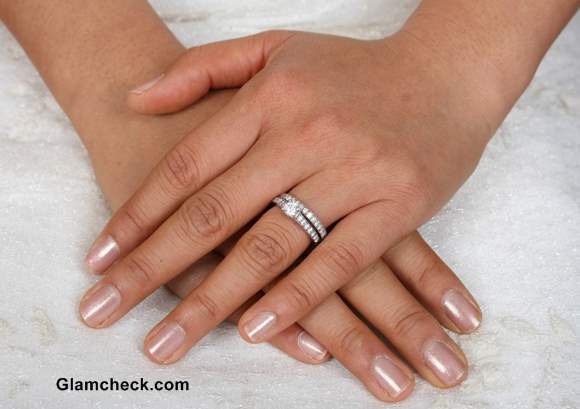 Bridal Wedding Nail Art Manicure
Alternately, you can also go those with grey-pink sheen. The choice of color would really depend on your skin color. Do try on one nail, at the store before making your purchase and committing to the color for your wedding day.  Needless to say, ensure clean nails, as light colors are more translucent than opaque.
Caviar Manicure
Now this one looks very luxurious, just what you might be looking for. When you extend your nails and paint them in a very natural color and paint white flowers on top, the effect is very lace-like. Paint intricate flowers, use pastels like lime yellow and powder blue very sparingly. Fill gaps with small caviar pearls. They add a very unique texture to your painted nails.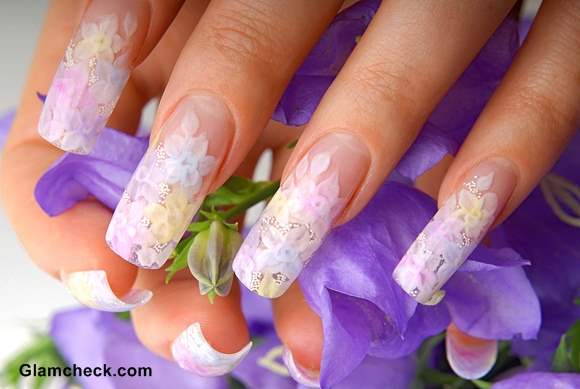 Bridal Nail Art Manicure
To use just a few caviar pearls, you could play up on the color. Do a French manicure first. Paint detailed flowers in mauve and use a darker purple to contour. Do this only for a few nails, say two in every hand. Add only two-three caviar pearls to each nail to highlight the design.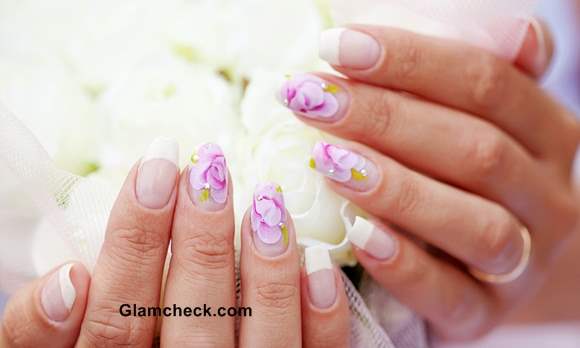 Bridal Nail Art Ideas
With the plethora of options above, we are sure there is something for every bride in there. After all a dreamy wedding calls for dreamy nails too. Have a great wedding all our brides reading this and a happy life ahead!
Shutterstock