Eye shadows are an essential part of makeup as they contour and define your eyes beyond the simple outlining. When you add glitter to the equation, the eye shadow becomes even more glamorous and desirable. But as is the case with most bold looks, they can be intimidating to try. We love them from a distance, in pictures and on other people but maintain a distance ourselves. Most of the time it is because we are just don't know how to do it, or rather do it right.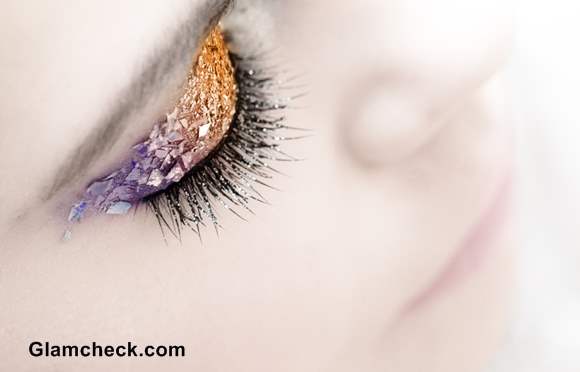 Glitter Eye Shadows – Tips and Precautions
So here is a short but detailed guide to glitter eye shadows. You can use the tips and precautions here to master the look and glam up your quotient for any occasion.
Types of Glitter eye shadows
Before we begin with anything else, it is important to know the variety available in the market.
Glitter eye shadow pencils –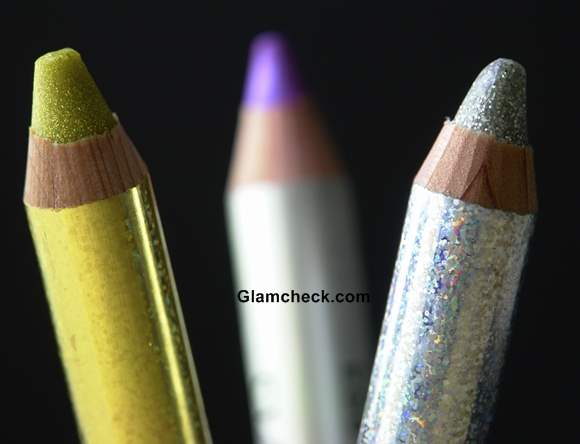 Glitter eye shadow pencils
These are the easiest to begin with work well for highlighting specific areas. The application does not require a lot of skill and hence these are popular.
Cream/Gel based glitter eye shadow –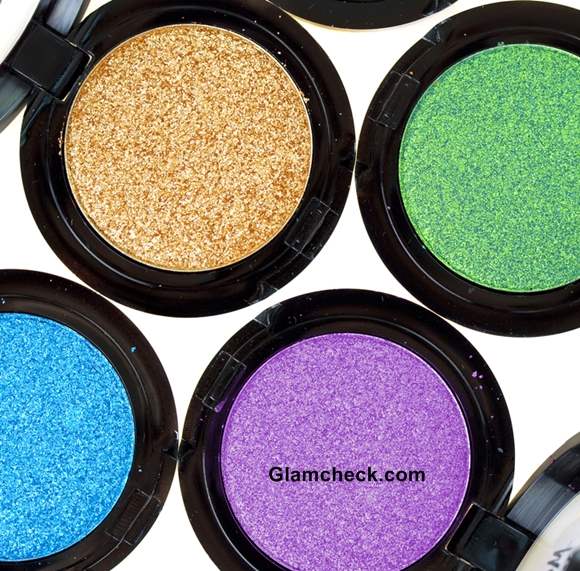 Cream-Gel based glitter eye shadow
The application is again simple and they come in different sized bottles with their own brushes usually. Like most cream based makeup products, they are smoother on the skin and good to blend.
Glitter eye shadow powders –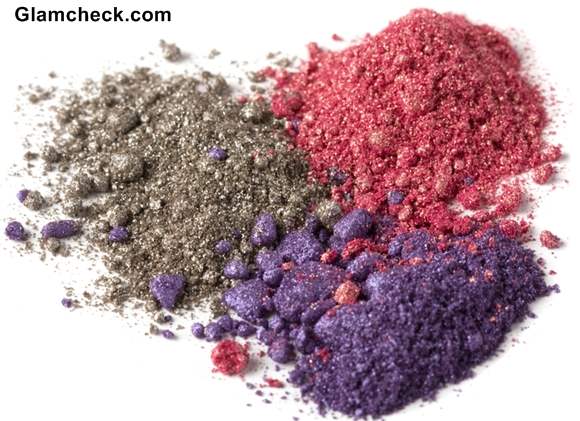 Glitter – shimmer eye shadow powders
These are loose 3d powders available from various brands. These would require some sort of adhesive to stick to your eye lids and work best when applied with a flat brush or q tip.
Colors of Glitter Eye Shadow
The market is full of all glitter eye shadows in all colors under the sun.
The most popular remain to be gold, silver, bronze and black.
Instead of purchasing single colors, you can also purchase a whole palette of colors of your choice, so as to have a variety for various occasions.
Be sure to have some neutral colors in glitter eye shadow with yourself, with match your skin tone or are a shade lighter or darker.
The choice of color of the eye shadow should depend on the occasion, skin tone, eye color and hair color. If you are just beginning, stick to the popular ones.
How to apply Glitter Eye Shadows
The method will slightly differ with the type of glitter eye shadow you choose, but we will discuss it all here.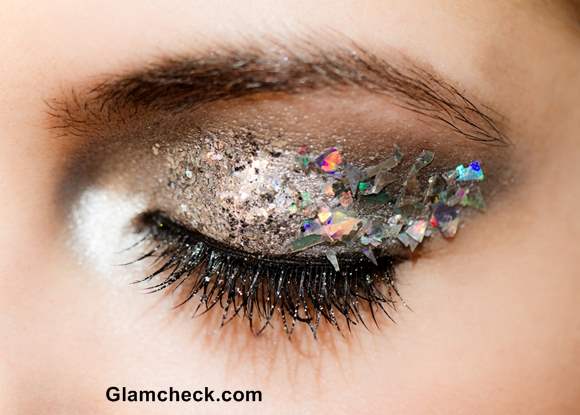 Glitter shimmer eye shadow application
Follow the basic steps like washing, cleansing and moisturizing the face before you start.
You would like to apply your under-eye concealer, and an eye shadow base before you begin with the glitter.
Highlight your brow bone with a lighter color first, using an eye shadow and a brush. This would be lighter than your skin tone and preferably should be without glitter.
To have a completely glitter covered eyelid, apply a base color first over the eyelid.
Next contour and define the crease of the eye with a darker color, blend and smudge it outwards. You can use black, brown or any other complementing color to your glitter eye shadow for this contouring.
You can also apply slightly darker eye shadow in the inner and outer corner of the eye.
Next, if you are using loose powder you will have to apply eye shadow glue to your eye lid, where the powder will adhere itself. Alternately you can also use a glitter eyeliner coat in similar color, as it will make the loose powder stick.
For using the eye shadow glitter pencil or cream based one, you can proceed directly.
You could either choose to fill in the lid with one color, or just apply the glitter eye shadow to the inner corners and blending outwards, or create a shaded smoky effect with two or more glitter eye shadows in similar hues.
 Apply the powdered version with a flat brush or q tip. The cream should come with its own brush or else use your brush, q tip or your fingers. The eye shadow pencil can be applied directly with soft filling strokes.
Once you have applied the glitter eye shadow, it is time to define the eye with an eye liner.
You can use a liquid eye liner and apply it along the lash line. You can also choose to create a thick or thin wing for some dramatization.
Apply the eye shadow slightly to the lower lid as well and then finish with defining with kohl.
To create a smokey effect, you can add some darker eye shadow color to the inner corner of the eye.
Apply your mascara to the upper as well as lower eye lashes.
If you are fixing fake eye lashes, do so now. Re-run the liner on the lash line to completely merge the fake ones.
Precautions while applying Glitter Eye Shadows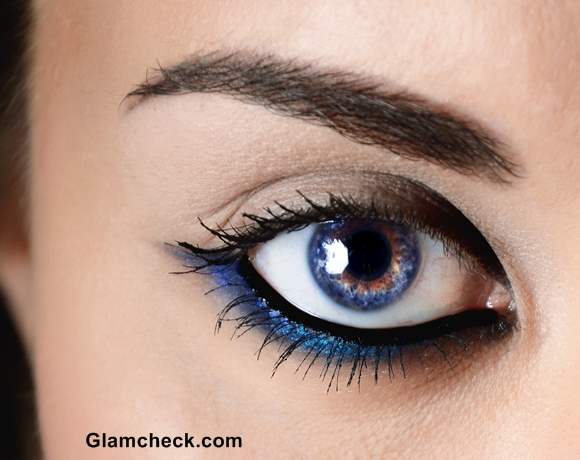 There are a few things that you could take care of, while applying glitter eye shadows.
Since there are tiny particles in the glitter eye shadow, if they penetrate the eye, they can get irritating. Hence be careful while applying, especially towards the lower lash line and inner corner which is the tear duct.
The excess glitter eye shadow which falls on the face while application can get very difficult to remove and may cause your whole face to glitter. To avoid any such incident, ask a friend to place a tissue paper below your eye when you are applying the loose powder. Or else simply use the pencil.
Do not do your base makeup for the face before the glitter eye shadow, for the very same reason. You may have to wipe things off with a makeup remover afterwards.
If you will choose the wrong colors, you may end up looking gaudy or downright trashy. Hence experiment with the colors first, before the event. As a general rule, create a monochromatic or use maximum of two colors.
Occasions to wear Glitter eye Shadow
Being a bold look, glitter eye shadow though being amazing will not suit every occasion. Most experts suggest glitter eye shadow for evening events, proms, weddings and the like. In case you are wearing the glitter eye shadow to a day event, make sure to not go heavy and use lighter colors.
Wear Glitter Eye Shadow With
Since you would be wearing the glitter eye shadow to formal occasions more, imagine dresses and ball gowns with this look. But for a day it can also go well with a feminine blouse and blazer.
So with our extensive guide to glitter eye shadows coming to an end, we hope that you are a little less intimidated and more fascinated with trying this look out. Follow the steps and precautions well, and you should be looking fabulous by the end of it!
Shutterstock