Fashion designer, style icon and former Spice Girl Victoria Beckham is no stranger to tattoos. Her body is covered with them, but so intricately and subtly that you do not notice them until she decides to put them in the limelight either through her clothes or through some other tactic which draws the eye.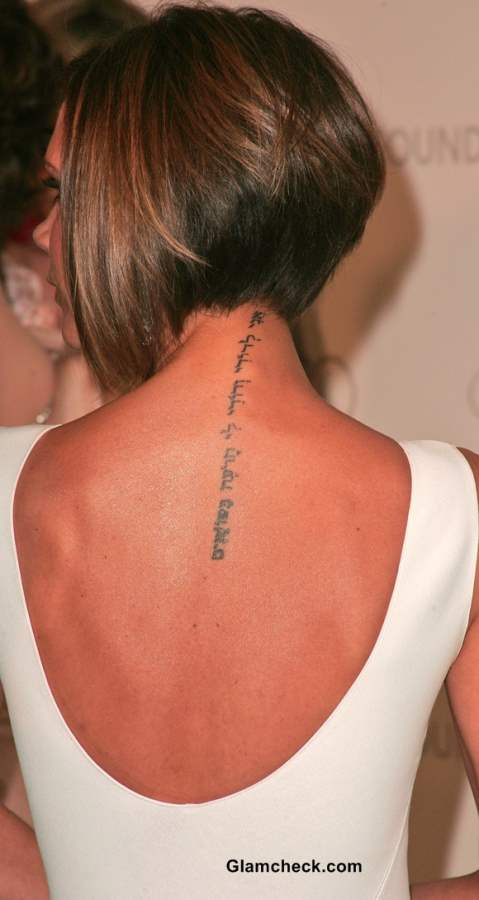 Victoria Beckham Neck Tattoo
One of her most stunning, sexy and mysterious tattoos is the one that runs down the nape of her neck. It is a vertical line of text in Hebrew borrowed from the Song of Solomon 6:3 which, translated, reads 'I am my beloved's and my beloved is mine'.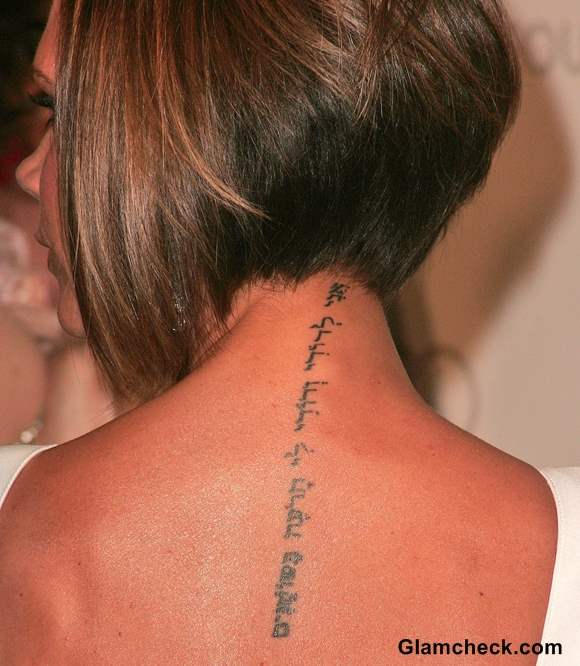 Neck Tattoo – Victoria Beckham
That is a reference to her husband footballer David Beckham who she's been married to for fourteen years and with whom she has four children. The line is taken from a much lengthier love poem and has erotic undertones according to expert translators of the original text.
It is reported that Beckham, rather a lover of tattoos himself, has a corresponding tattoo on his forearm. No surprise there. Theirs is one of the strongest marriages in a celebrity culture riddled with divorce, infidelity and breakups, and it may be these expressions of love and commitment that keep them going. They both got the tattoo on their sixth wedding anniversary.
With most tattoos, it is not the actual tattoo itself but the meaning behind it which makes it beautiful and worthwhile. In a rare occurrence, Victoria's tattoo is both lovely to behold and holds a profound significance which is not lost on anyone who has ever experienced love, a universal emotion. 
Image: Shutterstock