Not everyone can carry orange lipstick with style, but model Amber Rose shows us how to do it right with her orange lips. She sported this makeup at the Karma Foundation's 6th Annual Kandyland Event at The Playboy Mansion, Holmby Hills.
Let us decode the rest of the Amber Rose Makeup so that you too can carry this look with élan.
How to do the Amber Rose Makeup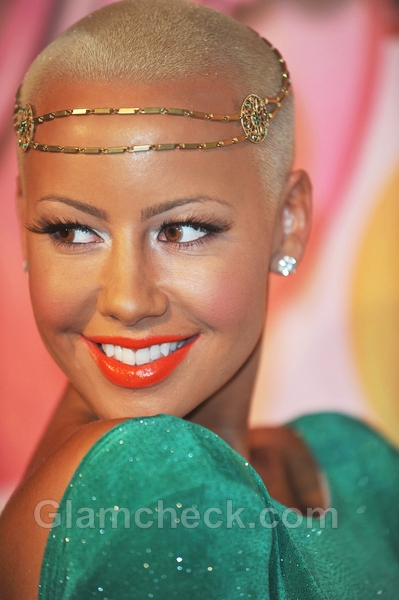 Amber Rose Makeup : Orange lipstick
Keep the base neutral by selecting a foundation closest to your skin tone. If you have good skin then you can give foundation or cover-stick a miss.
Since the lips are going to sport a bold color therefore, keep the eye makeup – comparatively subtle. I used the word comparatively, because we don't want to completely do away with eye makeup or make it too subtle. Dust your eyelids evenly with silver shimmer and focus on putting a heavier touch of it on the inner corners, near the crease of the eye. If you are deft with applying fake lashes, then nothing like that but if you are not – then apply 2-3 coats of mascara to give you elongated eyelashes. You can read our article on how to apply mascara if you are completely clueless about putting on mascara. And lastly, line the rims of your eyes delicately with kohl.
Add a barely there shade of pink to the apples of your cheek.
Last, comes the main part – that of applying the orange lipstick. Choose a shade that is most flattering to your tone, because orange lippers come in various shades such as reddish orange, coral orange etc. However, ensure it is a bold color because that's what the look is all about. Choose a lipstick that is not too glossy or "runny" because this shade bleeding out from your lips is not the best sight.
So there you go, it is this easy to copy the Amber Rose makeup. The model has definitely done a good job with it and the look is suiting her real fine, and now even you can experiment with it.
Image: P R Photos