When we discuss a look, we always talk about how the makeup was done and how it either enhanced someone's appearance or totally ruined it. Makeup artists swear by their makeup brushes.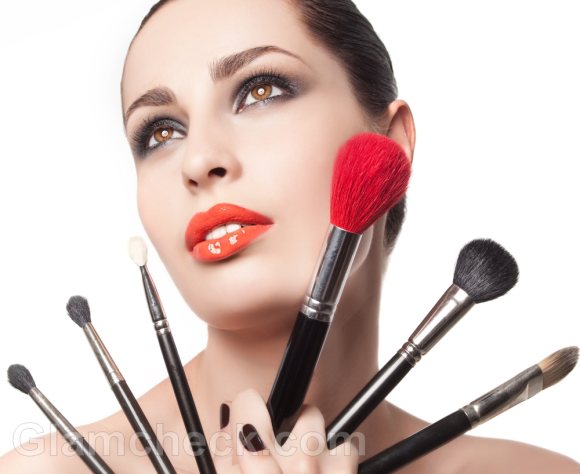 These magic wands – The makeup brushes that are used to apply makeup are as precious as the makeup itself. You need to take care of your makeup brushes and preserve them, as they are the key to external beauty. A right brush for the right kind of makeup is very important. Ergo, it is important to keep these tools safe and clean.
Every time you apply makeup you dirty your brushes. You need to clean your makeup brushes on a regular basis. The first time when you buy a brush, start with cleaning it and then keep doing it on and off after every couple of uses.
You need to rid and clean your brushes of the following:
Previously applied Makeup
Dirt from being kept in a bag
Dead skin cells on the brush from applying makeup
Bacteria and oils from the skin or otherwise
These are the major reasons why you should clean your brush regularly. The skin is the largest organ in our body but it is also the most sensitive to diseases. Cleaning your brush on a regular basis keeps the brush heads soft. It does not cause itching or irritation when the makeup is being applied by a soft, tender brush as opposed to a hard and dirty brush.
How often should you clean your brushes?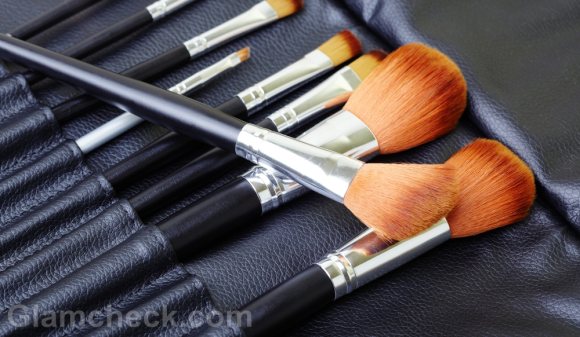 The brushes that are used to apply wet makeup should be cleaned every time they are used, like in the case of concealers, foundations, lip gloss or other products. As for the dry makeup, you should try and clean your brushes at least once a week or once in every two weeks at the most, to keep them in good shape and for them to have a long life.
Foundation brushes : Once every 2 or 3 days
Bronzers or compact brushes : Once a week
Blushers : Once a week
Eye-shadow applicators : Alternate uses
Eye-liner brushes: After every use.
This routine should be followed especially by people who have sensitive skin or who get breakouts when they use makeup.
Acne prone skin should always be kept clean and if the applicator brush is dirty or infected there is nothing you can do, even with the best makeup, to prevent breakouts.
There are various ways to keep the makeup brushes clean. You can choose one of the several techniques to keep your makeup brushes clean and intact.
Makeup Cleanser
You can pick up a makeup cleanser from any departmental store that keeps makeup and other related commodities. Easily available, these come in a spray bottle.
How to use it: Once you have used the applicator brush, spray the content on  the brush a couple of times till you know all the bristles are covered with the cleanser, leave it for a couple of minutes and then just wipe it off with a towel.
This will clean the makeup off the brush and disinfect the brush along with it.
This is an easy way to take care of your brushes and keep them clean; also, this method saves time.
Wash your brush
While washing your brush you need to be gentle and take care that you do not rub it too harshly or break the hair off the head.
Soak your brushes in a small container with water and shampoo/ cleanser.
Let it soak for a while (about 5 minutes)
Softly rub the head with your fingers while in the tub and you will be able to see all the makeup coming off the brush
Once soaked, take one out one brush at a time to clean them individually and thoroughly
Squirt out a little cleanser or shampoo on your palm and rub the brush head/hair on your palm gently without breaking the bristles
Once all the makeup  and dirt is off the brush and no residual chunks are falling off the brush, dip it in the soapy water again
Clean the container and fill lukewarm water in it and dip the brushes to get the soap or the cleanser off them
Once the brush is completely clean you can softly squeeze out the extra water
Lay it on a towel or clean cloth or tissues and let the excess water soak it and let the brush dry
Keep fluffing it up every now and then while it is still damp like you do with your hair
You may also blow dry it on low heat.
Once it is completely dry, fluff it up and keep in back in the case
This is the best way to clean your brush. You might add a little disinfectant in the water too to kill the bacteria and germs. This procedure, though tedious, gives your precious makeup brushes a long and healthy life.
Vinegar and water cleanser
Make a mixture of one part vinegar and two parts water and dip your brushes for 5 minutes in this solution.
Take them out and rub the heads a little, dip once again in the solution and wash with lukewarm water.
This procedure is best suited if your brushes are used by several people, as it kills the germs and disinfects better than cleansers and shampoo.
You need to keep you makeup brushes in good condition as they are expensive, firstly, and also because once you adapt to a brush your hand sets on it and you apply makeup perfectly with it just like in the case of a pen.
Keep your brushes clean and take care of them to give them a long and healthy life.
This is the key to years and years of good makeup and good looks. The softer silkier your brushes will be the better makeup application you'll have and thus the better looking you'll be. Keep them clean for a happy smiling skin.
Now that's a very small price to pay for years of gorgeousness!!
Image: Shutterstock