We love dressing up for Halloween, there is so much one can do. Today we have complied a step by step intsructable for you to rock on Halloween. Whether you are planning a mad Medusa look or a glam zombie, we are sure that you can pull this makeup tip off and tweak it to your likes.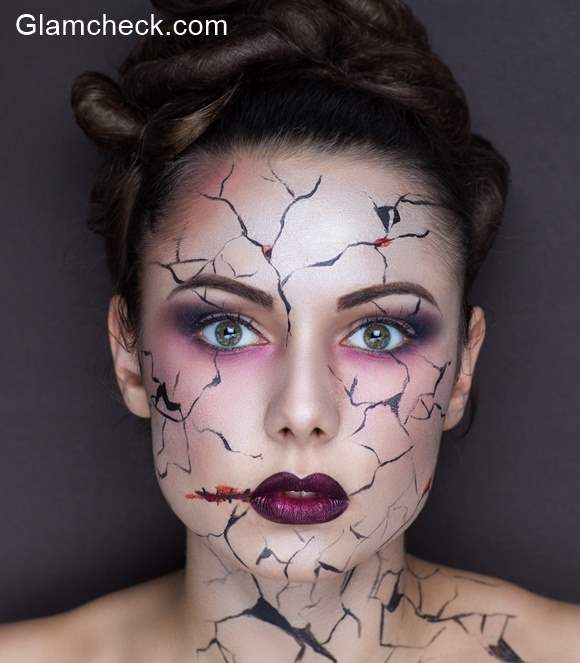 Cracked-up Halloween Makeup
What you need: Basics (foundation, bb/cc cream, matte powder, bronzer), Black eye liner (preferably a pen liner or liquid brush liner), brown and black eyebrow pencil, khol pencil- black and brown, black mascara, warm-tonal blush powder, eye shadow palette (bright coloured and dark tonal), Blood red lip color, Dark wine-burgundy lip colour, lip liners in the shades of- blodd red, wine, burgundy, and white.
Getting on to the How- to part:
Get your hair done and pull it tight and braid and bun it into a eight fold knot. Your hair should be out of the way to achieve the look.
Face: Finish your basic makeup foundation initial routine, Use a bronzer to enhance your bone structure at the t-bridge (nose and forehead) and use it highlight your cheek bones too. We'd like to finish with the eyes first and then move on to the art work.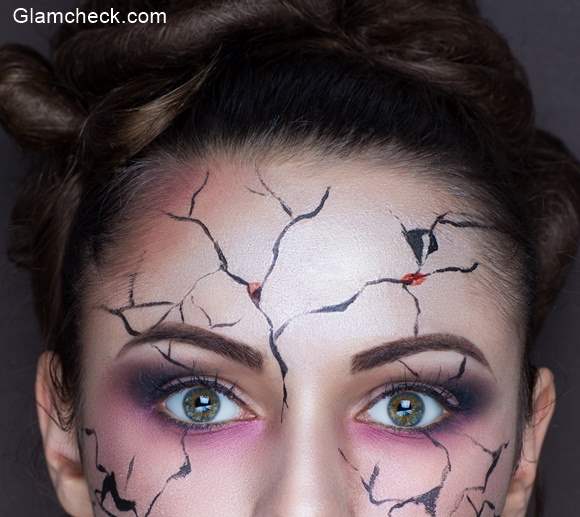 Halloween Makeup
Eyes: For the eyes- start with light-bright pink eye shadow and apply it lightly on your inner corners moving outwards and under the lower eye lid too, stretch the application till your cheek bones. Smudge the light pink shade from half way through your eye lids with a metallic matte dark blue'ish purple shade making sure that you extend the application till the length of your eyebrows. Use the purple shade and light apply on your lower eye lids as well. If not available in exact shades, try mixing metallic blue and purple separately. Do ensure that the eye shadow is devoid of any shimmer. Remember this is for Halloween makeup, hence keep the shimmer shine at bay.
Next, grab your khol pencil and do your lower and upper eye lids. Apply a light coat of liquid black eye liner on the upper eye lid and finish with black mascara on both upper and lower lashes.
Eyebrows: Now, for the eyebrows, using the black eyebrow pencil make a dramatic arch and enhance your eyebrows like you would normally do it. Exaggerate the arch further with the brown brow pencil, this time make sure that the line looks a little more wider than your eyebrow.
Lips: Lips are what we work on next- using one of the wine shade or burgundy shade lip colour so a more than generous coat on your lips. Now use the other shade and only apply to your upper lips so that they look darker. Finish with the lip liners enhancing the pout. Wondering what has the white liner got to do? Time to use it now, make sure it sharpened well, what we want you to do is make light- fake lip cracks on your lower lips using the white lip liner pencil (specially towards the ends).
Use the blood red lip colour, use it like a crayon and draw a blood smear from the corner of your lips. Use the same color on the identified places in the look and create blood wounds on your face and forehead. On one side of your forehead, use the warm red-pink blush and dramatise the forehead, but make sure it's just onto one side.
Cracked art work: Using the black eye pencil, lightly edge and outline the cracked lines. The trick is to use the weight of your hand and create a light and dark effect with the pencil. Go over the lines with a blue or a grey eye pencil (this can be skipped if you don't have one) a we want to create a shadow- depth play of lines.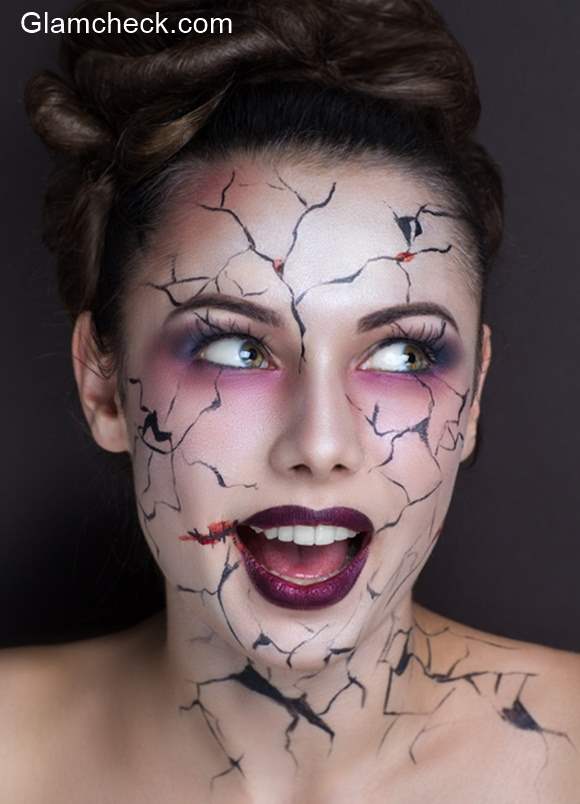 Halloween Makeup Cracked Face
Now rework on the lines with the liquid eye liner to get the dramatic effect. You might want to revisit using a kohl pencil to add to the look. Darken some sections of the cracks to show depth. Just be careful while working on the eyes and not to rub off the eye shadow. And boom! you are done with your Halloween makeup.
Ps: We don't suggest that you use body paints or acrylic paints that are advised in most DIY Halloween make up tuts. Use your makeup kit and get the look. Keep your Glam quotient in check!
Image: Shutterstock