Most women report that they feel genuine relief when they achieve menopause. No more birth control, no more having to worry about getting pregnant or getting your period, no more tampons or sanitary pads or having to excuse yourself from a day out because of PMS. Ah, blessed release! However, menopause brings on its own set of highly uncomfortable and embarrassing symptoms that can drive you up the wall. In fact, menopause is more challenging than pregnancy. It lasts (seemingly) forever, the medicines don't always work to ease the symptoms, your body, mind and soul seem to be at odds with each other and you feel more chaotic than you have ever felt.
Hormone replacement therapy is a popular remedy for menopause symptoms. Since the cause of the discomfort is a drop in your body's hormone levels, simply replacing what has been lost could be the answer. But how long do your plan on pumping your body with hormones when your body is naturally saying that it is time for those hormones to stop being produced?
Hormone replacement therapy is not a viable long-term solution. Firstly, it is too expensive. Secondly, the long-term side effects are as yet unknown and the few that are known are not encouraging. For example, HRT has been linked to an increased risk of heart disease and breast cancer. Even your doctor will advise HRT only on a short-term basis while you get your act together and discover more holistic ways to manage menopause symptoms. Fortunately for menopausal women everywhere, yoga can help to naturally and safely reduce the intensity of menopause symptoms and even make some disappear altogether.
Benefits of Yoga for Menopause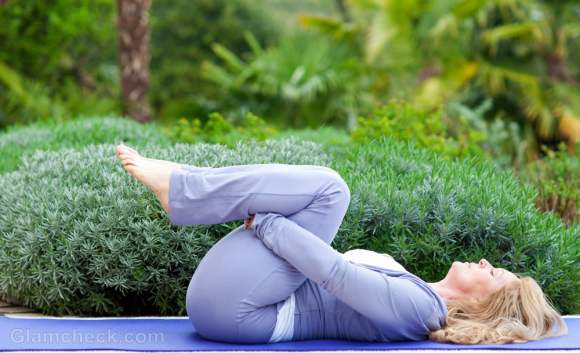 Fatigue will be one of the major things you complain about when you hit menopause. You feel as if all the energy has just been sucked out of you. What's more, insomnia is also normal so you will find little respite from your tiredness. Yoga will rejuvenate your body and your mind. Since it works on your whole body and ensures optimal organ function, you will also be able to sleep better at night. Which, all in all, translates into less fatigue through the day.
Although yoga does give you more energy, it also calms down your entire system. This means that you will have quite a bit of relief from hot flashes with a regular yoga practice.
As your hormones surge out of control during menopause, it affects you mentally as well as physically. Mood swings, anxiety, irritation, depression, anger and self-loathing seem to become almost the norm. Since yoga calms the mind and helps you to gain more focus, you will practice mindful living and find healthy, loving ways to manage your moods. The endorphin release from a regular yoga practice will act as a natural mood enhancer so you will discover that there are fewer instances of negative emotions.
Menopausal headaches will be less frequent if you practice yoga regularly.
Over 50% of all menopausal women will be affected by osteoporosis, a condition which reduces bone density and leads to weaker bones which can crack or snap with nothing more than a cough. You should be doing everything possible your whole life to strengthen your bones so that you are at lower risk for osteoporosis. However, if your have not then yoga can help you to gently but effectively increase bone strength so that you hopefully will not develop osteoporosis or, if you do, will reduce the intensity of the condition.
Coping With Menopause Through Yoga
Some yoga poses, while not designed specifically for menopause, nevertheless help you overcome or at least manage the more uncomfortable menopause symptoms because of the way the poses work on the corresponding organs.
Note that you do not have to be adept at yoga to gain its benefits. You just have to learn how to do a few poses correctly and practice them regularly. You need never go beyond the beginner level for the rest of your life and you will still gain the incredible advantages of this holistic practice. We'll only be covering a few simple poses which any woman with any fitness level can easily do.
(Disclaimer: The yoga poses in this article are meant for general informational purposes only and should not substitute the advice of a health professional or yoga instructor. Every person is different and has different needs depending on his or her health and constitution. For best results, get a checkup from your doctor and seek guidance from a qualified yoga instructor who will customize the yoga poses/sequence, if needed, to suit your individual situation.)
Yoga for Menopause Hot Flashes
Cooling postures can reduce the severity of hot flashes. Now by cooling we don't just mean to cool the body; the basic goal is in fact to cool the mind. Since yoga as a discipline already gets you to focus more and calm the mind, even your regular practice will help you. However, there are some poses which are known to be specifically designed to calm the nervous system. You will notice fewer hot flashes once you start incorporating these cooling/calming poses into your practice.
Viparita Karani (Legs up Against the Wall)
This is one of the most calming yoga poses. Begin by sitting with your right side against a wall. Your side and shoulders should be facing the wall. Your knees should be bent. Now roll over on your side so that your legs are up against the wall and your torso is flat against the floor. You should be in an 'L' shape. Position your hands by your side, no higher than your shoulders. Take a few deep breaths, then resume normal breathing. You can stay in this pose for as long as you want. It is very relaxing and does not put stress on your joints or organs. You will feel much more focused when you come out of it.
Virabhadrasana (Warrior I)
Warrior I is a part of the yoga sun salutation. However, it can be practiced as separate from the full sequence of the sun salutation as well.
Stand with your feet about hip-width apart. Move one of your feet sideways so that there is a distance of approximately four feet between your left and right foot. Turn your right foot at a 90º angle so that it is facing away from your body toward the outside. Turn your left foot inward to a 45° angle. Rotate your upper body to the right. Bend at the right knee until your thigh is parallel to the floor. Your knee should be above your ankle. Your left leg should be straight, no bending at the knee. Raise your hands upward, palms facing inward with your fingers outstretched. Your hand is a reflection of your mind so the more you stretch your palm and fingers the more you open and calm your mind. Stay in this position for 30 seconds. Unbend your right knee, rotate your foot back to the starting position. Repeat the sequence on your left side.
Vrksasana (Tree Pose)
A very simple pose but very effective at making your lower body stronger. Stand with your feet together, your arms by your side. Lift your left foot and place it on the inner thigh of your right leg as close to the groin as possible. The toes of your left foot should be pointing straight down. Lengthen your arms to either side of your so that you form a 'T'. Now bring your palms into a prayer position. Keeping your palms together, raise your hands above your head
Savasana (Corpse Pose)
You'll find that the corpse pose does much more than relieve you of hot flashes. It will also combat the other menopause symptoms like insomnia, anxiety, fatigue and constipation, to name just a handful.
Lie down on your back. Stretch your legs and then relax them. Do the same with your arms and torso. Your arms should be positioned by your side comfortably. Do not position them too close to the body as this creates some constriction and is not comfortable for longer periods of time. Your palms should be facing upward. Breathe slowly and try to connect with the trillions of cells in your body. You will feel a tingling sensation if your concentrate. Try to focus on this sensation in your body to maintain your attention and to prevent random thoughts from running amok in your head. When you are ready to come out of the corpse pose, bend your knees into your belly and roll over to your right side. Push yourself up into a seated position and remain there with your eyes closed for a few seconds.
Yoga for Menopausal Period Fluctuations
As you are going through menopause, you will find that your period flow varies to such an extent that you are unable to predict it. Most women tend to experience very heavy period flow which can hamper their social lives or even have them bed-ridden. The following yoga poses will help to regulate period flow.
Supta Virasana (Reclining Hero Pose)
The reclining hero pose gently opens up the front of your body and works your pelvic muscles too. Kneel on your yoga mat. Your knees should be together but your toes should be a little more than hip-width apart as you will be sitting down on the floor between them. Your toes should be pointing backward but straight to the back not skewed to the left or right. Lower your buttocks into the space between your feet. Before you go all the way down, tuck your thumb into the crook of your knee and push aside (outward) the flesh of your calves. Stay in this position until you feel some level of comfort. This is the regular Hero Pose, but we want the reclining one. So when you are ready, lower your elbows to the floor as you lie down halfway, supporting the weight of your body on your forearms. You'll feel a deep stretch in your thighs. If this is all you can manage, then just stay here. However, if you feel you can stretch a little more after awhile then lie down fully with your arms by your side into the full reclining hero pose. You can raise your arms above your head for an even deeper stretch.
Supta Baddha Konasana (Reclining Bound Angle Pose or the Goddess Pose)
This is very similar to the ever-popular butterfly pose, but this one is done with cushioning for support and ultimate relaxation. Keep two pillows of equal height on hand as well as a yoga bolster. Sit down with your legs outstretched in a 'V' shape. Bring your feet together toward your groin so that the soles are touching. It does not have to be too close to the groin like it is in butterfly pose. Just be comfortable. Now, place the yoga bolster a little above the base of the spine and lie down on it. Grab hold of the two pillows and place them under your knees. Your knees should be supported completely. You should not be able to move them up and down like you would in butterfly pose. Your arms should be in a relaxed position by your side. Take deep breaths from your belly.
Yoga for Menopausal Mood Swings, Depression and Insomnia
More than the hormonal changes, it is the signaling of the end of their youth that causes most women to get depressed when they approach menopause. Yoga can get you in touch with your body so that you can discover its still infinite potential. A regular, mindful practice helps you to open your mind to loving your body as it is, in this moment now, with all its inadequacies and supposed faults. This will do more to alleviate depression than anything else. There are also yoga poses that work on the nervous system and which massage the brain stem so that there are literally chemical changes in the body which improve your mood.
Uttanasana (Standing Forward Bend)
Stand with your feet hip-width apart, arms by your side. Bend your knees. Then move your upper body forward so that your belly is touching your upper thighs. Begin bending even further forward while at the same time attempting to gradually straighten your knees. When your chest is almost touching your legs and your head is between your knees, clasp your ankles from the back for support. Straighten out your legs fully to increase the length in the back of your legs.
Sarvangasana (Shoulder Stand)
No, we did not make a mistake including this pose here. Shoulder stand is not an advanced pose. Yes, you will need a little practice to get it right, but it is quite easy to do so do not be intimidated by it. The benefits of shoulder stand are manifold. You could write a book about it. One of its multitude of advantages is that it does a fantastic job of working your nervous system and making you feel better overall.
Lie down on your back. Bend your knees. Your feet should be as close to your buttocks as comfortable. Push your feet off the floor while simultaneously drawing your thighs into your torso. Place your arms against your back for support and use their strength to push your pelvis and torso off the floor until your body is supported only on your shoulders. Walk your hands up or down your back as you need to provide support and to help you push upward. When you are comfortable, begin to unbend your knees to stretch your legs straight up into the air. Stay for about half a minute. To come out, first bend your knees, then gently lower your torso and pelvis until your feet are back on the floor.
Yoga for Menopause Fatigue
Any kind of back bends which are restorative and supported can be used to increase energy levels.
Supta Baddha Konasana (Reclining Bound Angle Pose)
We discussed this uber-relaxing pose earlier in this article. In addition to regulating your period flow, reclining bound angle pose will also have you feeling revitalized.
Yoga to Combat Menopause Fog
When the body is going through massive hormonal changes, it can be difficult to remain focused or even to remember simple things that are a matter of routine. Pregnant women, menopausal women and even young girls going through puberty sometimes even find themselves unable to keep track of what they were going to say, so great is the impact of the hormonal fluctuation on the functioning of the brain.
During menopause, this brain fog is much worse because of the other symptoms such as insomnia and a disturbed emotional state. So in effect, the very same postures that help you sleep better and which can reduce anxiety or depression will end up improving your focus as well. In addition to the other poses that we have already discussed for those menopausal symptoms, the following poses will further help.
Adho Mukha Svanasana (Downward-Facing Dog Pose)
You could do downward-facing dog at any time in your life and you would still be getting some sort of benefit out of it. It is a completely beginner posture but one that even the advanced yogis will practice often because they know how instrumental it is to their practice and the incredible effect it has on the organs and bodily functions.
In regard to the brain fog caused by menopause, downward-facing dog sends a fresh supply of blood to the head. Blood carries oxygen, so the extra supply of both these crucial components will really make a difference to your brain's functioning capabilities.
Begin by kneeling on your yoga mat, palms to the floor, knees hip-width apart. Push into your hands as you straighten your knees and raise your pelvis into the air. Your body should look like an inverted 'V'. Stay for 30 seconds. Bend your knees and bring them down to the floor. Wait for a minute. Repeat.
Savasana (Corpse Pose)
Each time you practice yoga, you should ideally end with the corpse pose as this is when you allow your body to properly integrate your practice. It does not have to be for very long. Even just one to five minutes will do. But ensure that do it and do it mindfully. Make every second of it count and you will notice for yourself how much better you feel and how it truly completes your practice. After you've been practicing for many years, you will realize that the corpse pose is the hardest to do and yet the most important one.
Image: Shutterstock