As women, we have a lot more to physically deal with than men do. We're not being sexist here, it's just facts. Women's body goes through greater changes than men's bodies do. Women are also physiologically not equipped with the same strength and stamina as men, but they are still required to do the same kind of work as men do. Yoga for women of all ages encompasses some postures which help women gain strength, stay healthy and manage the stress of modern life. We'll take a look at how yoga for women is beneficial, how often you need to practice and then some poses that you should try to incorporate into your life to gain said benefits.
Benefits of Yoga for Women of All Ages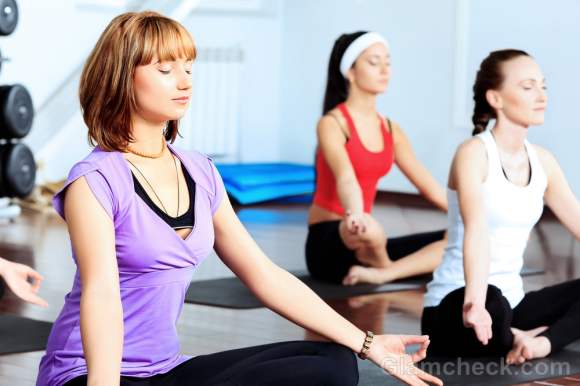 Just to be clear, yoga is not more beneficial for women than it is for men. Yoga will work wonders for anyone who practices – man, woman or child. However, there are certain things in life that are exclusive to women and some which, although common to both sexes, affect women more than men. Yoga helps to balance out this disadvantage. It equips women's minds and bodies to better manage their particular problems through the different stages of their lives.
Increases Strength and Stamina
It may be a modern world, but women are still somehow required to do more than men, balancing their personal life, work and even the home. So although it is men who are physically the stronger sex, it is the women who need more strength to accomplish the myriad of tasks that make up their daily lives. One thing yoga will definitely do is to make you stronger. Your stamina will develop simultaneously and you will find that you are able to go through your day with less fatigue. Being less tired allows you to be more alert and proficient, which means higher levels of productivity, which in turn translates into less time spent working and more time to yourself. Yoga will also build your immunity, which means you will not fall sick as often. This is more crucial than anything else because if the woman of the house falls ill, the whole place falls apart.
That's not all. Yoga also increases your energy. You will find your energy levels going through the roof when you have been practicing regularly for a few weeks. Increased stamina, strength and energy – this in itself is what turns many women to yoga.
Helps Reduce Stress
Because women have so much more to do in life, it results in them stressing out more. Most, not all, women have a tendency to analyze everything that's going on in their lives; they think a lot about everyone else's needs and tend to forget their own. A stressed out woman is almost the norm today. Stress has an invisible but massive impact on absolutely every aspect of your life. Your organs, health, sleep, immunity, digestion are all affected by stress. Yoga can, in part, help you deal with that stress. It calms the mind, relaxes the body and gives you some much-needed me-time. It does not matter how old you are – you may be a 14-year-old crushed under the burden of school work or a 60-year-old trying to navigate through a city that is not senior-citizen friendly – yoga will help you.
Helps Prepare Women for the Different Stages of Life
Women have to deal with some things that men do not have to worry about – periods, pregnancy, childbirth and menopause. You already know how painful and uncomfortable these things can be. Yoga can help you prepare your body for everything from menstrual cramps to child birth to hot flashes.
There are yoga poses which are known to reduce menstrual cramps and ease the other symptoms of premenstrual syndrome like headaches, bloating, joint pain and lack of energy.
Pregnancy brings a host of trials that only a woman who has gone through it can understand. There are a dozen things you have to deal with like bloating, constipation, gas, back pain, leg pain, nausea, the imbalance that occurs during the last stages of pregnancy, fatigue – and this list is not even one-third complete! Taking up yoga during pregnancy is one of the most loving things you can do for your body as it takes care of you from the inside out, body, mind and soul. Yoga will also help you keep your weight in check as your pregnancy progresses. You may not feel that comfortable doing other exercises during pregnancy, but since the general impression is that yoga is a gentle form of exercise – which it is – you won't be so anxious and you will be more likely to stick to it.
Yoga can help you to prepare your body for the labors of childbirth. Firstly, it helps you to calm your mind and your breathing, which overall is always a good thing during childbirth since fear and panic exacerbate pain. Yoga is an incredible pain management tool. Secondly, there are postures which can help to open up the pelvis and the hip bones to make the passage of the fetus smoother. Thirdly, yoga can help alleviate post-partum depression.
Menopause is characterized by several unpleasant, embarrassing and highly uncomfortable symptoms that last for years. Yoga can help to minimize them like nothing else can.
Strengthens Bones
Yoga helps to make stronger bones. Since women are at higher risk of osteoporosis than men, they need to take special care throughout their lives to make their bones stronger. Exercise is known to reduce women's chances of developing osteoporosis. So by doing yoga on a regular basis, you significantly reduce your risk of osteoporosis. What's more, yoga is a low-impact exercise; it is something you can easily do even if you have joint problems. However, some modifications will be required in the postures so that you do not hurt yourself. You should consult your yoga instructor about modifying certain postures to protect your knees.
Weight Loss
Yoga can help with weight loss. Women generally find it harder to lose weight than men since they have less muscle mass and a slower metabolism. Yoga aids in improving your digestive system and raising your metabolism. It is also a gentle but effective fat burner if practiced regularly. Note though you cannot expect to lose weight with any exercise if you are not taking other measures as well. If your are living a healthy lifestyle, eating in moderation, sleep enough, drink enough water, do not pig out on junk food often and are looking for an exercise plan to help you with your weight loss goals, then yes, indeed yoga can help. However, if you are not doing any of the above and do not really take care of any other aspects of your life, and then yoga will not make a difference.
How Often Should I Practice Yoga?
You don't have to be a yoga master to gain the benefits of yoga. Even learning a handful of postures and practicing on a regular basis will show results. Consistency is important. Make time for your practice; make your health a priority.
With yoga, it is quality not quantity that is the key. You can practice for just five minutes, but if you do it mindfully and correctly, it is far more beneficial than practicing for an hour.
That being said, practicing yoga two to three times a week is more than enough. However, it really depends on you. If you feel up to practicing more often, then you should definitely do so. There are many women who practice every single day of their lives. They are indeed stronger in body and spirit. They are more focused and alert and have fewer or no health problems. However, there are women who practice much less and who are still far healthier than they were when they started out. Listen to your body and do what feels right. Initially, you can practice twice a week just to get into the habit and then gradually increase it to thrice a week. You will know if you are capable of more.
So now let's look at the yoga poses that are beneficial to women. These are not better or more superior than other poses. They are just the bare minimum if you want health, strength and vitality in body, mind and spirit.
Adho Mukha Svanasana (Downward Facing Dog)
This is the most recognized pose in yoga. Downward facing dog is one of the best poses for overall body strength. If you stay in this posture for about five minutes, you'll be giving your whole body a workout. Downward facing dog stretches your calves, thigh muscles and back. It stretches the spine too which helps to calm your nervous system. Another wonderful benefit of this posture is that it works the triceps, thus increasing your upper body strength. This is a boon as women generally have very low upper body strength.
Kneel down on all fours on your yoga mat. Your palms should be flat against the ground, fingers spread wide. Your hands should be positioned about shoulder-width apart while your knees should be about hip-width apart.
Press strongly into your hands as you lift your knees off the ground and try to get your legs straight. Use the pushing motion with your hands to gain momentum.
If this position is too tight for you – and it will be if you are not used to it – then walk a little forward with your hands and a little back with your feet to create some space and length.
Squeeze your thigh muscles and use the strength of your thighs to push in a backward motion. This will help you straighten out your legs.
Your heels may not touch the floor initially. As you stretch out and stay in the posture for longer, your muscles will automatically loosen and lengthen and your heels will gradually get closer to the floor.
Hold this position for a minute. This may not seem like a long time on the clock but it will feel like eternity while you are in the pose, especially if you do not practice regularly. You may not even be able to hold it for 30 seconds initially. Don't be disheartened. As you practice, you will be able to hold it for longer periods.
Balasana (Child's Pose)
The child's pose releases tightness in the lower back, a common ailment for many women today that occurs as a result of plenty of house work, running around doing errands, too little rest and too much stress.
Kneel down on your yoga mat with your big toes touching each other but with your knees spread hip-width apart. When you sit, your buttocks should be touching your heels.
Bring your forehead down toward the floor with your arms outstretched in front of you, palms facing downward. Try to keep your buttocks touching your heels as you do this.
Close your eyes. Take a few deep breaths.
Plank Pose
Women have belly fat. You may have been a skinny stick with a flat tummy when you were a teen, but are sure to have put on some weight around your waist as the years have passed. Even thin older women often have belly fat. What's more, menopause increases the likelihood of belly fat.  Now you can do hundreds of crunches and sit-ups, but even trainers are starting to see the yoga's plank pose does a much better job of burning belly fat than traditional exercises. In addition, this pose increases upper body strength especially the muscles in your core and back, plus it improves balance.
Go into downward facing dog. Push into your arms, lower your hips and bring your chest forward without bending your knees. Your shoulders should be over your wrists. Your body is basically parallel to the floor right now. This position looks like when you are doing a push-up.
You should try to remain in a straight line. Push back your heels in the direction behind you and imagine there is a string tied to the crown of your head pulling you forward. This tension will help you to remain in alignment. Hold this pose for 60 seconds, and then go back into downward facing dog to rest for a minute. Repeat plank pose two more times.
Virbhadrasana 2 (Warrior 2)
Warrior two strengthens your lower body by stretching out your hips and even the hard-to-reach inner thighs. It also builds strength in the shoulders and abdomen. This pose will tone your limbs and help to strengthen your core.
From a standing position, spread your feet about 4 feet apart. You may have to spread farther if you are very tall.
Raise both arms to shoulder height. They should be parallel to the floor. Your palms should be facing downward.
Turn your right foot outward so that your toes are pointing to the right, away from your body.
Bend your right knee. You knee should be directly over your ankles.
Hold this position for a few deep breaths.
Unbend the knee, bring toes back to facing front and repeat with the opposite leg.
Vrksasana (Tree Pose)
The tree pose will stretch your spine, increase core and leg strength and improve your balance. This is also a wonderful pose to do on the days when you feel a little scattered and unable to focus. You have to be really mindful to successfully do this posture. So even just doing it on its own will help you to regain your concentration. Plus, its actually quite relaxing. You won't think that when you're learning how to do it though because you'll feel like you're going to fall any second. Keep at it. You'll soon be able to slip in and out of this pose with the grace of a yogi.
Stand on your yoga mat with your arms on your hips. Your feet should be together.
Figure out which is your stronger leg. For most people, it's the right one. This is the one that will stay grounded and the opposite leg is the one you should lift first. So transfer the weight of your body to the right leg and gently bend the knee of the left to lift it and place your left foot along the inner thigh of your right leg. Do not place it along the knee as this will put pressure on the joint. The positioning should be above the knee. If you are unable to go that high, place it below the knee, even the ankle if you are unable to hold your balance with the foot too high up.
Push the foot into the side of the leg. This pushing motion is what will help you maintain your balance.
Bring your palms together in a prayer pose. Hold for one minute. Then lower the leg and repeat with the opposite one.
Utkatasana (Fierce Pose)
This is another yoga pose that is easily recognizable since it forms the first part of the sun salutation. The fierce pose works your back and ankles. It's a good spine stretch too. Something else the fierce pose is known for is improving posture. More than anything though, this pose will work your thighs. This is great from a vanity point of view, of course, but more importantly stronger thighs mean fewer injuries to your knees.
Stand with your feet placed hip-width apart. Make sure you are well-balanced on your whole foot. Spread your toes, this movement helps you to re-focus the weight of your body evenly on the base of your foot instead of more on the outer foot which is what most of us do.
Raise your hands to the sky, palms facing each other, fingers spread out.
Bend your knees and move your buttocks back and slightly downward like you are about to sit in a chair.
It's important that the position of your knees does not extend beyond your toes during this pose. Push into your heels to do this pose more strongly.
Take a few deep breaths. Come out of the pose. Rest for a bit. Repeat.
Malasana (Garland Pose)
This is another balancing pose that is wonderful to regain focus on days when you are finding it difficult to concentrate. It also helps alleviate digestive issues like gas and constipation. From the strength point of view, you can expect to work your hips and ankles while stretching your lower back and groin.
Stand on your yoga mat with your feet position just a tad wider than the width of your hips.
Bring your hands together in prayer pose.
Your toes should be turned just slightly outward.
Bend your knees until you are squatting between your legs.
Keep your palms together but press your elbows gently against the insides of your knees. This will allow your hips to open up.
Take care to keep your spine long. Don't let it curve.
Hold for a minute.
Setu Bandha Sarvangasana (Bridge Pose)
The bridge pose is one of the most relaxing and beneficial for women. It's very calming and because it stretches your glutes and hamstrings it is wonderful for toning the thighs. You'll also feel pretty re-energized after doing this pose as it opens up the chest and lets you take deeper breaths. So you can drop right into bridge pose on particularly stressful days.
Lie down on your back with your knees bent, your soles flat on the floor, toes pointing straight ahead. The distance between your hips and your heels should be enough that you are able to touch your heels with your fingertips. Your feet should be hip-width apart, your hands straight by your side with palms facing downward.
Press into your heels as you raise your pelvis upward.
Push out your chest to create an expansion in the front of your body. Push into your hands to help you do this as well as to help you remain in the posture for a longer period.
Hold the position for a few breaths, and then lower your pelvis to the floor. Repeat thrice.
These are just some of the basic poses that you should be doing if you are keen on gaining the benefits of yoga but do not have the time for more. If you have medical problems, you should consult a qualified yoga practitioner to help you customize the postures and your practice for your needs.
Image: Shutterstock