When something is as widespread as breast cancer, there are bound to be as many myths floating around about it as there are facts. Precisely because it is such a scary disease, these myths prevail far and wide, infiltrating the human psyche till they are perceived as truth. These kind of breast cancer myths do no one any good and only serve to create a world of fear.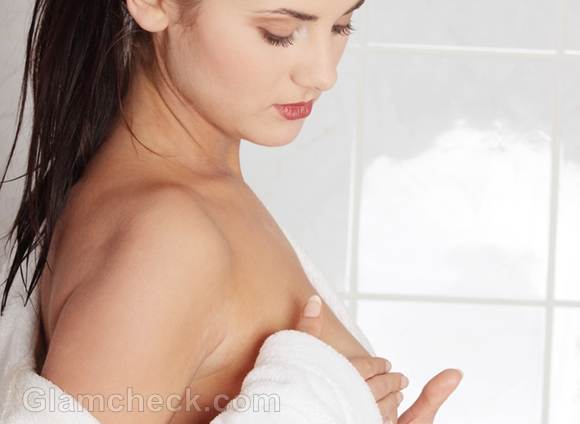 On the other hand, there are breast cancer myths which can make us almost careless because they perpetuate false ideas about the level of protection provided by such factors as your age, diet, family medical history, etc. The lack of concern and subsequent care that such breast cancer myths can instigate is just as bad as the ones that cause unnecessary fear.
So whether it makes you afraid or makes you take it far too easy, these breast cancer myths are wreaking havoc in some way or the other. There's only one way to get your facts straight – education. Educate yourself about which breast cancer 'facts' are real and which are parading around as truth. Ask questions about why something may or may not cause cancer and actively seek the answers. Take some responsibility for your health, your life.
We'll give you a good head start by busting some breast cancer myths that have been doing the rounds ever since the disease became prevalent.
No one in my family has ever had breast cancer so I will not either
This is perhaps the most damaging of all breast  cancer myths as it causes us to become lax in our care of ourselves. Did you know that in about 70% of all breast cancer case, the women did not have a single risk factor for the disease? No family history, no hormonal problems, no weight issues, no smoking – nothing. All that a family history of breast cancer does is increase your chances of developing tumors – it does not in any way dictate that you will definitely get them. Similarly, simply because you lack one or more of the risk factors does not mean that you will never get breast cancer.
Once breast cancer goes away, it will not come back
It is common to presume that although breast cancer is a tough one to battle, once it has left the body it will not return. Unfortunately, this is not true. Breast cancer isn't like chicken pox. Even if the final tests and scans after treatment show no signs of cancer left in the body, it can still come back at any time. In fact, having cancer considerably increases your risk of developing it again in the future even if you fight it off completely now.
All lumps in the breast are breast cancer
If you discover lumps in your breast when you perform a breast examination at home then you must definitely get it checked out as soon as possible. Rest assured though that this is more of a precautionary measure than a        warning sign. In about 80% of all lump detections through self breast examinations, the results showed either just regular hardening of breast tissue or a benign tumor.
Deodorants cause breast cancer
This is not quite a breast cancer myth as there may be some truth to the statement. We've included it in this list anyway because not ALL deodorants will increase your risk of breast cancer. Researchers agree that they there have been traces of parabens in some of the breast cancer cells that they studied. Parabens are a common ingredient in many cosmetic and food products. So while doctors/scientists/researchers are hesitant to  definitely state that deodorants may cause breast cancer, they are not willing to say that it won't either. So this is one breast cancer myth that will have to sit on the fence for now. However, know that parabens are known to be pretty harmful anyway so it would be prudent to avoid deodorants and other products that contain this ingredient. It may or may not cause breast cancer, but it surely causes several other health problems.
A healthy diet will save me from cancer
A diet high in fruits, vegetables, nuts, seeds, grains is often touted as the healer of all kinds of illnesses. This is partly true as food plays an incredibly huge role in your healthcare. "You are what you eat" is one of the most accurate statements ever made. However, a healthy diet alone will not protect you from cancer. But here is what it will do. It will keep your organs healthy, it will help you keep your weight down, it will boost your immune system and it will keep several other diseases at bay. It is actually all these factors that can help to reduce your risk of breast cancer.
Drinking too much coffee or tea will cause breast cancer
Caffeinated beverages have long been blamed for a variety of health problems. However, they can't lob the risk of breast cancer on to these beverages too as research has found no connection between the two.
Breast cancer will only manifest as lumps in the breast
It is true that most cancers develop in the form of tumors that we perceive as lumps underneath the skin. However, cancer does not always develop this way. The disease may already be at an advanced stage with no lumps evident, but with other symptoms such as redness, itchiness, scaly skin or an inverted nipple. Read our article on Early Signs and Symptoms of Cancer to learn more.
Keep in mind that while breast cancer does indeed occur in the cells of the breast, it can also lead to swollen lymph nodes on the collar bone or the underarms. These lymph nodes are easy to ignore on the assumption that they are not a part of the breast. However, they are near your breast and it does happen that the cancer can cause swollen lymph nodes long before the developing tumor gets large enough to be detected.
Cancer is contagious
Not at all. Cancer cannot spread through the air or the water. If you touch someone with cancer, you will not get it. If it were true that cancer was contagious, then all those doctors and nurses performing surgery to remove tumors would end up getting the disease too. So go ahead and continue regular interaction with your friends, colleagues, family and kids – they cannot get it from being around you, by eating from the same plates as you or even if they are pricked with the same needle that was used to inject you. This myth prevents many women from breastfeeding their newborns. Take heart, new moms, go ahead and continue feeding your baby unless the doctor tells you not to.
Wearing bras with under-wire increases your risk of breast cancer
There is a prevalent myth that under-wire bras compress the chest area, thus causing toxic materials to collect there which can lead to tumors. Don't ditch your bras yet. This is one of the most unscientific breast cancer myths out there. Your bra has nothing whatsoever to do with an increased risk of breast cancer… unless it's made of radioactive materials!
Getting your breasts surgically enhanced makes you more susceptible to breast cancer
You'd be forgiven for thinking that this is true. After all, this is a violation of the natural way of your body – making an incision and doing unnecessary surgery to implant your breasts with goop and gunk that you often read horror stories about. There are definitely plenty of risks of breast enhancement surgery, but breast cancer is not one of them. However, breast implants will make it harder for you and indeed even for your doctor to detect a lump or a change in breast tissue that are the telltale signs of breast cancer. Even a mammogram may not be sufficient to detect any changes with breast implants in place. Additional tests may be required at your yearly checkups.
Having smaller breasts reduces your chances of getting breast cancer
Totally untrue. This breast cancer myth may have sprung from the fact that it is harder to detect cancer in women who have larger breasts as there is much more breast tissue to scan and the tests themselves can get difficult to conduct properly owing to the size of the breasts. So women with larger breasts detect the cancer at a later stage and it's harder to treat the disease then. But that's all that is true. Having smaller breasts does not reduce your risk in any way, it just makes it easier to catch a tumor early on which means that a full recovery is very likely.
If I remove my breasts, I cannot get breast cancer
A logical assumption, no? Breast cancer occurs in the breasts so it should stand to reason that no breasts equals no possibility of cancer. A mastectomy (removal of one or both breasts) is recommended when the cancer is too large and rapidly-moving to be affected considerably by other cancer treatments like medication and chemotherapy. Most women who remove their breasts will not get cancer again, but some do. The site of the scar of the surgery seems to be especially vulnerable to recurrent cancer.
The breast cancer gene cannot be passed on from your father's side
Often, when women are being assessed for breast cancer risk and are asked for family history, they tend to ignore looking into their father's family history. Breast cancer does indeed occur more in women but men can suffer from it too. Plus, to assess cancer risk, any kind of cancer in the family should be uncovered whether it's on the father's or mother's side. Your father can be just as much a carrier of the gene as your mother since the disease affects both sexes.
Having regular mammograms increases your risk of breast cancer due to radiation
Yes, it is true that a mammogram machine uses radiation to scan the breasts. Exposure to radiation is one of the risk factors for breast cancer. Researchers claim though that the amount of radiation used for a mammogram is extremely small and that the negligible risks of even this tiny exposure are nothing when you consider that the test can detect breast cancer in its very earliest stages.
Having a biopsy for cancer will cause the cancer to spread to other parts of the body
It is thought that having a needle biopsy – a minimally-invasive procedure designed to procure cancer cells for assessment – will disturb the cells and make them scatter to various other parts of the body, thus causing cancer elsewhere too. Although this theory did cause quite a scare when it was first brought up, there is no evidence to prove that it is true.
Breast cancer is the second leading cause of death in women
No one knows why this breast cancer myth started. It simply is not accurate. Heart disease is the number one cause of unnatural death in women, followed by stroke, other types of cancer and diseases of the respiratory system. Breast cancer is not even in the top five. It may be that the several awareness programs that have been conducted in the last two decades to alert women to this disease led to some kind of skewed statistic in the minds of the general public. Rest assured that those stats are, fortunately, innacurate.
The mammogram reported that all is normal, therefore I do not have cancer
In most cases, this is indeed true. A mammogram is a wonderful tool for detecting breast cancer. However, mammograms are not the most dependable tool in that they actually fail to pick up on a whopping 20% of tumors. That may not seem like a very large number, but just imagine if someone who actually has cancer fell under that category. This is why breast cancer screening is not about just a mammogram alone but about a physical breast examination and other breast cancer screening techniques too.
Treatments for fertility can increase my cancer risk
Another logical assumption since fertility treatments involve hormones and hormones are linked to breast cancer in some way or the other. As of now, there is not enough evidence to debunk or confirm this breast cancer myth. However, the consensus is that there is no connection between the two.
Image: Shutterstock