With passing time, life is getting faster as well as busier. Each and every moment of the day is taken into count and is scheduled with one or the other task. There are numerous essential parts of life that get neglected, the most important one being your health. You may hardly get any time for exercise or workouts after a tedious work schedule. However, to maintain your health, it is really important to follow a regular and effective workout regime. Adding further, working women find it even harder to take any time for health care as they also have to look after the home and the kids after a long day of work at office.  
Besides the problem of time, another reason for health ignorance is lack of knowledge. Many women are not aware of the exercises which they can do. Well, looking at these problems, this editorial is aimed at making you aware of the cardio exercises which can be performed easily to stay fit and healthy. These exercises can be performed with or without the guidance of a professional trainer.
Explaining cardiovascular exercise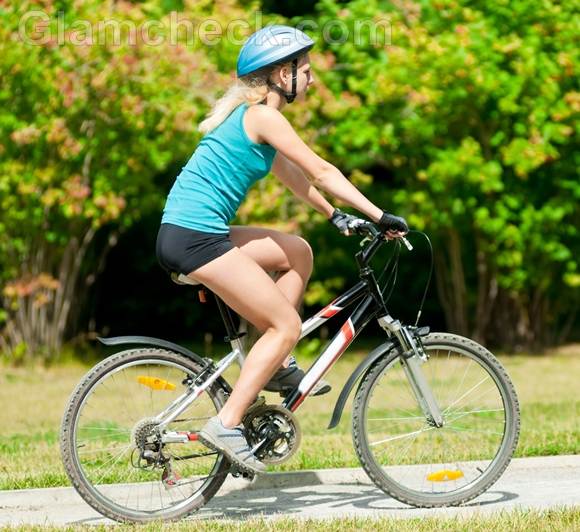 Also referred as cardio or aerobic exercise, this workout technique involves the use of large muscles during the workout process to strengthen your lungs and heart. cardio exercises involve continuous supply of oxygen to your muscles during the process. Additionally, the technique also shows numerous health benefits such as more stable blood pressure levels and calorie exhaustion to help reduce weight.
However, it is important to carry out cardio exercise at a specific intensity level to facilitate a proper workout to your heart. But, it should not be overdone. The best way to measure the exertion level during workout is through monitoring the heart rate with an electronic monitor or manually during the process.
Cardiovascular exercises for women: Types
There are numerous types of cardio exercises. As mentioned above, cardiovascular exercise involves the use of larger muscles, like legs, during the workout. These are basically classified into two different categories –
Outdoor cardiovascular exercise
This category includes exercises like
Walking
This is the best form of cardio exercise for beginners. If you feel like starting with less strenuous exercise, this is a great choice. However, it may burn lesser calories as compared to running but provides the benefits of same level and lower levels of injury risk. There is no need for any special equipment but a pair of comfortable shoes. To get the maximum benefit of this exercise make sure that you walk at a fairly fast pace.
Running or jogging
When someone talks about cardio, running or jogging may be the first exercise to strike your mind. Furthermore, it is one of the best and most popular types of cardio exercises for various reasons. Primarily, for every mile you run, as much as 100 calories are burnt. This amount of burnt calories is quite higher than those burnt in an hour of any other cardio exercise. Above all, it is fairly inexpensive and demands nothing more than a good pair of shoes and comfortable clothes. However, it is advisable to start at a slower pace for running can, sometimes, be a cause for leg and foot injuries.
Swimming
Swimming, usually ignored as a cardio workout, is a great form of workout. Also, it puts lesser stress on your joints as compared to that felt while running. The basic requirement of the activity includes goggles and a swimsuit. However, remember applying an effective sunscreen before you enter the pool to prevent your skin from tanning due to chlorine present in pool water.
Jump-roping
The basic equipment required for this workout is a skipping rope. This workout is also one of the best cardio exercises. Moreover, it can be performed indoors as well as outdoors, as per your convenience.
Dancing
This is the most enjoyable cardio exercise for women. Dancing at different beats instigate speed intervals. However, try to include steps that involve the movement of complete body.
Bicycling
For those who want speed in their cardio exercises, cycling is one of the best options. Even though it does not burn as much calories as in running, it is more enjoyable than other cardio workouts. It is, however, a little expensive than other indoor cardio exercises. You need to buy a good bicycle, a helmet, and proper clothes. Well, cycling proves to be less strenuous to joints as compared to running. So, if you have any kind of knee or hip injuries that stop you from running, you can go for cycling as an equally good alternative.
Indoor cardiovascular exercise
For those who don't like going out for workouts may go for joining a gym and perform the various cardio exercises indoors. This category includes –
Use of stationary bicycles
There are many women who don't want to go out for cycling due to lack of time. Well, not to worry any more. You can always invest in a good stationary cycle to have the fun and benefits of cycling at home. Furthermore, if you don't want to spend that much amount on a bicycle, joining a gym is a good option.
Treadmills
An indoor alternative for outdoor running, this exercise can be carried out at home or in a gym, as per your convenience. If you can afford, there's nothing like having a personal treadmill at home to facilitate any time walk or running.
Stair and ladder climbing
This is another cardio exercise that can show effective results. this exercise targets body areas like thighs, calves, and knee joints and is really effective in keeping you fit.
Some other types of indoor cardio exercise include rowing machines and elliptical trainers. The above mentioned list, however, clearly states that the outdoor cardio exercises do not require any sort of special equipment. Still, it is really important to wear the right fitted shoes while running, walking, or jogging. Also, it is essentially important to wear a helmet while bicycling.
Cardiovascular exercise for women: Benefits
Cardiovascular exercises provide numerous health benefits. For those with a sedentary job, just feel your body at the end of your day – tight muscles, back ache, and a feeling of being exhausted without even any physical stress. Now, just feel your body after a workout – flexible and warm muscles, proper blood circulation throughout the body, and better supply of oxygen to make you energetic. Actually, our bodies have been designed to move rather than sitting around the whole day.
Let's have a look at some of the most common and important health benefits of cardiovascular exercises.
        Weight loss
        Strengthening of lungs and heart
        Higher bone density
        Stress reduction
        Lesser risk for heart diseases and some cancer types
        Helps with anxiety and depression
        Boosts self confidence
        Improved sleep
        Higher energy levels
        Keeps you active
Additionally, in the present world, appearance matters a lot. Cardio exercises provide you a better quality of life. The various health benefits of cardiovascular exercises not only improve your appearance but also make you feel good about yourself by making you more active than ever before.
Allow me to provide you with some details about the benefits of cardiovascular exercise.
Calorie exhaustion and weight loss
One of the most important benefits of cardiovascular exercise is calorie exhaustion. However, it is important to do it for longer durations and more frequently in order to lose weight. The best way is decreasing the calorie intake along with beginning a cardio workout schedule.
Increased metabolic rate
It has been revealed from studies that regular cardio workouts help in increasing the resting metabolic level. This is also helpful in weight reduction.
Preventing cardiovascular diseases
Cardio exercise is also helpful in improving the overall health of an individual, specifically health of your heart. Some of the most significant benefits of regular workout which work towards making your heart healthier include reducing LDL (bad cholesterol) levels, increasing HDL (good cholesterol) levels and a positive fall in blood pressure level. Adding further, cardio workouts can enlarge or strengthen the heart for better.
Protecting against diseases
Regular cardio exercise helps stave off various diseases, vitiating diabetes to osteoporosis. Additionally, those exercising on a regular basis with lesser risks of bone loss resulting from growing age. Furthermore, back ache also gets reduced as a benefit of cardio exercise with an increase in flexibility as well as muscle strength.
Positive effects on mood and depression
Cardio exercises are great for mood improvements and treating depression. Actually, cardio exercise aids in boosting the level of endorphin hormones in the body. This hormone is responsible for making us feel good, motivated and energetic. Even a short term workout of 20minutes can lead to hours of happy moods. This may be the reason for many people preferring workouts early in the morning to get the energy required throughout the day.
Increase in stamina
While doing cardio exercises, breathing rate increases and the heart rate also fastens thus increasing the oxygen amount supplied to the bloodstream. Doing regular cardio exercise makes your lungs, heart, and blood vessels more efficient in supplying oxygen to the muscles. The simple fact is that with increasing weight lifted every week, the muscles get stronger. As a result, you can exercise for longer durations with lesser fatigue thus strengthening the lungs and the heart.
Lesser health risks
Regular cardio exercise is helpful in maintaining the cholesterol as well as the blood pressure levels thus mitigating the risk of developing health conditions like obesity, heart ailments, type2 diabetes, and many more.
Better self-image
As proved by studies, workout routine is helpful in making you more satisfied with your bodily appearance.
Longer life
The risk of premature death can be reduced significantly with a cardio performed for at least 30 minutes a day. This can be a cardio exercise in any form, walking, running, jogging, or any other. Besides making you live longer, cardio also facilitates you with a better quality of life for a longer period.
So, stay active through cardio workout for it can make your life better by making you active and keeping you fit. Moreover, with regular exercise, a good example is set for the kids to follow the same to reach a better future.
Stay active and take care!
Image: Shutterstock