Breast cancer is a disease in which malignant (cancer) cells form in the tissues of the breast. It is the most prevalent cancer among women and it affects approximately one million women worldwide. Detecting it on time, can help control the disease and cure it.   One needs to pay attention to warning signs of breast cancer that will help in early detection of the disease.

Early symptoms of breast cancer are as follows: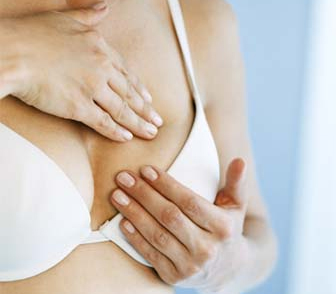 Pain in either or both the breasts: Any unusual, persistent or long lasting pain in the breast, nipple or armpit area calls for an alert. It may be an early sign of breast cancer.
Tenderness in breasts: Many women experience some tenderness in their breasts before the onset of their periods that goes once the period is over. This is normal. Any sort of tenderness in the breasts that is persistent and long-lasting making arm movements difficult calls for an alert.
A lump in the breast: If there is an unusual lump or a thickening of any area of the breast or underarm that can be felt, irrespective of its size, it could be a warning sign of breast cancer. The lump may be visible or can be felt while examining the breasts.
Itching in breasts or nipples: A persistent itching in the breast or nipples for no apparent reason sometimes with redness can be symptoms of breast cancer.


Breast always warm: Breasts that usually feel warm on touching may possibily occur due to some kind of  inflammation that can lead to breast cancer.

Any change in the feel and appearance of the  breast: Any change in the size, shape, or contour of the breast should not be ignored. The changes may include any of the following:
Breast skin:
Breast that looks red or blotchy, or with a rash-like appearance is a symptom of inflammatory breast cancer.

The skin of the breast area appears rough and scaly.

There is puckering or dimpling of the skin resembling an orange peel.

Thickening of the skin under the arms or around the breasts.

A bruise or bruises on or around the breasts that don't disappear.

Nipple:
There is some redness or irritation, or a pulling in of the nipple.

There is any nipple discharge other than milk such as a clear fluid or blood.

Flat or inverted nipple with a discharge and change in color (various shades of pink and red).
Swelling:
Swelling of the lymph nodes in the neck.

Sudden swelling of the breasts besides the normal swelling.
If you are experiencing anything unusual as explained above, report the symptoms to your doctor as soon as possible. An early detection and a prompt treatment can significantly improve your chances of surviving breast cancer.