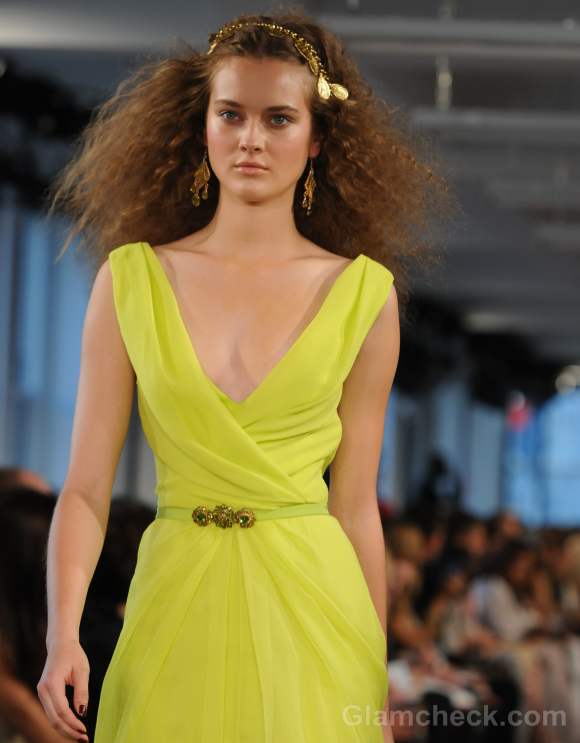 Oscar de la Renta's S/S 2012 collection in New York saw a splattering of maxi dresses in fluorescent hues.
Maxi dresses have garnered a lot of admirers in the past few years, and have turned out to be a favorite summer staple – therefore, this makes it our style pick of the day.  However, we usually see more of the flowery/patterned maxi dresses rather than the fluorescent/solid colored ones. So, how can one sport a single hued vibrant maxi dress? Well, we are here to help you with exactly that.
Rocking different looks with just one attire – your fluorescent maxi dress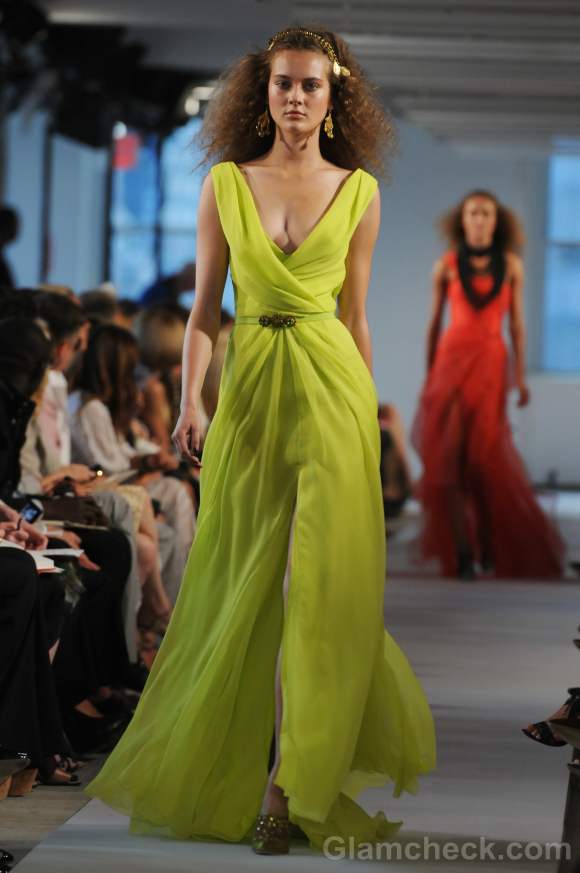 The summery/beach girl look:
If a summery/beach look is what you have in mind then you can opt for multi-shaded drop earrings or filigree designed ones. You can play up your look by placing a flower or hair accessory behind your ear.  You can take inspiration from our pick of flower hairstyles. The Wavy/messy/bed hair look best with a maxi dress if a laidback look is what you have in mind. Take care not to wear too much of the same color as on your dress, this would look monotonous and could be a bit on the boring side. Play up on the contrast factor while choosing the accessories and footwear, and while you are it put on colorful wooden bangles or chunky bracelets.
Boho-chic look: 
One can also sport a boho-chic look with the maxi dress by strategically placing a beaded necklace amidst the hair.  You can also wear a multi-hued beaded necklace, however take care that it is not in the same shade as your dress.  Don't worry about it being over crowded if it is boho you are aiming for – because that is one of the mainstays of the hippie look. Therefore, accessorize! To know of more ways of playing up your fluorescent maxi dress in boho fashion, take a look at how to dress boho.
The classy look:
If you want to sport a classy look then opt for solitaire type earrings or delicate danglers. You might also want to choose a more elaborate coiffure. A thin pendant and wiry bracelet will also add to the look. Try to opt for silver shaded accessories. Golden accessories might clash too much with florescent shades – and not in the best way.
Style tips for wearing a fluorescent maxi dress
Maxi dresses look best with open flat footwear. If you cannot do without heels then opt for thong wedges. Opt for closed footwear only if you want a dressier look.
For those of you who are conscious of heavy arms and out of shape upper body that were well hidden by winter clothes – fear not, wear a contrast colored solid or patterned top underneath the maxi dress (this happens to be my own personal saviour, and trust me it looks good…not to mention stylish and no one gets to see the "flab"!). This also helps one in following the color block trend, so you get to follow two trends with just one look.
Most importantly do not be scared to experiment. If you think it looks good, then go for it! Style is all about our personal touch after all!
For more style tips on how to wear a maxi dress, you can head to our elaborate section on maxi dresses.
Image: Shutterstock