Holi, the festival of colors is an occasion that is enjoyed by everyone in India. Vibrant hues fill the air, as splashes of color are put on one another. Merriments take place in full frenzy. However, all of this can become a dampener if you do not take proper care of your skin and hair. Playing Holi is one thing, but sporting a pink/purple tinge on your face/skin even after a week of Holi is not the best thing to happen! Therefore, we have for you a few beauty tips that will take care of your hair and skin, so that you can play Holi to your heart's content without holding yourself back.
Prevention is always better than cure, and this holds really true for Holi.
Here are a few smart tips to follow before stepping out to play Holi.
Wear clothes that provide maximum coverage to your body
Half the battle will be won, if you wear clothes that cover your body entirely. The lesser the exposed parts, the lesser the color someone would be able to put there, and the easier it will be for you to wash away. So pull out those long sleeved t-shirts and tops, and pair them with track pants or jeans. You can even team a long skirt with your top, who says you can't follow style just because it is Holi? You can also wear long tops with jeggings. And, of course a white "salwar kameez" always remains a holi favorite, just ensure you wear a long sleeved kurta.
Wear a scarf/bandana/cap
As with the body, try to keep your hair covered as well -this will ensure lesser time spent in the bathroom. Not only will the head cover save your hair but also lend a smart look to you.
Tie the hair
If you do not like the idea of covering your hair, then at least keep it tied. A plait is a good option, because it keeps the hair neatly and tightly together. You can sport a stylish plait too, like we mentioned earlier – there is no reason why you shouldn't continue to be stylish on Holi. For plait ideas take a look at how to make side braids. Do not forget to oil your hair before tying it up. Oil prevents the harsh colors from seeping in, hence making it easier to wash them off. Olive and coconut oil works best.
Apply cold cream and sunscreen on your skin
Since you will be playing under direct sunlight, it is a very good idea to apply sunscreen. Do not forget to moisturize your skin with a good cold cream, as this will work as a protective barrier again colors from getting too deep. A dry face absorbs more color, which become really stubborn later on.
Apply Vaseline on lips, behind and on ears, and under nails
Sometimes we are so engrossed in protecting our face that we forget to give attention to the other areas, and more often than not it is areas like these which fall prey to rigid colors. Therefore, do not forget to pay attention to these target zones.
Apply lipstick, nailpolish on and under nails
One tell-tale sign of holi is purple/black lips and nails. You can prevent this by applying lipstick, because it prevents the color from settling on your lips. Nails should be coated with a dark nail polish and do not forget to paint underneath the tip of the nails! Girls usually ignore this point, but it can be a nail saviour during holi, and can be easily taken off with a nail polish remover later on.
Drink water
Do not forget to drink loads of water before stepping out, this will help you against dehydration. Not only the chemicals in the colours, but the hot sun as well have a dehydrating effect – so load up on water!
Beauty tips to follow after playing Holi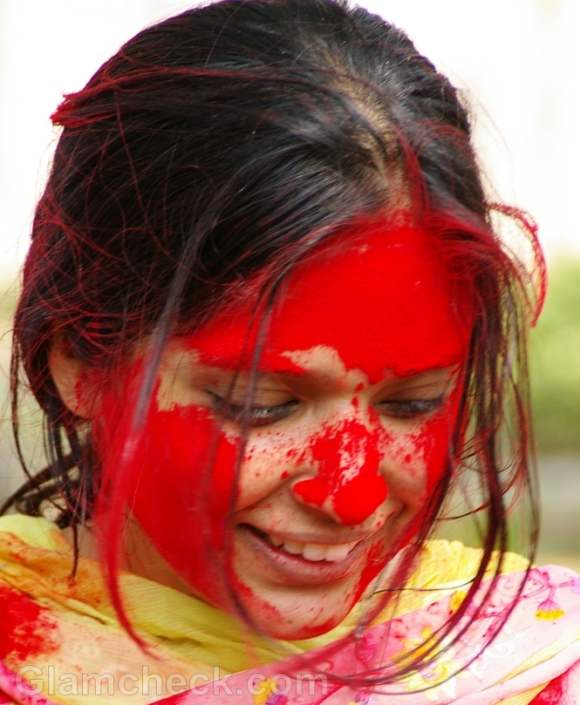 Brush away the loose dry colors from your skin, before you wash your face.
Apply sesame/mustard oil on your skin and rub gently, this will help in removing the colors.
Do not use soap directly on the face, rather use a cleansing face wash/lotion.
Cold water helps in removing color more than hot water, so see that you use the former to wash up.
First use plain water till most of the color and tiny mica particles from the hair and body come off. Only then use your bathing toiletries.
Do not vigorously rub your skin. This won't help.
Apply lots of serum/conditioner on your hair after you shampoo it and a lot of moisturizer on your body. The effect of the colors followed by a long bath can leave your hair and skin dry, so see that they get adequate moisturizing.
Hopefully, these simple tips will make Holi a more fun experience for you. So, go ahead and have a colorful, safe and Happy Holi!
Also Read:
Holi Dressing – Colorful Ways to Wear White

Doesn't it feel like a ritual on its own to wear white on Holi? Yes of course your dear clothes […]
Holi Hairstyle : Side Braided Bob with DIY colored Bobby Pins

So I have recently got my tresses chopped off into a bob and even though short hair is great, there […]
Dual Lip Color Trend for Holi

The recently held Wills India Fashion week Autumn Winter 2013 actually showcased a trend which is perfect for Holi. Dazed […]
Holi Special – The Right Makeup & Accessories for Holi

The Holi dream is to wear an all white attire and be smeared in colors right. If you are a […]
DIY: Holi Inspired Nails

The plethora of colors on Holi can sure get inspiring. Wearing white attire is great, but colored accessories and colored […]
Image: Shutterstock