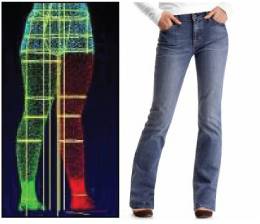 You no more have to struggle finding a perfect pair of jeans for yourself. Benchmark Clothiers recently launched its Eptiome line of 3D body scan customized jeans developed together with [TC]², Jeans customization includes 3D measurement data from body scanning and utilizes a sophisticated preference assessment process for tightness,  jean leg shape ,waist placement and length.
Neil Allen, Benchmark Vice-President, said that "This is by far the best way get a great fitting pair of custom jeans". "The issues of body shape combined with personal preferences make jeans shopping very difficult for most people."

The first Benchmark affiliated 3D body-scanning site for custom jeans is Bimini Butterfly in Cabot, Arkansas. It  is owned and operated by Kendra Huffuan.