Accessories have the power of transforming your look from the ordinary to the extra ordinary in a jiffy. Since times immemorial, human beings have resorted to using natural products such as shells and conches, horns, pearls and feathers. In the world of accessories, perhaps nothing can be as dramatic and eye catching than feather accessories.
What are feather accessories?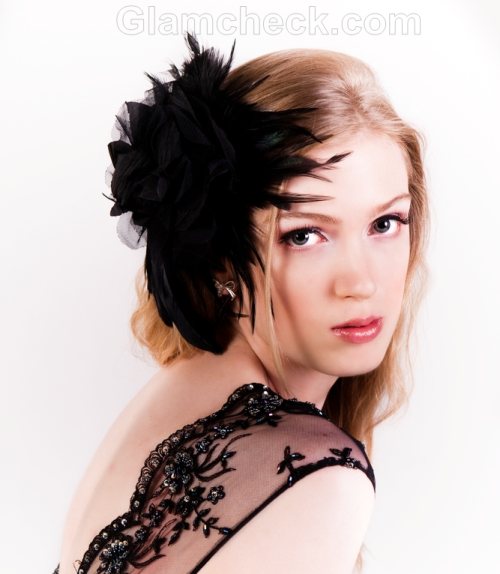 Accessories made of natural plumage taken from domesticated and other birds and synthetic feather made of plastic or cloth are known as feather accessories. Feathers of birds such as peacock, ostrich, parakeet etc. are fairly commonly used to make feather accessories. However, owing to increasing awareness against animal cruelty, these are slowly being replaced with artificial, synthetic feathers, made in factories.
Usage of feather accessories
Feather accessories can be used in its various forms right from a plume on a hat, on a hairclip or hair band, as neck pieces, as earrings, as stoles and many other such innovative uses.
Feather hair accessories

Feather hairclip
Perhaps the most common use of feather is in the form of hair accessories. Feathers can be used as a part of hair clips and hair bands. One of the most common methods is to comb your hair and have a side parting. Close to the ear, you could use a feather hairclip. Alternatively, you could use hair gel and comb all of your hair neatly into a pony or a bun. You could use a feather band to hold the bun or the pony; a hair band with feathers to hold your open hair also looks great.
Take care to choose a hair accessory color which is not similar to that of your hair, for example, if your hair is black, choose a contrasting shade such as a yellow, red or even a brown to accentuate the hair color as well as make the feather accessory stand out and be the centre piece of the entire ensemble.
Feathered hat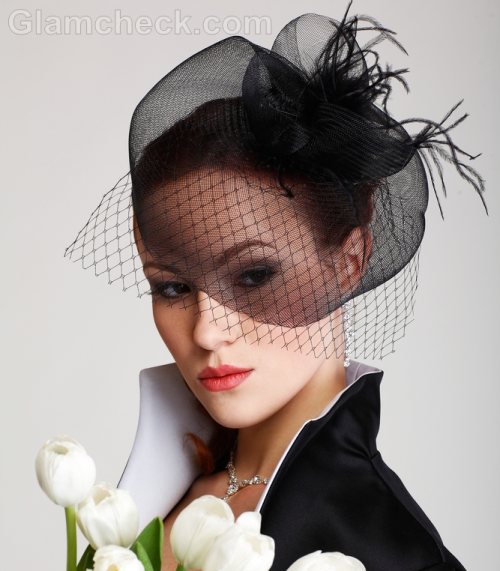 Hats, which are essentially worn for formal events such as weddings, red carpet occasions or even to the derby are often adorned with feathers. These not only look ultra chic, they are unparallel when it comes to being elegant. If you plan to buy a feathered hat, choose one which is an evergreen favorite and could be worn to formal occasions. Bright, unusual colors of feathers are usually not seen to be as elegant as feathers in colors such as brown, black and deep reds.
Feather scarves and stoles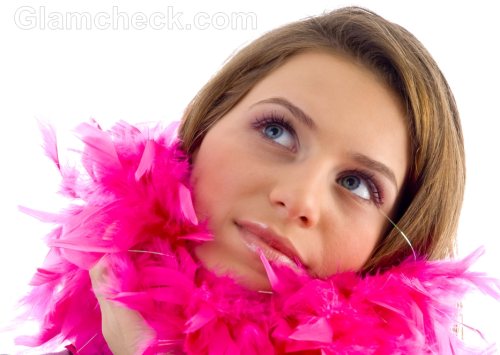 Long feather trails can be used innovatively as stoles or scarves. As most of the times usage of scarves in this fashion is considered to be sexy and sultry, it is not used very often in broad daylight.  Also, as the look is somewhat casual, often, you would see bright colors such as red, fuchsia and canary yellow being frequently common for this purpose.
Feather stoles can be teamed with revealing low cut dresses and gowns.
Feather earrings / Feather neckpiece

Feather earrings
Often you would see feathers in interesting colors being worn as a neck piece or as ear rings. The plumage of peacocks is often used for this purpose, owing to beautiful and unusual color combination.

Feather neckpiece
While wearing feather neckpieces or feather earrings, contrast colors look great to create a dramatic effect. You could add a lot of color and drama to any boring outfit by intelligent usage of colors on your feather jewelery.
Things to keep in mind while donning a feather accessory
Effect of feather is very dramatic and usually relegated to occasional use, not for every day wear. Attempt not to crowd or over do the look, by wearing too many bold pieces of accessories with feather accessory. Usually, a feather accessory should be only the one and only centre piece of attraction in your entire ensemble.
Image: Shutterstock