Nuubo began developing its cardiac telemedicine solution long back since 2006. The company manufactures shirts that are able to monitor the heart of the wearer, assuring them by 24-hour surveillance.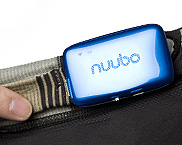 It is a smart undershirt with a chest band along with a credit card sized device that is about four millimeters wide. This small device, that hardly gets noticed, counts the heartbeats through its sensors, records a medical quality electrocardiogram, and detects the respiration rate, the body temperature and the position of the wearer of the shirt (while standing, walking, lying, asleep or fallen).
The device comes along with a phone that is to be carried by both; the patient and the doctor who is treating him/her. The phone sends all the data through a wireless connection to the hospital. When not connected to the network, the information is stored in the memory card and sent later.