Headbands are a popular accessory since ages and their popularity only seems to increase with every season. A great way to spice up your look or mask your bad hair day, headband is a very versatile accessory and great looking head bands are a must to have every season.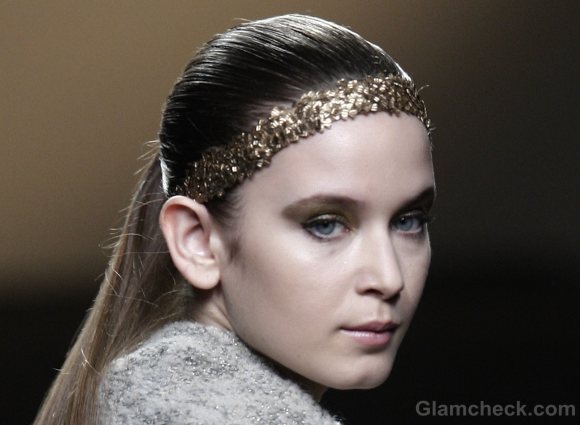 Our style pick of the day is shimmery headbands, like the ones donned by the models during the Jesus del Pozo Fall/Winter 2012 collection during the Mercedes Benz Madrid Fashion Week.
Shimmery Headbands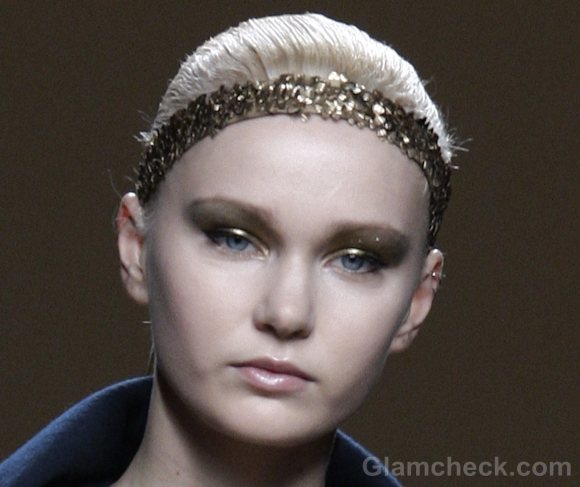 A great accessory and very pocket friendly too, the shimmery headband will get you all the approving glances.  Shimmery headbands can be made of rows of sequins stitched together on a length of fabric or simply by tying a piece of shiny fabric such as one with lurex or like in this case of models walking the ramp for Jesus Del Pozo, of shiny patterned lace.
Worn on the forehead, just where the hair line starts, these hair bands with the bronze sheen look super cool and are great to highlight your face. They are not completely ignorable too! With the subtle sheen and glimmer, they ensure that they play their part as a fashion accessory – that of adding oomph and drama to the entire ensemble!
Style tips for wearing shimmery headband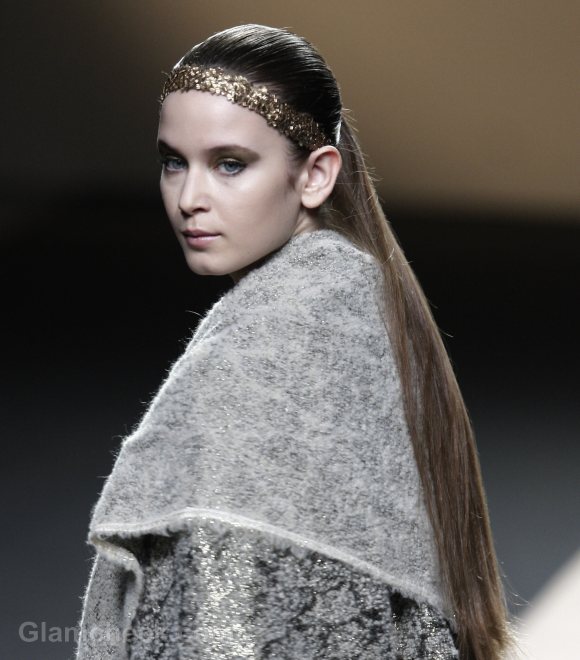 Pretty as they are, try and avoid too jarring colours such as electric red, shocking pink etc. for your shimmery headbands( unless you are headed or  theme party or a fancy dress competition).Subtle metallic shades of bronze, muted gold and silver look great.
Shimmery headbands can look great in summers as well as the dull winters – they are truly your all weather accessory!
Remember a shimmery headband should be classy. Don't overdo the look, by trying to match your headband with the color of your dress or your nail paint or your handbag. Neutrals such as shimmery white, black, beige and browns too look great with almost all outfits.
The headband when worn, takes away the focus from your hair to your face. Have flawless make up on your face to ensure that your look is great. Again, try not matching that shade of lipstick with the headband. Nude makeup would look just fine. If you are the adventurous sorts, you could try other make up styles too and see what works for you!
Even though the headbands help to shift the focus from the hair on to the face, it would help to have well kept hair. A great hair style to show off with the shimmery headbands, is that of combing all your hair back and tying it into a neat bun / ponytail or just left loose.
Last but not the least, no accessory can take the place of self confidence. Wear a shimmery headband with a smile on your face and oodles of self confidence.
Have fun with your headbands, they are many and more out there, for you to try!
Image: Shutterstock