Hollywood actress Sandra Bullock may have caused irreparable damage to many hearts as she attended the 17th Annual Hollywood Film Awards at the Beverly Hilton Hotel in Beverly Hills, California on October 21, 2013.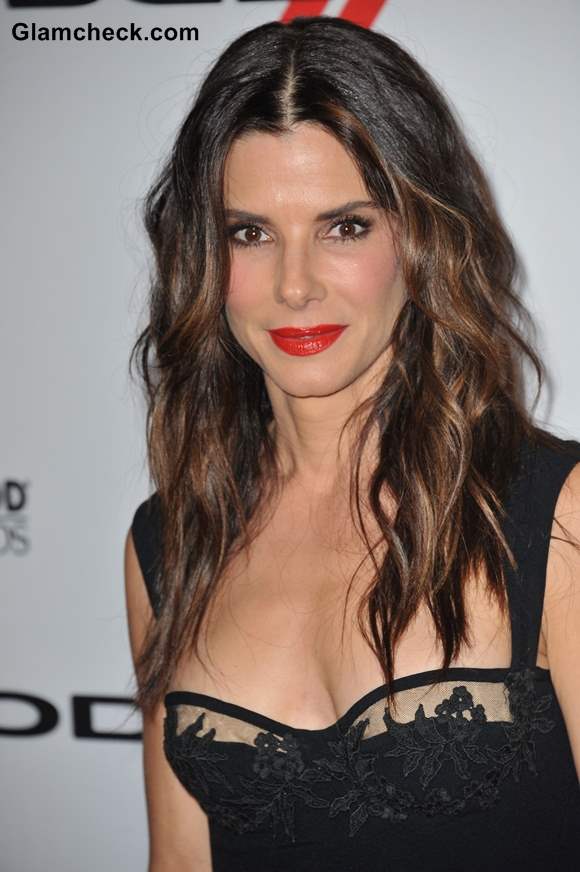 Sandra Bullock 2013 pics
Sandra looked stunning, and not least because she donned an incredibly sultry black dress with sheer detailing over the bust. It was her hair and makeup which was both complementing the attire and doing most of the talking.
The first thing you noticed about the 49-year-old star was her bold red lippie – a very deep, cherry red shade that is just in your face and steals the focus. Not so much, however, that you didn't notice her softly lined and starkly mascaraed peepers. There's a boldness but also a softness to the makeup – quite a skill, we say.
Sandra Bullock Red Lips Curly Hair
Then there were her ombre locks, tumbling down in curls that could only be described as Hollywood since they looked ripe for the red carpet and had more glamour than other types of curly dos. They cascaded in an almost structured way from a middle parting, making for a sexy visual that you won't soon be forgetting and will very likely want to emulate over and over.
Sandra looks hot, of course, and nowhere near her age in this look which speaks volumes of her confidence and top notch sex appeal. 
Image: Shutterstock