Not everyone is blessed with a perfect and flawless skin. There are some most common skin problems such as pimples, dark circles, and small blemishes that most of the women wish to get rid from.  Concealers act as a temporary makeup solution to hide those skin flaws and make the skin appear fresh and glowing.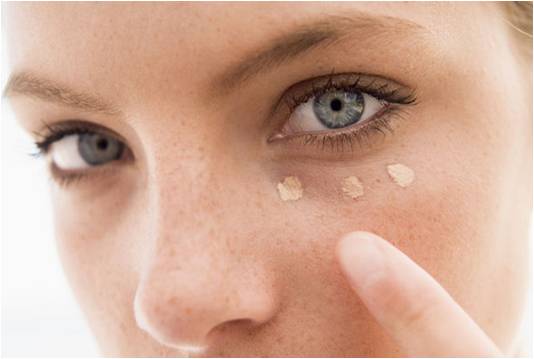 A concealer, as the name suggests, is a cosmetic product used to conceal / hide small blemishes, marks, and dark spots visible on the skin. A concealer / color corrector works magically when it comes to hide dark circles and blemishes by blending perfectly with the skin making it appear smooth and even.
Concealers fall into 3 broad categories solid, liquid and powder and are available as:  concealer sticks, concealer tubes, concealer pots and concealer creams. They are slightly denser in composition than regular foundations. Concealers  are often used along with  foundations to achieve a much more even and flawless complexion.
The best concealers are the ones which are lightweight, water-resistant, fragrance free as well as creamy in texture. One should avoid concealers that contain oil, as it tends to settle into the fine lines on your face and under the eyes drawing attention.
Concealers are broadly categorized into solid, liquid and powder types depending on the kind of usage.
Solid concealer
Solid concealers, available in stick or wand type are used mainly to hide scars and marks caused by pimples or chickenpox. Solid concealers are thicker and they fill into the indentations perfectly, providing a greater coverage and a smooth look. They can be directly applied on the spot.
Liquid concealer
Liquid concealers are good for those with a dry skin or an ageing skin. It is light, covers larger areas, easy to apply and provides an all around coverage making dark circles and red veins appear lighter. These are best to use when less coverage is required.
Powder concealer
Powder concealers are lightweight and applied with a brush. Powder concealers can be used both; under and over the foundation. They provide a good under eye coverage. These are not very effective in covering very dark blemishes and dark under eye circles.
Read more: TYPES OF CONCEALERS
A concealer is a must have beauty product to achieve that flawless complexion instantly. One should however, not wear concealers throughout the day and on a regular basis.  Using cosmetics all day long does not help the skin to breath properly and thus, invite more skin problems.