My fascination for skirts is renewed every season as skirts remain an all time favorite item of clothing worldwide, closely trailing behind dresses in popularity. Interestingly, skirts have been around since the evolution of mankind. The rectangular piece of animal skin, leaves interwoven together and the earliest form of fabric – loosely woven tartans; all used to be wrapped around the waist and were the initial basic form of skirts.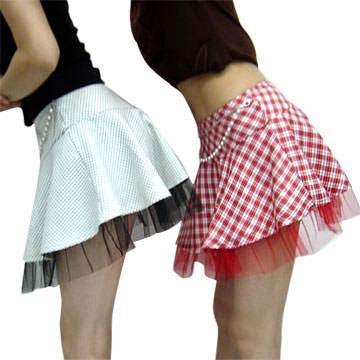 If you thought skirts were only meant for the women, think again!
Kilts, the traditional wear of the Scottish is for Men, Indians have a version of the skirt – the good old desi Lungis, wrap around skirts are worn by the Indonesian men. However, skirts are predominantly a Women's clothing item.
Indians have a long tradition with skirts too. The South Indian traditional dress worn by the women "Mundu Neriyathum" or a long skirt " Mundu" worn with a blouse and a long stole 'Neriyathum', North and western Indian traditional dress of a 'Ghaghara'  or 'lehenga'  and teamed with 'choli' or a tight fitting blouse are all different forms of long skirts.
The skirts have evolved over time period and how! You could say that the popularity of skirts can be attributed to its versatility – you could wear a skirt to a strictly formal occasion such as a business sit down dinner, a semi formal occasion such as a party to celebrate your contribution to the company or even to a casual movie and pub night out with your girlfriends. The best part about skirts is that you could look different every single day, wearing the same skirt, if you just alter the top and accessories you wear it with.
So what defines which skirt should be worn on what kind of occasion? Is it the styling/ fabric/ length /body type / colours or a combination of all of these?
We try and answer all these questions and more in this article.
Fabrics for skirts
The fabric of the skirt largely depends on the season.
If you are wearing a skirt in summers, it will be in
Light to Medium weight 100% cotton fabrics such as poplin, sheeting, linen or denims in 5 oz. to 8.oz.
A few kinds of skirts are also made in the lighter weight cotton like cambric and voile or in polyester fabrics like georgettes, chiffons or net. However, skirts made in light weight and transparent fabrics are normally lined to provide additional strength and prevent too much transparency.  Also due to the fabric strength limitation, these are normally not converted into very tight fitting designs.
For the colder months, skirts may be made in heavier weight cotton fabrics such as canvas, twills and denims in weight 8 oz. to 12 oz. heavier weights and tighter constructions of poplins and sheetings are also common.
Warmer fabrics which are less permeable and trap air like silk, satin, taffeta or heavier fabrics like worsted wool , different wales corduroy, uncut corduroy, velvet are also good choices for skirts for colder months. To give added warmth to the wearer, skirts can also be teamed up with leggings and stockings.
Skirts in knit fabrics such as cotton, viscose or a blend of viscose/lycra, cotton lycra are also very popular. Knit gives the benefit of taking the shape of the wearer.
Colors, prints and accessories
There is no ground rule for colors or prints that could do well for skirt. The occasion that you want to wear a skirt to, normally dictates the prints and colors.
For office wear, conservative colors such as pastels, navy, beige, brown, black, ecru and white are preferred. Pinstripes are also considered formal wear. Team office wear skirts with fitted shirts for a serious, 'don't-mess-with-me' look or, for a more relaxed look, team it with loose fitting, self textured blouses or blouses with small prints. Flat, or small heeled closed shoes work the best for office wear; stick to neutral colors for footwear such as beige, brown, black or white. High heels can best left to be worn for after office dance parties. Avoid wearing heavy jewelery; a string of pearls and ear studs or small ear rings convey a look of professionalism. The lengths most suitable for a formal skirt is knee and below. For summers you could wear a knee length skirt (make sure your legs are toned and waxed!), for winters you could wear a long skirt.
A strictly office wear skirt can be converted to a party skirt in a jiffy, by just altering the things that you wear it with. Wear a nice floral fitted top, add some color to your lips and cheeks and throw the string of pearls and the small heels in the locker, to be replaced by some fun trinkets and neck-wear and stilettos. We talked about the versatility of a skirt…now you understand why!
For a more casual outing, bolder colors and prints which are 'in fashion' are preferred. Colors such as fuchsia pink, raspberry red, lemon yellow are all perfectly acceptable, however, ensure that you accessorize right and team it with the right top. You could have an array of prints in vogue for a season, such as large floral prints, ditsy prints; border prints, paisleys, geometric prints etc. and all of these would work perfectly well for a skirt. Team a solid color top with a skirt having large prints. Teaming tops and skirts, both with large prints could prove to be a fashion disaster and avoid this at all costs. All skirt lengths from thigh to ankle are worn and work well for casual wear. The shirts could be more stylish however, from sleeveless to full sleeves, from bright colors to neutrals to prints, everything works. You could experiment a lot with jewelery – large chunky necklaces, multi-layered chains, delicate trinkets all work well with a casual skirt. The key is to create a balanced look; if the top is the highlight of the ensemble, keep the skirt and jewelery basic; likewise, if the jewelery is loud and creates a statement, keep the top and the skirt basic.
Before I go on to talk about the shapes, it is also important to know the closures that a skirt uses. A skirt could be a pull on elasticated skirt, or one with a hook and eye/button and a zipper. The elasticated skirt is a strict no-no for formal wear as the elastic makes the waist look fuller. An elasticated skirt can perhaps only be worn if you absolutely do not wish to wear anything fitting at the waist, yet wish to wear a skirt. It is best suited for small girls and the elderly. The most common closures are the hook and eye or button and hole along with zipper closures.  These make the fitting of a skirt much better and the skirt shape can be truly realized. Zippers could be chosen from invisible or a regular zip, depending upon the styling or shape of the skirt.
Shapes and types of Skirts
A-Line Skirt
As the name suggests, the shape of the skirt roughly resembles the letter A – fitting at the waist, taking the shape of your hips and thighs and then flaring at the hem. Some of the variations are: Godet skirt, Gypsy skirt and Paneled skirt.
Godet skirt
A-line skirts which have triangular pieces of fabrics inserted from the main body of the skirt to the hem are godet skirts. The godets are inserted to have more volume at the hem, so that the hem sways when the wearer walks. Godet skirts have a slimming look to them as they take to tend away the attention from the waist and hips to the hem.
Gypsy skirt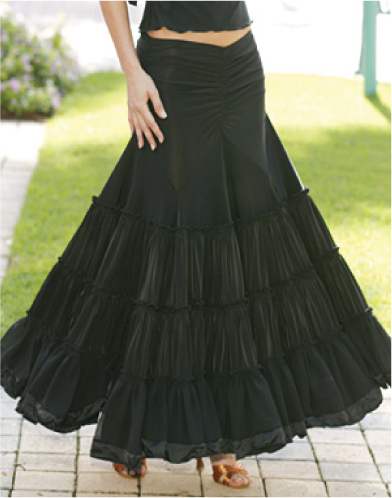 A-line, ankle length skirts which have tiers with or without ruffles are Gypsy skirts. The horizontal panels of a gypsy skirt could be attached by simply sewing them or by having lace insets. Gypsy skirts may be elasticated and normally also have ties. Some gypsy skirts are also crinkled. Pear shaped women should avoid crinkle skirts and skirts with too much horizontal detailing on the hip area as the same tends to accentuate the hips.
Paneled skirts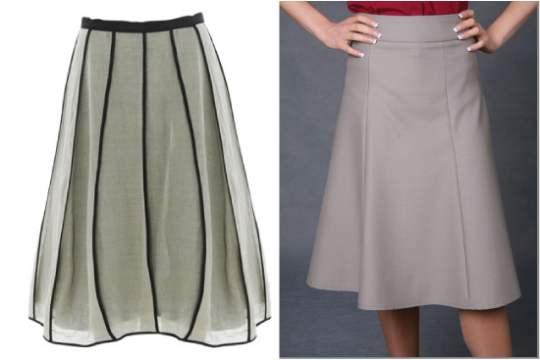 A-line skirts which have vertical panels of fabric (self or some other fabric) stitched from the waist to the hem are called paneled skirts. These have a slimming effect on the wearer and can hence be worn by the curvier lot.
An A line skirt could be knee length or below. Since it accentuates the hips, women with curves love this shape. Simple A line skirts or skirts with vertical detailing panels work the best for the pear shaped women. An A line knee or ankle length skirt, which is not too heavily detailed could be worn on a casual Friday to the office as well.
Straight skirts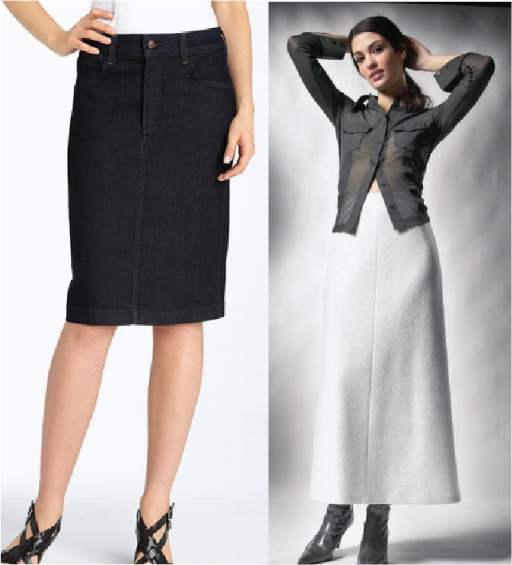 Straight skirts are skirts that are the same width from the waist area to the hem. Good for both formal and casual occasions, these come in varying lengths – ankle/mid calf and knee.  These normally have slits either at the back, sides or front for ease of movement of the wearer.
The fabric decides if the skirt should be worn on a formal occasion or casual. For formal occasions normally satins or fabrics which take the shape of your body are preferred. For more casual outings you could choose heavier weight cottons, denims or even leather. This shape flatters almost all body types. Well toned legs are guaranteed to be noticed if you wear a knee length straight skirt. Straight skirts which have a high defining waist suit people with thin frames who want to show off their thin waists. This skirt is also forgiving to people who have a generous middle, especially if the skirt is long, as the length takes away the attention from the width.
Pencil & tube skirts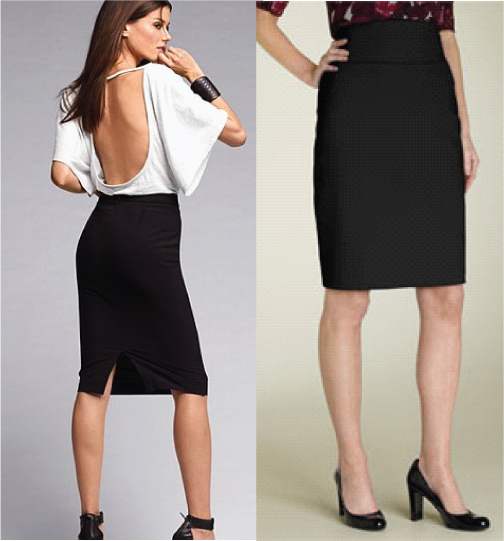 Pencil & Tube skirts are fitted from the waist to the knee. Pencil skirts are knee length whereas; tube skirts are normally calf or ankle length. Normally with a slit at the back, these are meant to be worn by slim people with an hourglass, no-flaws figure, as the skirt shape is not at all forgiving. Quiet a staple in boardrooms, these are considered to be very stylish and non fussy and hence a popular choice for formal occasions. These are normally teamed with jackets or formal shirts/tops and formal footwear. Belts highlighting the waist are a wonderful accessory for these skirts.
Mini skirt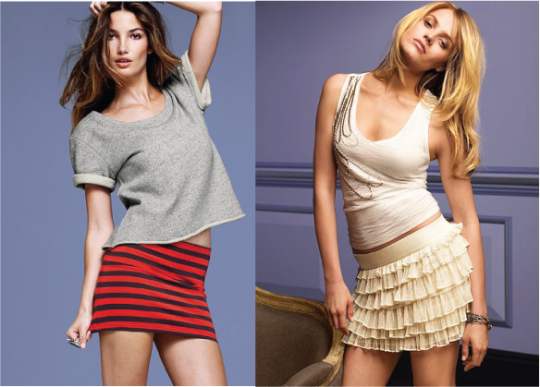 Extremely stylish and a wardrobe basic, these skirts have held the fascination of men and fashion divas alike. These are small or 'mini' in length, hence the name, reaching just about mid thigh. I am sure all of us would have in some point had a denim miniskirt with patch pockets at the back and small side slits. Miniskirts could come in a variety of fabrics, however normally are made in thick fabric to give extra strength. These could be straight or flared at the hem and are most suited for a casual outing to a pub or nightclub with your girl friends or that special someone. Flared A-line miniskirts, because of a little more room at the hem, could be made in lighter fabrics too, normally with an inner lining. To add an element of playfulness, A line miniskirts could have multiple layers of frills. These are known as ra-ra skirts. Another popular feature found in the A line miniskirts is a cut-work lace/printed fabric in the form of a frill / net attached at the hem.
Minis can suit short or tall thin women. Due to their short length, they give an impression of length to the wearer. Needless to say, since they show off so much of legs, they are the best bet for any woman looking to show off her well toned long legs! They are also perhaps the only skirts with which you could team flats, boots or heels and manage to carry off the look in all three. You could also team these with colorful leggings during the colder months.
Bubble skirts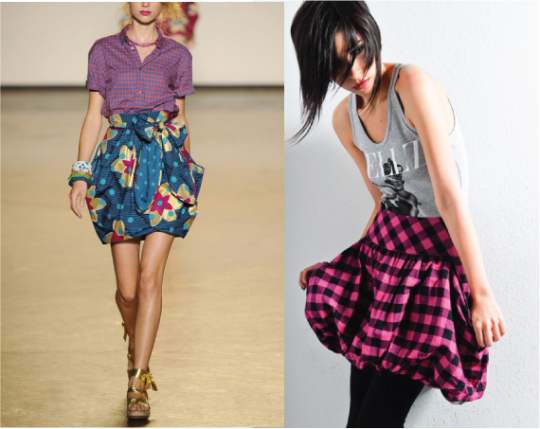 These are skirts which have hems going in (almost like a series of big semi circles) all around the skirt circumference at regular intervals, to create a voluminous, puffy,  balloon like silhouette. These are off and on popular, but rarely can be classified as a staple skirt must-have. Due to its' shape, the fabric plays a very important role. Certain fabrics such as satin or flowy crepes/georgettes etc. can handle this kind of shape well, but the stitching quality needs to be extremely good. Cottons, due to their tendency of developing creases, should normally not be chosen for this shape.  Since the most noticeable part of the bubble skirt is its hem, it is advisable to not have too many design features such as embroidery/belts/pockets on a bubble skirt, or else the skirt will look too busy and done up.
Bubble skirts are puffy in shape and hence should normally be worn by the thin. Curvaceous women could give it a try too, if they absolutely must, as it is voluminous and therefore could hide lots of body flaws. The length however, needs to be at least till knee for the well endowed with the hem line going up for the slimmer of the lot.
Wrap skirts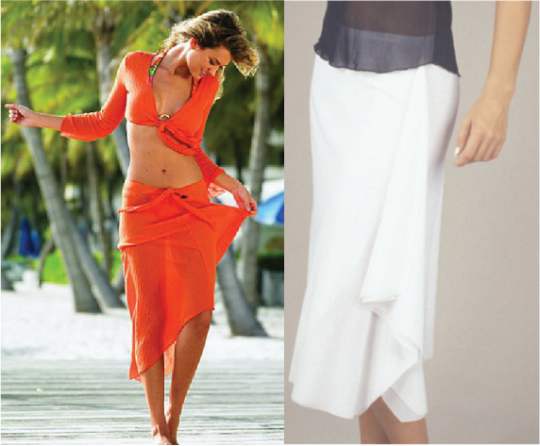 These skirts are rectangular pieces of fabrics with self fabric ties, which you could 'wrap around' your waist. These could be knee length or ankle length. The amount of overlap can also be adjusted to either show off a leg partly or totally covered. After wrapping the skirt, the shape could be straight or A-line.
Wrap skirts are suitable for all body types as the shape is very forgiving. Thin people may prefer to wear shorter wrap arounds. You could team the wraparounds with heels or flats.
Asymmetrical hem skirts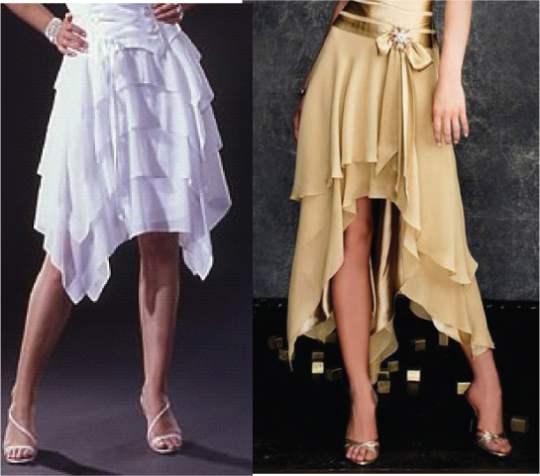 Skirts with unbalanced or uneven hems are known as asymmetrical hem skirt. Basically any skirt shape could be with an asymmetrical hem. Unlike a lot of other skirt shapes, asymmetrical hem skirts work well with lighter fabrics as well such as chiffons, georgettes and knits. Due to the mix of an unconventional shape and fabric, these if worn right, can be the ultimate feminine skirt. Normally these are quiet roomy at the hem and the imbalance in the hem adds a sort of the bounce and the skirt sways as the wearer walks, making it look super-cool.
The best part about asymmetrical hem skirts is that these could work for almost all body types. Long skirts with a handkerchief hem work well for tall, pear shaped women who want to distract the attention from the not so flattering parts of their body to the hem. A skirt fitted at the waist and hip area, and then flaring out at the uneven hem is great for people with thin frames. You could wear heels or flats or even boots with these kinds of skirts.
Circle skirts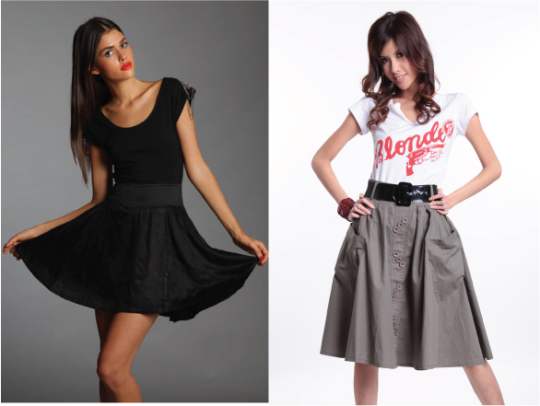 The hem circumference of these skirts is a perfect circle. You could have panels attached at the waist to have a perfect skirt at the hem since any fabric will not be wide enough to make a complete circle. These could be short (reaching mid thigh) or mid calf or ankle long, in either case these are voluminous. The short length skirts suit the thin tall women, the longer varieties due to the volume and as the skirt normally does not hug the hips or the waist, suit the curvier women as well.
Circle skirts are a great symbol of feminity and can easily be made in light weight fabrics, as these fabrics have a lovely fall and drape and that is what the circle skirts require. Short Circle skirts can be worn at a casual party, the longer ones could be worn to a more formal occasions even the red carpet!
Skort and divided skirts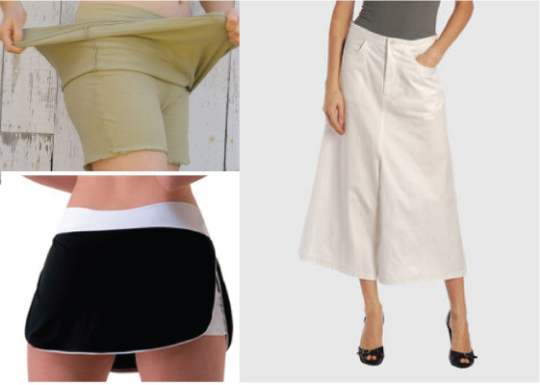 A skort is a combination of a pair of shorts and a skirt, hence the typical name. It is primarily a pair of shorts; however, the front part of the shorts has a self fabric panel attached to it, making it look like a skirt from the front. Length of the skort is usually mid thigh and it almost never goes below the knee. Due to the short element, these skirts are very comfortable when you wish to go for playing tennis or hiking or even street shopping.
These are rarely worn to a formal event. Suits the well toned athletic body types; it normally should be avoided by the pear shaped bodies as it highlights the back thighs and the derriere.  Skorts normally come in thick, heavier weight cottons and you could team these with sport shoes and flats.
Divided skirts are often confused with culottes. You could identify this style in most of the black and white English movies. When it was first worn in the latter part of the 19th century, it was proclaimed by the male chauvinists as a woman's attempt to be the proverbial 'wear pants and be the man of the house'. The times have changed and women have nobody and nothing stopping them from wearing what they please, leave alone the trousers. Not surprisingly, therefore, divided skirts are hardly found in any fashion conscious woman's wardrobe and are now relegated to be a school uniform design for the young girls.
Fit and Flared skirts
These are a combination of skirts fitting at the top and flaring out as they reach the hem.
Mermaid skirt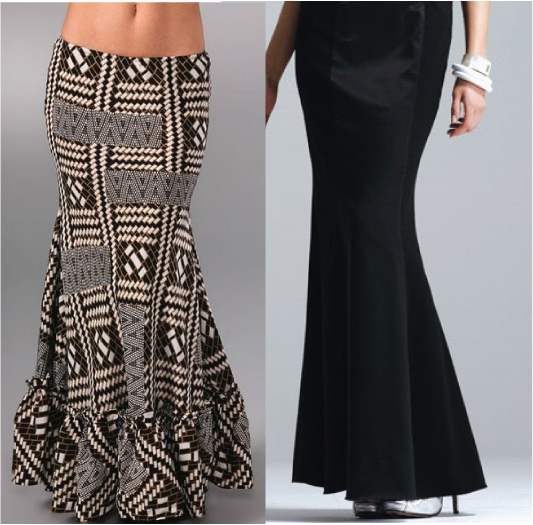 Along fit and flared skirt, this is fitted till almost your knees and then suddenly flares to give the appearance of almost a mermaid to the wearer.
Skirts with yokes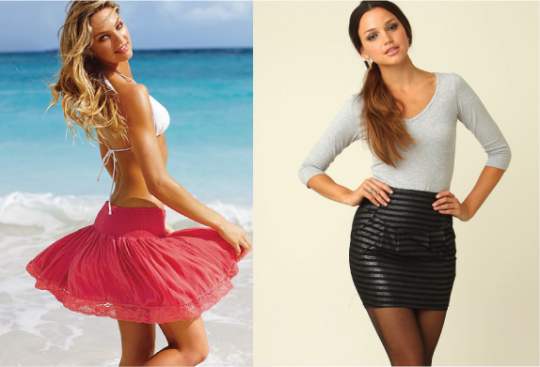 These skirts are divided into two parts; the upper part at the waist has a fitted yoke, below which the skirt flares. The yokes could be asymmetrical or the regular horizontal or round.
The fit and flared skirts are available in long and short lengths and in a variety of fabrics, though the lighter weights normally are a popular choice due to their ability to flare out beautifully at the hem. These normally are meant for casual outings or to be worn at nightclubs, but never to the workplace as the effect of the fit and flare in one skirt is a little dramatic. Very tight fitting skirt at the waist and hip area should be avoided by pear shaped women.
Draped skirt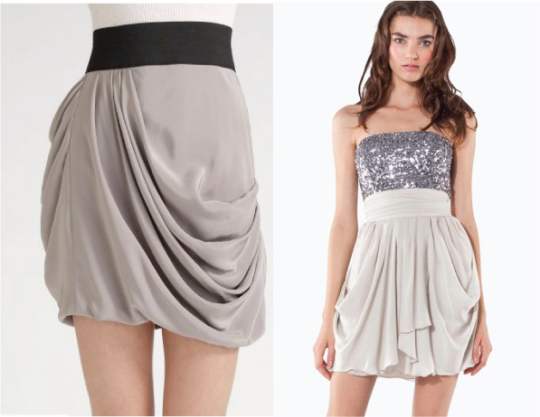 A skirt with self fabric folds placed asymmetrically at one side of the hem or waist or at both the side seams. The effect on this is quiet dressy and this skirt is usually made in flowy fabrics as the fabric can easily be created into folds. This look can be carried off by almost all body types as the fabric in which this skirt is usually made has a slimming effect.
Tulip skirts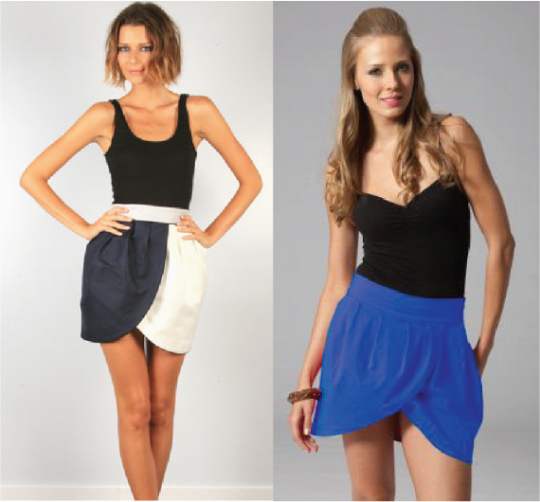 Picture a tulip and then invert it, tulip skirt is normally made with two pieces of fabrics overlapping each other, almost like the petals of a tulip, to leave a small part of the leg showing off between the two layers. The length could be knee or below, rarely below mid calf though. This has a slimming effect on the wearer and so can be worn by almost all body types.
Layered skirts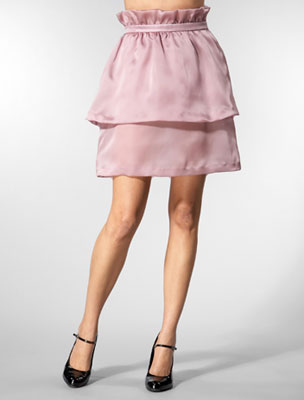 Layered skirts are skirts with a fabric layer above the main body of the skirt. The top most layers are normally of a sheer fabric, so that the bottom layer could be seen through. At times it could be of a different color to add an element of mystery to it. The layer adds volume to the skirt and so this shape is recommended for thin frame women.
Pleated skirts
Skirts could come in with a variety of pleats to give more room to the wearer or as a design feature. Pleats could be stitched or permanently heat pressed on to the skirts. Pleated skirts are not commonly worn on a day to day basis.
Accordion pleated skirt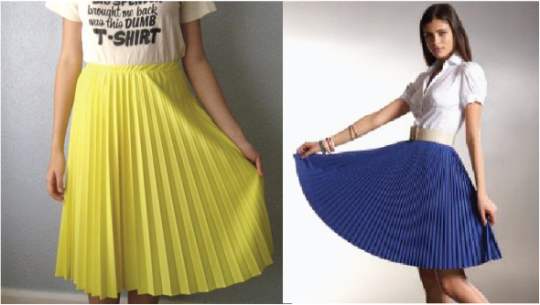 An accordion pleated skirt is one which has a series of pleats of equal width. These resemble the pleats on a foldable hand fan. The accordion pleats are heat pressed in opposite directions. These are normally found in fabrics which could hold these pleats permanently. This kind of a skirt should be worn by thin people as pleats add volumes to the body.
Knife Pleated skirts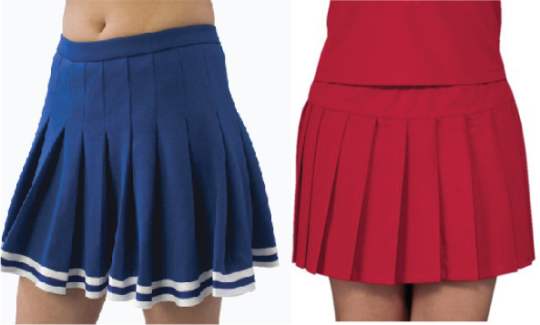 When accordion pleats are pressed flat in the same direction, they are called knife pleats. Knife pleats are wider than the accordion pleats.
Box Pleated skirts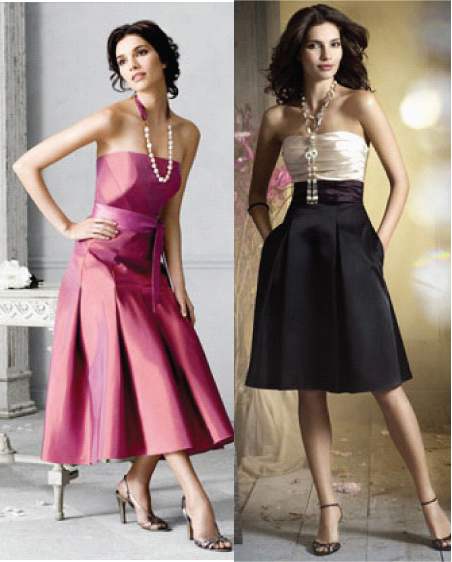 You could identify a box pleated skirt from the others as they have flat fabric in between two pleats. The flat fabric shows through from between the pleats. When the top of the pleats are brought so close to each other that they almost kiss and their position is secured by a stitch, the box pleat is called kick box pleat. Box and kick box pleats are used for a lot of sports skirts as these offer the maximum room.
Sometimes, small, uniform pinches of fabrics are secured with a stitch; these resemble a pin-tuck and are not really common in skirts.
Like women, skirts come in all shapes and sizes, making it sometimes difficult to understand the right kind to wear to an occasion; the guidelines given above should be able to help you though, in looking your best in a skirt, at every occasion!
.