Every outfit is like a story. It communicates, expresses and is a mix or a compilation of various variants. Every element of the outfit is like a key role player of the story be it the clothes or the accessories. Both have a bland effect without the other. A good outfit is a result of a perfect marriage between the two. Statement accessories have always needed an attitude to match their aura. If the match does happen then the fashion marriage of clothes and accessories becomes much easier as these make simplest tools to transform an outfit from nice to wow!
Taking inspiration on the same lines, from three lovely faces spotted at the " The Oogie loves In The Big Balloon Adventure" LA Premiere at the Grauman's Chinese Theater were three trendy looks that used statement accessories in their favour and all three of them had strikingly different aesthetics. Take a look & get inspired:
Floral Statement Ring: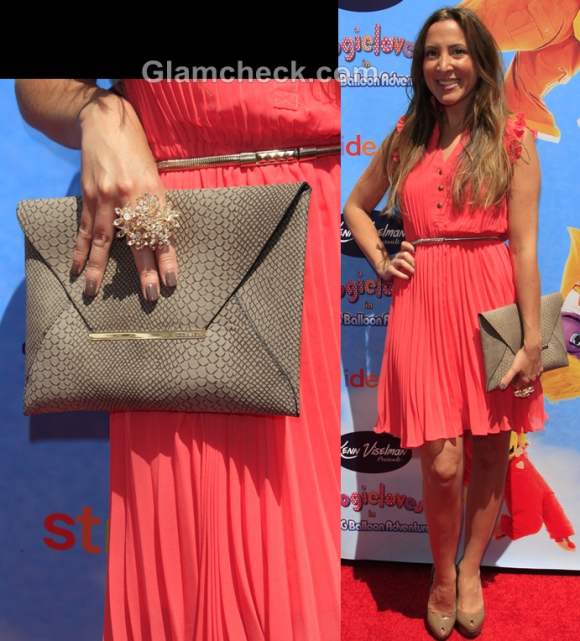 Saige Ryan Campbell picked the perfect color option for the day event. The pleated flowy dress in coral was every bit of feminine in a vibrant shade. The dress was aptly styled with nude accessories of class which spelled versatility.  The nude patent pumps in sync with a slim envelope clutch with gold hued accent spoke of chic sophistication. However, the outfit needed drama for the perfect balance which was met religiously with a floral inspired neutral statement ring doing exactly what a statement piece of jewellery is supposed to do: catching our fashion spying eye!
Fashion Learning:
The well put together look teaches that a subtle outfit can be well balanced by one grand statement piece. If Saige had decided to go for two statement pieces, the look would have been an overkill and one piece would have nullified the other.
Strappy Footwear: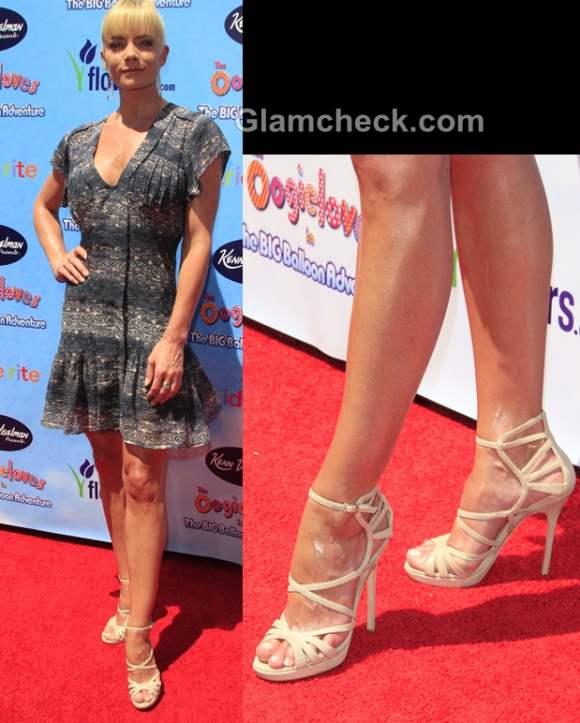 What can match a short A-Line dress in the simplest of ways? Jaime Pressly gave us the answer with her minimal yet high on style look. Her look was a play of two elements along with minimal jewellery that was rightfully-minimal. The strappy high heeled sandals make a beautiful match for thesimple cut the girl-next-door dress.
Fashion Learning:
Though Jammie Pressly decided to go for a white colour option in the straps to make her statement, the coloured versions of this style of footwear add a lot of zing too. Try experimenting to make your perfect statement.
High Tie Up Canvas Shoes: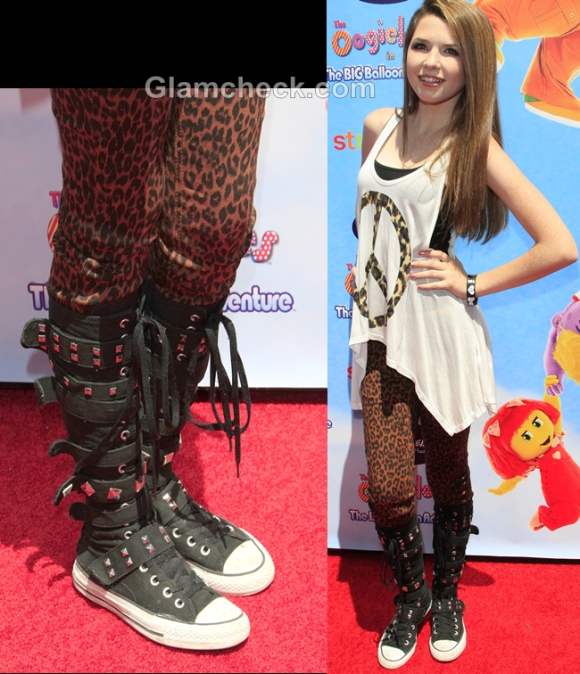 Guistina Chirco flaunted a look that was as casual as it could get. She combined the edgy rock chic look with layering. Leopard print leggings were topped with two layers spelling out an asymmetrical hemline was finally finished with an almost knee level tie up canvas shoes in black. The shoes definitely made a statement for those who would match this school of style.
Fashion Learning:
Guistina hints how a most regular statement piece like a form of canvas shoes can be worn to a red carpet event. Statement pieces need to have an edge and when styled well with the right attitude, they see versatility too.What matters is that the wearer should relate to it!
The three different versions give a fantastic take on statement accessories in the same event. Ranging from sheer feminine , girl next door to a rock chic version! Whatever be the style mantra there will always be statement pieces for you to attach with your version of it.
Image: Shutterstock.com