If you are not the sorts to get inspired by no-nonsense hair accessories such as hair clips, you are going to like what a lot of designers used to dress up the models on the runway for spring – headbands, fur head gears, tall combs and hats  – they were all there and in abundance too. So get inspired by the runway and adopt a unique style what suits you!
Headbands
Headbands made of various fabrics proved to be a good alternative to the clips. While headbands can be made impromptu of any matching or contrast fabric, what really puts this style at an advantage is that in many cases you can create a stylish alternative yourself using a little imagination to make a one of a kind hair accessory.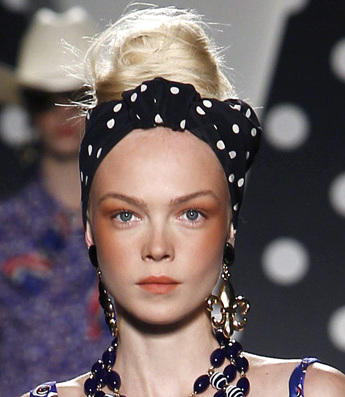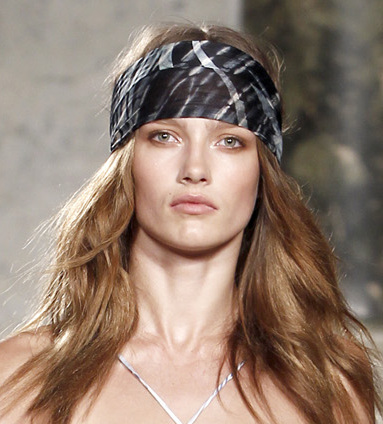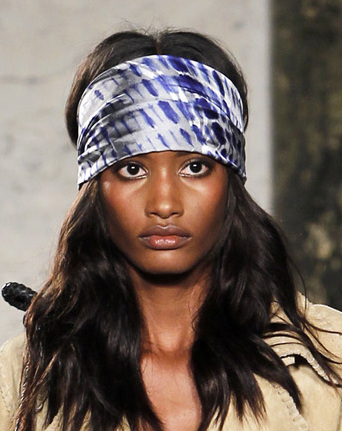 Who used the theme – The 70's retro look is back and how! You have fabric headbands tied in innovative ways to reflect the themes of bohemian and sophisticated glamour. If you place headbands on top of the forehead as the models in the Emilio Pucci did, you can recreate the Bohemian look in a matter of minutes. Moschino on the other hand managed to create a sophisticated retro look by having his model wear a knotted headband around a top bun.
Colors – Emilio Pucci experimented with the colors on the head band which were sometimes made in the same fabric and print as the main outfit and sometimes a total mismatch to the main outfit. Models in the Moschino show, on the other hand used the same colours on the headband as those used on the trimmings of the ensemble to bring in a sense of uniformity and flow to the entire look. The pattern and print size was not necessarily the same though. So there was the black and white polka dot headband which matched the trims used on the cuff and the belt area of the skirt or a red and white polka dot head band was used on a white dress with prominent red embroidery.
Hair styles to wear on –Spring promises to be big on hair left loose – it could be curly, or gelled. The other prominent looks were the top buns, braids, bangs and bobs. Used innovatively, headbands could look great on all hair styles.
How to interpret the look – Different methods of knotting the headband and different places to keep the knot will yield different looks to the same hairstyle. You could tie the headband on top of the head, or on the side or finish it off at the nape. If you are unsure about whether this look will suit you, try having a not so wide fabric headband in colours of your outfit and tie it at the back. You could leave some hair showing from beneath the headband, a la Emilio Pucci look to feel a bit more confident. Once you have tried the look, throw caution to the winds and try out newer methods of tying and use contrast colored hair bands too.
Where to wear – The look is casual, so wear it to after office activities like a movie, an evening out , shopping etc. You could even give the conservative version of this look a try on casual Fridays – just ensure you do not have serious business meetings planned for that day!
Hot tip – pair this look with wide brimmed hats or cat shaped sunglasses to create a unique 70s look. Try heavy eye makeup and nude lips and slept in look to create a bohemian effect. Use minimalistic make up and accessories to create a formal chic look.
Bandanas and Turbans:
Promising to take hair accessories to the next level and to bring in newness to their collection many designers used bandanas and turbans on the runway.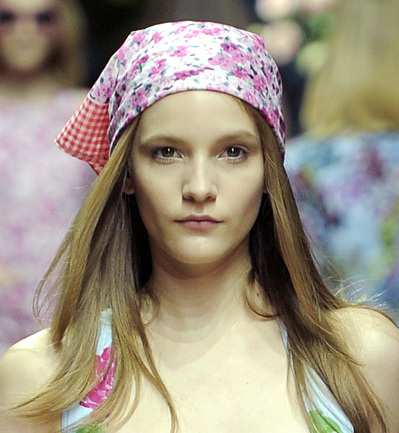 Bandanas by DandG in checks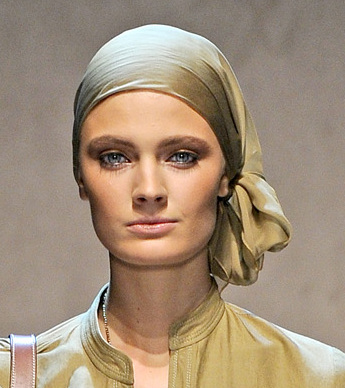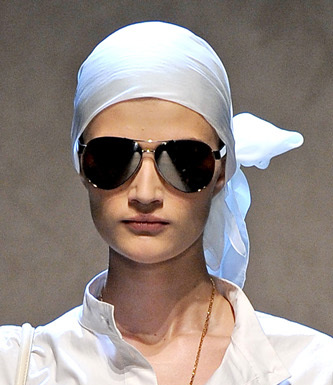 Salvatore Ferragamo bandanas in light and sheer fabrics, completely covered head.
Who used the theme – Bandanas have been around for quite some time now and were used effectively as a hair accessory on many models by D and G. The look conveyed by the models in the D and G show was playful, fun and frolic, with loose hair showing through the back – there was an endearing casualness to the entire look. Salvatore Ferragamo, on the other hand had models wearing bandanas in light and sheer fabrics, completely covering the head. This lent a slightly formal air to them.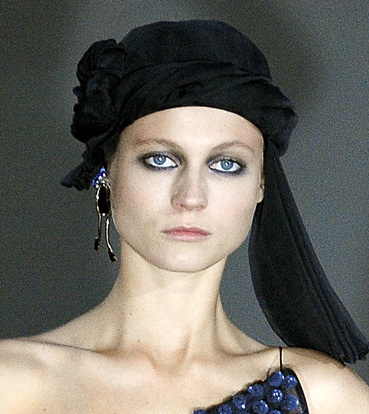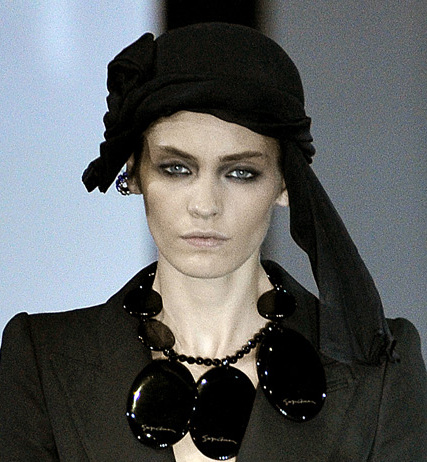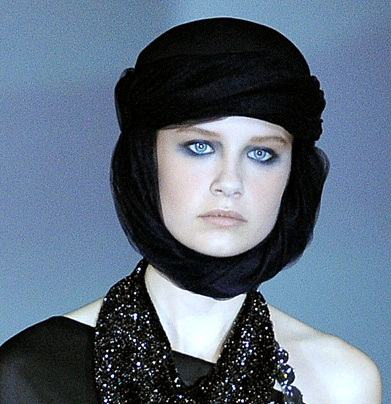 Armani models walked around in turbans of different kinds and tied with interesting variations.
Colors – Checks, prints – ditsy, abstract and big solids – both dark and pastels, were in abundance. Where D and G models strutted around in gingham checks, playful polka dots in bright and spring colors, which sometimes matched their outfit and sometimes were a total contrast; Ferragamo models stuck to solid, tonal pastels in sheer fabrics which lent an air of formality to their outfit. Armani models went a step ahead with turbans in dark colors, mostly matching their outfits and sometimes in royal colors such as indigo blues adorned with jewels to lend the outfits and the wearer an air of royalty.
Hair styles to wear on – These hair accessories cover the head and so can be practically worn on any hair style – short, bangs, long, loose and curly.
How to interpret the look – I am sure all of you would have tried out bandanas tied at the front of the head, at some point in our lives, not only does it look sporty, it also is a great fashion accessory if you are having a bad hair day!
Bandanas and turbans as used by Ferragamo and Armani which are tied to completely cover your head and sometimes all of your hair, are not for the fashion conservatives as this look is bound to get you noticed. So try out this look, only when you are sure you are willing to move out of your comfort zone and can handle all the glances coming your way! A lot of people consider the look conveyed as masculine, however, with minor innovations such as use of floral prints, lace, jewels, the look can be softened and used effectively. Another good method to soften the look is to wear a smaller sized turban, with hair sometimes showing through to add a touch of beauty and romanticism to the wearer, as was effectively used on the runway by Vena Cava and John Galliano. Good make up is of prime importance to carry off this look as with the hair either completely or partially hidden by the bandana or turban, the face is the main attention point.
Where to wear – Bandanas spell casualness and while it really is a casual look and mostly worn at casual events, the new looks of all covered bandanas and turbans encourage the wearers to let go of their inhibitions and get bolder and wear these looks to formal events as well . You could wear a well prepared turban to a formal sit down dinner or even a red carpet event. A right balance of elements such as flowing fabrics, jewelry, prints interspersed with the boldness of a turban is a great method to stand out and have your own fashion and style statement and represent a very modern look.
This Spring, gather all your guts and wits together to have a signature statement in the form of a well made turban or a bandana!
Hot tip – This spring – search your wardrobe for scarves in prints that you have stopped using – soft floral, animal prints, polka dots , look for gingham checks and stripes – anything is a great idea to be tied on foreheads and use as bandanas. Remember everything matching with each other in the entire outfit is passé. While colors on the entire outfit need to be coordinated, they really do not necessarily need to come from the same fabric yardage! You could let your hair loose, showing from beneath the bandana or completely cover it to look different using the same bandana. Invest in a good turban, made by a professional hair accessory designer. You could add your own quirky elements such as a brooch or a pearl necklace. Last but not the least, don't forget to wear the look confidently and with loads of attitude!
Headgears – fur and other quirky ideas
If you are a girl who can handle all the attention coming her way, headgears in fur and other such novel ideas can generate all the right buzz for you! These ideas are great as they manage to extend high above the head, give the usual hairstyle a bit of a twist and attract all the attention.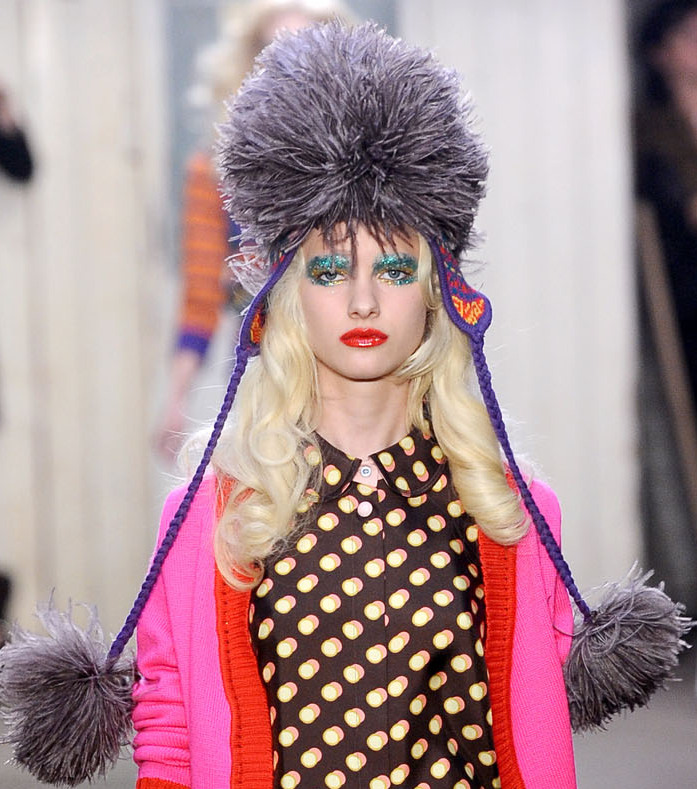 Giles Deacon: head gears fur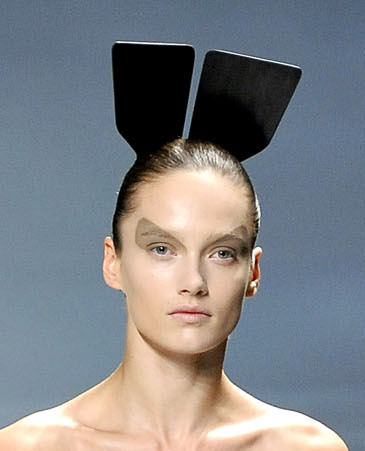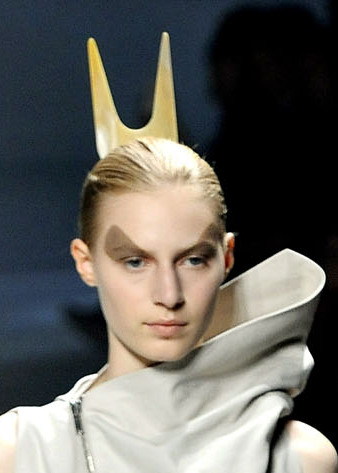 Rick Owens
Who used the theme: though not used by many designers, Giles Deacon and Rick Owens used innovative head gears to create a fresh look for the models. While Giles chose poofy fur ball accessories in bright and unusual colors, Rick stuck to very tall combs extending out of the hairdo of the models.
Colors – The look that is created by using these hair accessories is unique, it is only fair therefore to try out unique colors which make you stand out. Choose a color as per your choice and which you think will look good – neutrals may look less quirkier however, brights and neons may add up the glam element that a plain outfit may lack in. Use your imagination –and remember, the quirkier the color the better it gels with the entire theme of fun headgears.
Hairstyles to wear on – Try wearing these on the season's hottest hair styles – curly, loose, gelled and held back in a bun, short bobs, bangs or even braided up do. On the ramp, this look was tried on different hair colors as well as styles and it looked great on all occasions.
How to interpret the look – Like the turban look, these accessories are bound to make you stand out, so prepare yourself for all the glances. Invest in good quality faux fur hats which are not too tight for your head. You could also invest in styles with ear muffs as they can be even functional for cold spring days! Tall combs may have to be made on order as they will not be readily available off the shelves at most of the stores.
Where to wear – Casual events is the only place that you could wear this look to. Wear it to a Pajama party or to a party thrown by your best pal. Team it up with boots, tights or slim fit jeans for a complete fun look. Rick Owens created this look to team it up with his Oriental influenced outfits, so wearing it to a themed party may also be a great idea.
Hot tip – Team this look with some interesting make up such as heavily made up eyes complete with glitter and interesting eye shadow colors, bright red lipsticks, a blonde hair wig  etc. This look is not for the faint hearted so go out and enjoy!