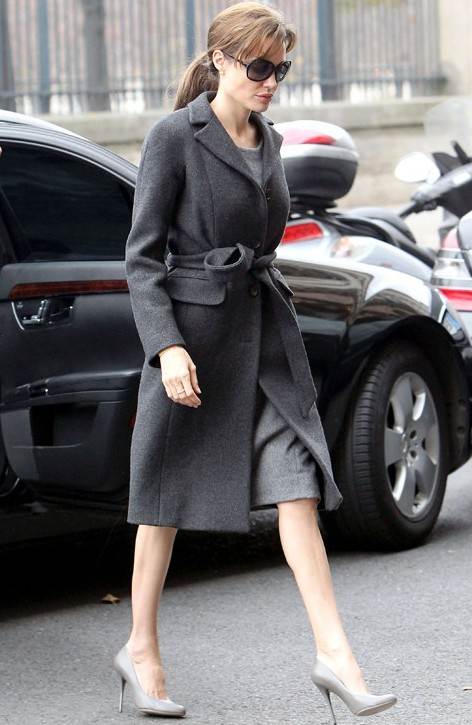 After having loads of fun at scenic locales with partner Brad Pitt in and around Paris, Angelina Jolie took time out for work. The stunning actress was dressed for business as she took on promotional duties for new drama-thriller 'The Tourist'.
The Lara Croft beauty looked elegant in a long dark grey overcoat worn over a dress in a slightly lighter hue of grey. Jolie showed off her toned legs as she matched her classy outfit with a pair of light grey pumps. The tie belt of her overcoat very sexily clenched her oh-so-slim waist. Jolie's hair was pulled back in a simple yet messy ponytail with bangs falling down her forehead. There was just a hint of nude gloss on her lips and even her nails were done with nude paint.
Her look of minimalism and laid-backness made Angelina looked effortlessly flawless, something the stunner seems to have mastered. Her accessorizing was bare minimum with a pair of cute gold studs, a simple bracelet and a band ring. Adding just the right bit of oomph were her oversized dark sunglasses. Her monochrome palette with interesting yet subtle shade variation was beautiful and looked great on the svelte actress.
How to look hot in winters a la Ms. Jolie: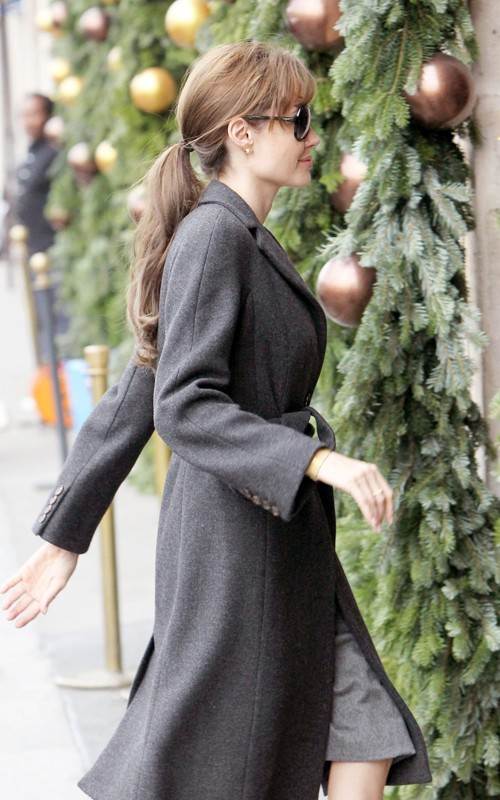 Choose a color palette. For this season, it will be best to go for earthy tones like blacks, grays, beige, ivories or browns – take your pick!
Now wear a knee length slip dress. It should preferably be simple with zero embellishments.
Go for a similar length overcoat in a notch or shawl collar style. Remember to maintain the color palette.
If you have a slender waist go for a tie belt (refer pictures). If not, you could button up!
Tie your hair up with a thin rubber band. If you have bangs, all the better – let them fall onto your forehead. Do not use too much of styling products.
Do not go overboard with jewelry. Be minimalistic and elegant – which means no oversized pieces and no junk. Choose simple gold, platinum or diamonds.
Wear nude makeup – even out your complexion and throw in a touch of color on your cheeks and lips.
You could also wear sheer or opaque leggings (as you please) if bare legs in cold weather are too much for you.
Pair up with high pencil-heeled pumps and you are ready to rock the winters.