Forget to get a Halloween costume this year? Or maybe you were planning a quiet evening in but a last minute party invitation has you stuck on the wardrobe front. Don't panic – it'll just make you break out. All you need to make a convincing Halloween look is your makeup kit and your little black dress. Let's take a look at how you can become a sexy witch in just a few easy steps.
What you will need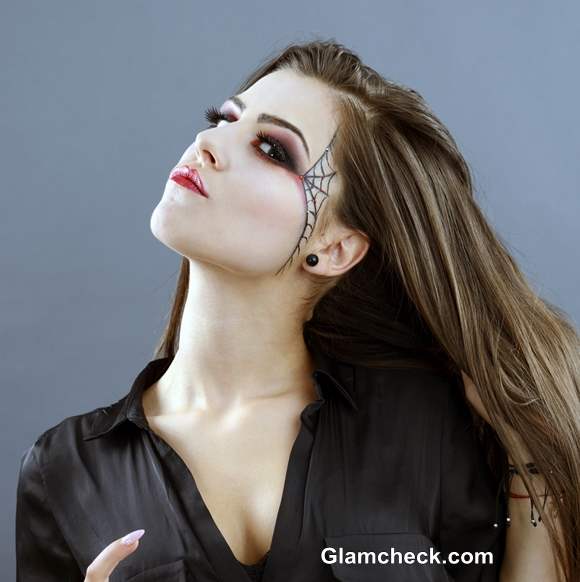 Last Minute Sexy Witch Halloween Makeup
red lipstick
red and black eye shadow
black eye liner
fake eye lashes
stick-on diamond studs or bindis
The Hypnotic Eyes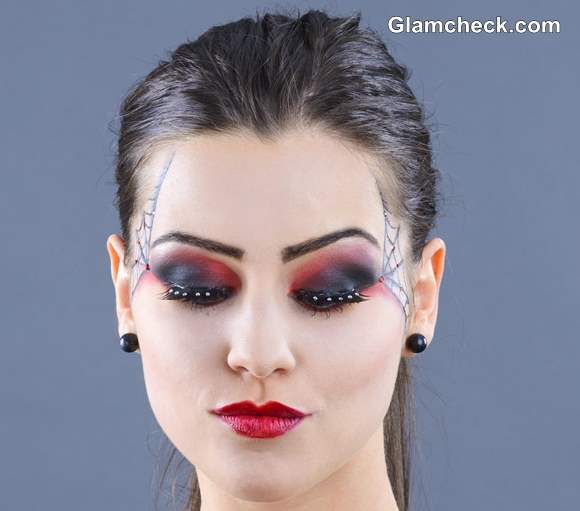 Sexy Witch Halloween Makeup
Your sexy glamorous witch must have oodles and oodles of drama if she is to be a force worth reckoning with. Few things say drama like deep, dark eye makeup. For this witchy look, we've chosen to go with a red and black eye shadow, but you can choose other colors too if you prefer. The darker shades of your palette would go better with the theme of this look.
Before you begin, paste the stick-on diamond studs or bindis in a horizontal line across your fake eye lashes and put them aside to dry.
Now, start by applying the red (lighter shade) eye shadow over your entire eye line and then underneath the eyes as well. Remember that you are going for dramatic here so extend the sweep of the red beyond the contours of your eye as shown in the picture.
Your black (darker shade) eye shadow goes on next, this time diagonally so as to accentuate your peepers but not overwhelm them. Start from the eye lash line and sweep upwards and sideways without going too far up the brow line.
With either your eye shadow or eye liner, create a long cat's eye sweep. Don't be afraid to go uber dramatic. Halloween is when you can go over the top and it still won't be a faux pas.
Your fake eye lashes go on last. The bigger the better. Use mascara to blend the fake ones in well with your real ones.
Apply eye liner generously over the upper eye lid to mask the edges of the fake lashes.
Spidery Accent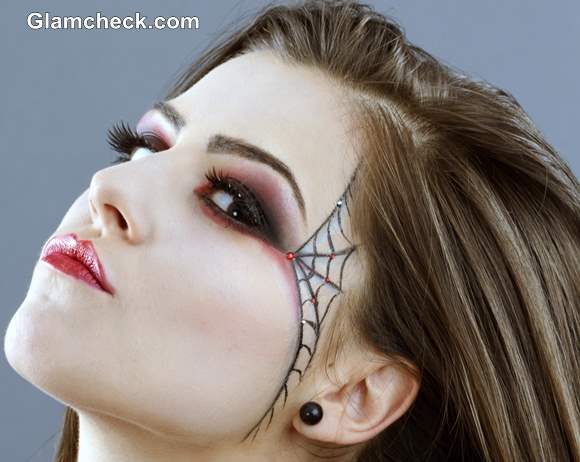 Spider Web Makeup Halloween
You can add a little more drama to your look with a drawing of a spider web on the side of your face. If you don't have the time or are not steady with your eye liner, you can avoid it too and you'll still look awesome. But you'd be giving your costume an appropriate touch if you tried this one out.
Simply use your black eye liner to draw the outline of a spider web, starting from the end of your cat's eye sweep and going up toward the side of your forehead, and creating another curve from the end of the cat's eye sweep to the side of your jaw line.
Now draw in three longer lines between this outline, spacing them out equally.
Connect them to complete your spider web.
And to bring in the glamour, get those diamond stud stick-ons again and stick them on the connecting points of the web.
Repeat on the other side if desired.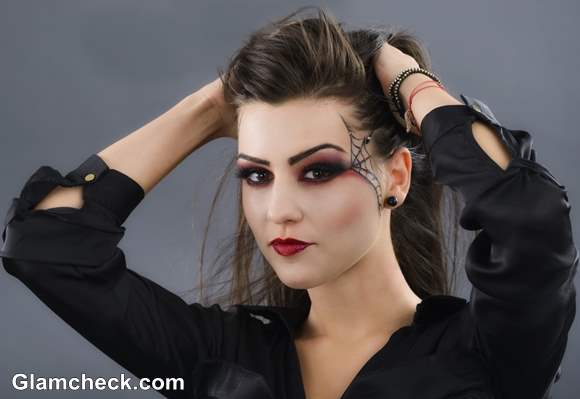 Halloween Witch Makeup
Finish off with a cupid's bow mouth using the most vivacious red lippie you have in your beauty arsenal. You can work with red lip liner to define the shape first before filling it in. You can read more about lipstick application here.
So there you have it, a sexy Halloween get-up with hardly any effort apart from some decent makeup application skills.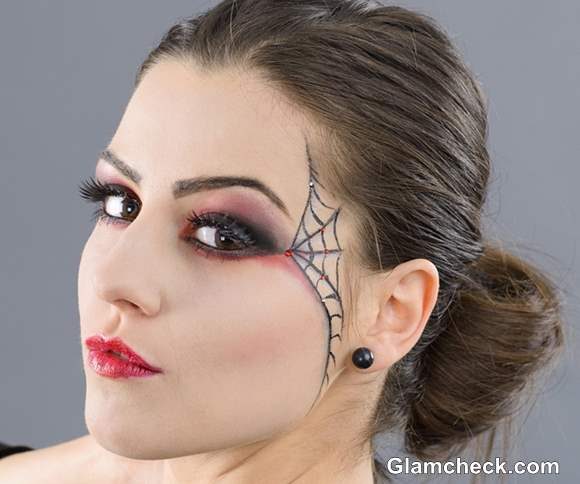 Halloween Witch Eye Makeup Spider Web
WATCH – Last Minute Spooky Nails VIDEO Tutorial
Image: Shutterstock