Talk about a free spirit feeling and the Lars Andersson Spring Summer 2013 collection exuded it.  Conducted on a grass runway at the Grand Soho Yard during the Mercedes-Benz Fashion Week, it had breezy hand woven knits perfect for a clean and natural feel.
Complimenting the pieces well were easy messy yet natural hairdos. Just like the collection the hair are very wearable too. It is an updated nice detail to the braid and messy look. And it is quite simple to achieve to. Stay with us as we show you how-to, below.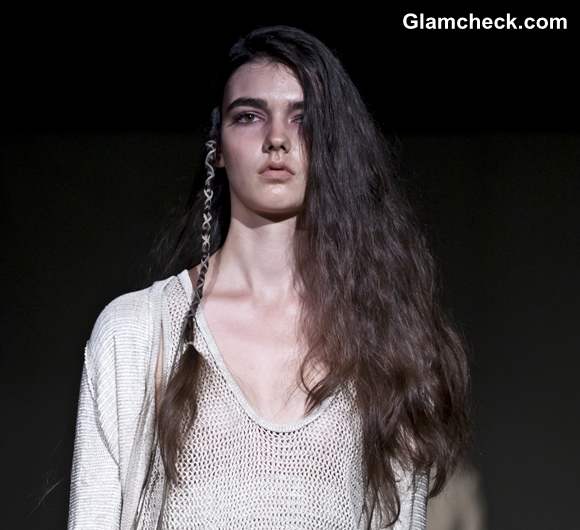 Hairstyle How To :  Messy waves with Side Stringed Braid
The beach waves
For a messy wavy look, a heat treatment is not necessary. And we love the non-invasive method of braiding for this look.
Dampen or wet your hair.
Divide your hair in three parts and start to braid them tightly.
Fasten with a rubber band.
Let the hair dry while braided.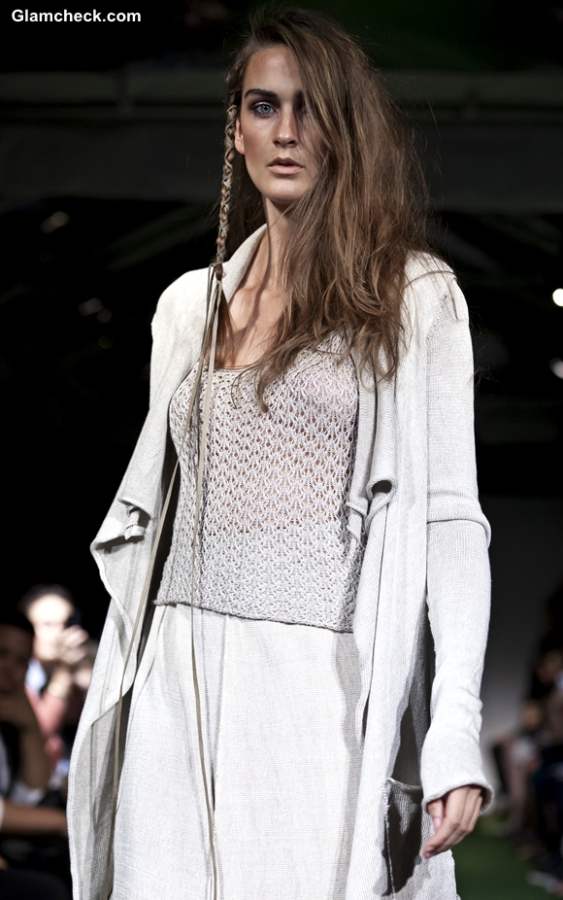 Hairstyle – Messy waves with Side Stringed Braid
Open when dry and run fingers through them, to mess the waves a little.
You can tease certain areas lightly too, in order for a messier look.
With a rat tail comb, do an extreme side part, and move the majority of your hair to one side of the shoulder.
Tip: Plan ahead when using this method. Hair takes longer to dry when braided tightly. Hence using this method a day or night in advance is suggested.
The Braid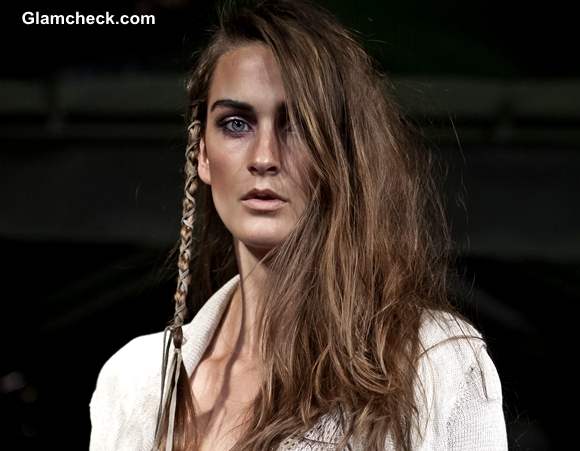 Threaded braid hairstyle
Take two grey strings/ threads and fold them in half. The length of it folded half should atleast be as long as your hair strands to be braided. For a more dramatic look, use a longer thread.
Choose a thin bunch of hair. Bring the thread close to scalp, and pass the hair through the two halves.
Repeat for the second thread too.
Separate your hair into three parts. Out of the three, add the two threads to one part of hair each.
Braid single time and then separate out the threads to one side.
Braid the rest of the hair as usual and secure with a rubber band.
Now take the threads in your hand and criss cross your way down tightly.
As you are approaching the end, tie one of the threads on the braid.
Tie the other thread a little below the last one.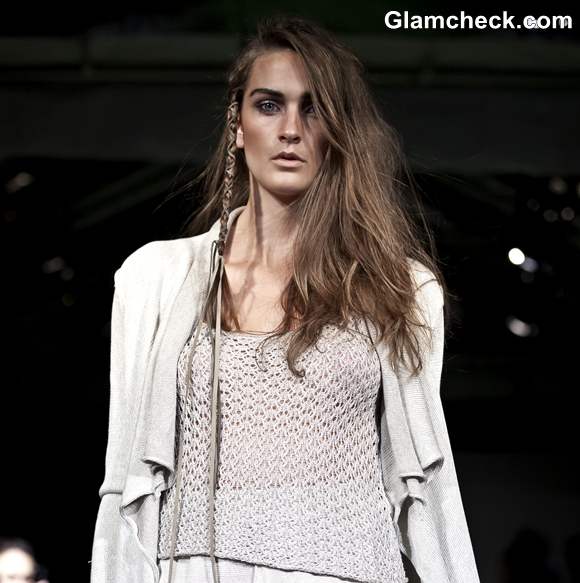 Threaded braid hairstyle how to
All set!  A hair spray is always optional. If you are aware your hair does not retain styling easily, then use the spray. This hairstyle is a great way to enhance your day-to-day look and compliments minimal chic and bohemian clothing well.
Braids being a much sort after trend in 2013, this little thread can set yours apart from the crowd.
Shutterstock