For all those who fancy a transformed mane and think just a haircut would be too mainstream, the answer lies in color! Say goodbye to the usual browns and reds – notch up your palette and go rainbow. The look of course needs a certain lifestyle and a certain adventurous streak to be pulled off well. But the good thing about coloring hair is – they can always be colored back to your natural hue. So hair color is always worth a shot!  But before we embark on this extreme trend, there is good news for those who would love to sport this only to a particular event without going all the way and dyeing. Being that case, the trend rocks for beach parties, music fests, a cosplay event or even a fashion week if coordinated well!
All you have to do is simply grab a rainbow wig from your nearest accessory store. These are available in various "haircuts": from bobs to afros to curls. Choose what flatters and what you want to be. While putting it on, depending on your natural hair length you might want to wear hair stocking underneath to hold your natural hair in place. If wigs are not your thing, there are extensions available too. Buy pre- colored ones or blonde – to dye them with the procedure below for some creative customization!
How to Dye you Hair Rainbow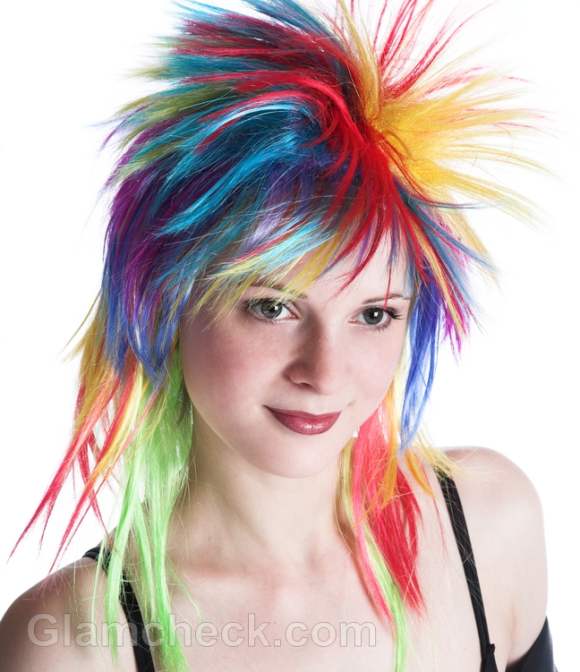 For those who actually decide to dye those strands, follow these tips and instructions below and your locks are sure to match our images.
You will need:
Professionally bleached and cut hair. ( Optional )
 A trusted hair color brand offering an array of cool bright options.
Petroleum jelly, gloves, brush, silver foil and rubber bands.
Color friendly shampoo and conditioner.
A helpful friend J
Ground Work
Since the first thing for this look will be choosing colors –Let's discuss that first. For a regular color job, you may want to think on the lines of whether your skin color is warm or cool. But here, really just pick up the prettiest colors that attract you. A rainbow is of course VIBGYOR (Violet, Indigo, Blue, Green, Yellow, Orange and Red) so pick up colors from both cool and warm spectrums to achieve the effect.
Then depending on your natural hair color, if it is dark, I would advise you get them professionally bleached to obtain a clear canvas to work on. This is of course a suggestion for first timers. If you are not in unchartered waters, apply bleach to hair and keep it on according to the instructions on your pack.
Tip: Before going in for full head bleach you could test it on a strand too , note down the actual amount it takes your natural color to come down to a very light hue.
Once that is done, wash off and apply conditioner. Blow dry your hair as wet hair absorbs less color.
P.S. – I mentioned earlier to get a haircut done beforehand. This always gives a polished look at the end, as the styling and the color both compliment.
Procedure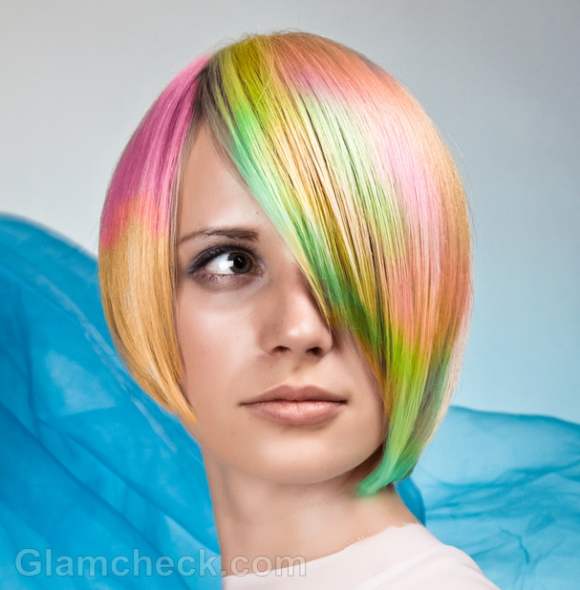 First apply petroleum jelly generously all along your hair line to save your skin from color staining.
Then divide your hair into neat sections and tie each one with a rubber band. Note that these sections could be vertical too, as you would notice in the picture above.
If you want each section to be starkly different in color from the other, and no ombre effect then do not go for vertical sectioning. The reason being, when you apply different colors vertically, while washing the color off, the top color invariably bleeds into the bottom one creating an ombre.
So with those rules in mind, choose what color should be applied to which section. Wear gloves and apply the color with the help of a brush and wrap each section in a silver foil to avoid mixing up of colors. At this point it is a good idea to get that heavenly help from a friend to apply color to far out sections.
Keep the color on for as long as the pack advices.
Wash each section separately with your friend's help. Tie each washed section so that the wet colors do not overlap and mix. Condition and blow dry.
Rainbow hair color Aftercare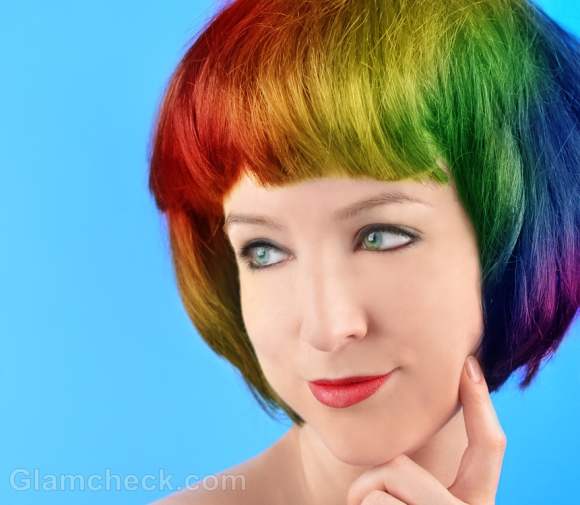 Loving your freshly dyed hair? Remember to keep them from fading – use a color friendly shampoo and conditioner.
For a few days immediately after dyeing, the color tends to bleed a little under normal washing and sweat. Hence avoid wearing whites and use dark linens for your bed too.
Tip: Still not convinced to pull this look off. Opt instead for streaking ends of your hair in rainbow colors. This way you can always tie them up in a bun where you do not wish to show off the funky side. Also in extreme cases, if you are not pleased, get your hair length trimmed and the highlights will be gone!
Image: Shutterstock.com