Many have heard of the term 'emo' and many use it every now and then but few understand the meaning of the term and where it came from. Emo style is very characteristic and popular among teenagers across the world as it gives them a new medium for self expression. Tracing back its roots in the mid 80s, the movement began with a certain kind of rock music that emphasized emotions and introspection. The lyrics of these songs would be based on themes of heartbreak, self doubt or despair. It takes inspiration from the Punk style of music and fashion that is more rebellious in nature. Emo can be called the softer, more emotional cousin of Punk.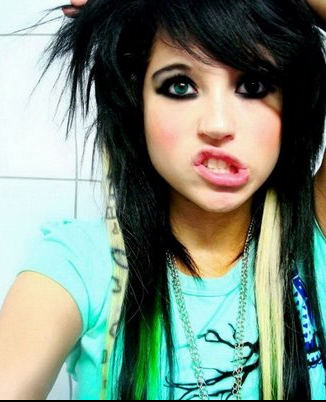 It is easy to recognize a person following the emo style because of the peculiar hairstyles, the use of black, white, red and pink in the clothing and the darkened eyes. And if it has ever captured your fancy, here are some tips on how to become an emo girl.
Emo /  Scene Hairstyle
You may not recognize an emo with any other trait as much as you can with the hair. There are some staples of the emo look that includes jet black hair with fringes, extremely straight hair with sharp cuts, highlights or heavy bangs. You can go for the look with both long and short hair.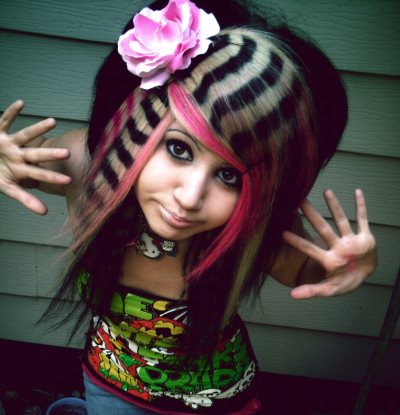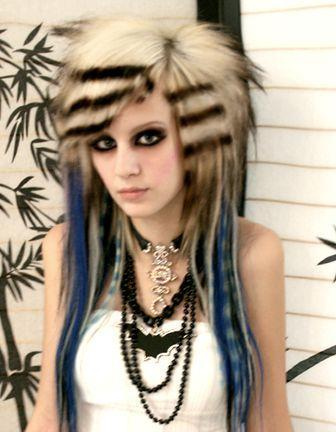 For long hair you can include bangs and multiple layers at the top and keep it thin at the bottom. You can leave a few strands of hair longer than the rest of the hair but make sure they are straightened and are pointed at the edges.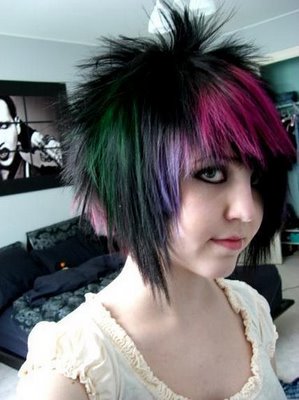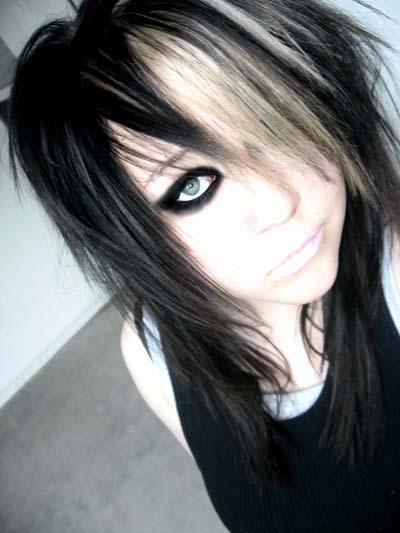 For short hair, go for bob cut with fringes. Let the hair touch your eyebrows or even cover a part of the eyes. You can try a slightly asymmetric version of the regular razor cut for an instant emo hairstyle. Clip-in hair extensions in bright colors are widely used to add a little drama and length.
Highlights have been in emo style for long but it depends on season to season, the shades you should go for or if you should go for it at all. The default colors are reds, blonde, pink and purple. Emos like to keep their colored streaks thin, some even make them resemble stripes. Clip-in hair extensions in bright colors are widely used to add a little drama to the look.
Emo Clothes
Clothes can be cute but should reflect a certain amount of vintage and dark appeal. The most usual colors found in an emo wardrobe are black, white, red and pink with a hint of denim and blue. Most of their clothes are tight fitted and speak of individuality. Here is list of most common elements for dressing up as an emo girl.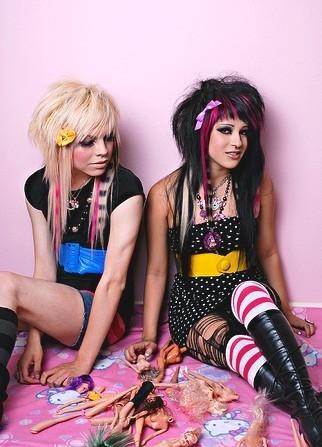 Dresses
There are two major kinds of dresses you can go for to achieve the look. A straight jersey dress or tunic or a short dress with a fuller skirt. The dress may also incorporate corset bodice, shoelace detailing and may or may not have straps. Can have laces as well but kept to a minimum and not made the main focus of the dress.
Leggings
Leggings, stockings, pantyhose, knee length socks can all work for the emo look. The major styles are stripes or fishnet, in the colors as mentioned before. Ripped stockings are also seen at times.
Skirts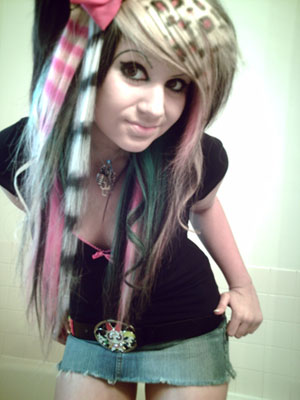 Emo girls can go for pleated short skirts paired with stockings and a fitted top or shirt with vest. Short denim skirts on leggings are also a trend among these people.
T-shirts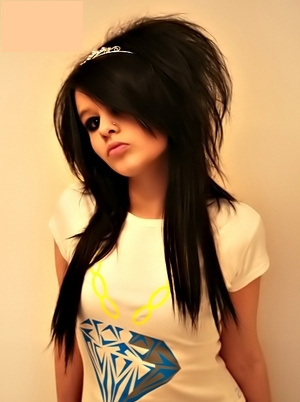 As the subculture revolves around feelings and emotions, most emo Tees have an interesting quote or image on it. Girls need to wear the ones that fit them best, usually in short sleeves or cap sleeves.  Hoodies are another staple of this style.
Jeans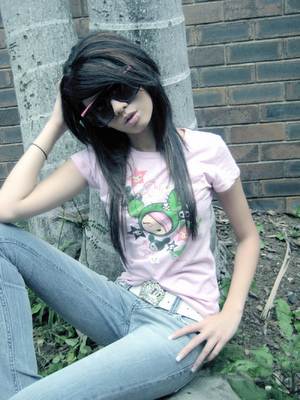 The best way to wear jeans in this look is to go for a tight fitted, slightly faded pair. It may also be ripped at places and cropped just above the ankles. Capris can also work for the emo girl. You can also try wearing your striped socks over your pair of jeans or your leggings under the cropped pants or capris.
Shoes
Converse shoes work best with such a look and are worn by both men and women. If you want to go for more girly look, however, you can also opt for ballet flats. Shoelaces are often brightly colored or the shoe itself has prints or words written on it.
Prints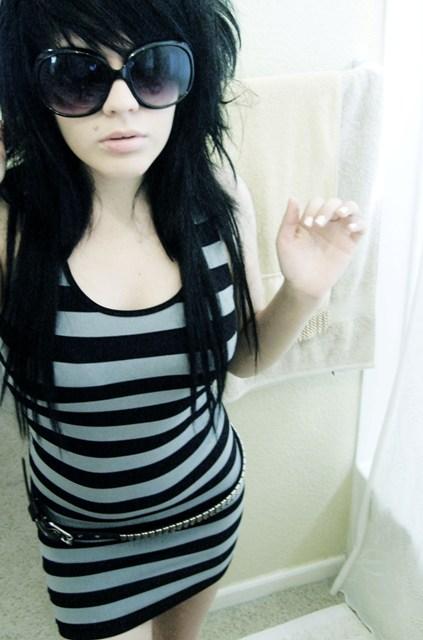 The most important motifs or prints to remember while assembling your own emo outfit are stripes in black and white or black with pink or red.
Heart motifs or broken heart motif can be found on a range of emo clothes or accessories. Checks are also present but usually in skirts or leggings.
Another important print is the checkered board print that can be used on shoes and clothes alike.
Polka dots do also appear at times on their clothing.
The skull motif is also used on clothes and accessories but girls may not necessarily go for this.
Emo Accessories
Noticeable emo accessories are studded belts that are usually worn more than one at a time. Or a single broad belt with studs may also complete your look. Plain beads in emo colors or other bright colors can add interest to your appearance. Cute bows can be used on hairbands or dresses to give an old school look. A number of badges with slogans or hearts are a must when going for the denim infused look. And yes, how can we forget to mention the multiple piercings that every emo boy or girl has. Lip, tongue, eyebrow and belly piercings are much in vogue among them. Use of chunky bracelets is also advised that have black and hints of metal.
For winters it would be ideal to add a scarf to your look in one of the prints as discussed above.
Emo Makeup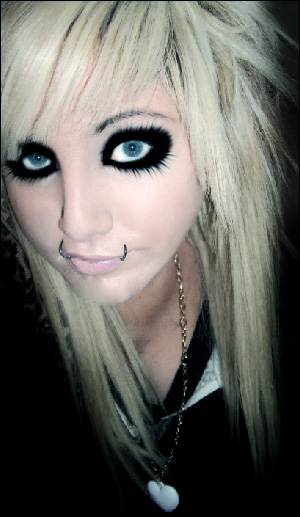 The eyes have to be accentuated for becoming a perfect emo girl. Use kohl and eyeliners abundantly all around the eyes. You can also use some color around the eyes after doing the basic outline  as well. Keep the lips nude or use some natural shade of gloss and make sure the skin tone is even. Use blush to highlight the cheeks. Emo girls are also known for their obsession with nail art. Try using it and emphasize your interest in details.