So the day for celebrating love is right round the corner and you are busy shopping for the perfect gift for him and preparing to spend some really special time together! How you dress up for your valentine is something that you have all sorted out? Or have you?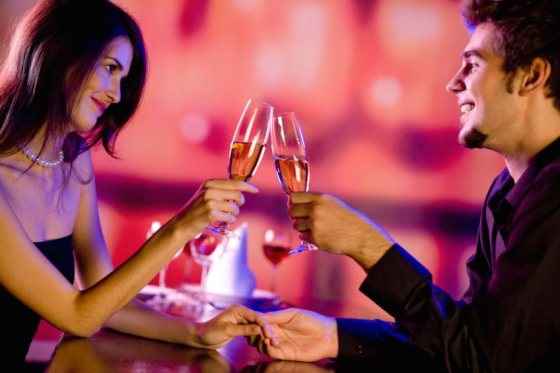 Thinking of something out of the ordinary is the best way to start assembling your ensemble. So if you usually dress up in jeans and tees, think of romancing him with a feminine dress or skirt and top. If on the other hand, you are more of a feminine side and usually dress up in skirts and tops or feminine dresses more often, consider wearing well fitting trousers and a luxurious top to match with it. Basically, the aim should be to knock him out with your looks when he first sees you!
Well, here are some super fabulous ideas on how to dress up to make your valentine date truly special for you and to show your partner that you took pains to look your best only for him!
Casual day date
If you belong to the lucky few, who have the entire day to spend with each other, you should pick up something which is suitable for day as well as night. Pay attention to comfort as you would be spending most of the day dressed up.
Dress ideas:
Cool and comfortable: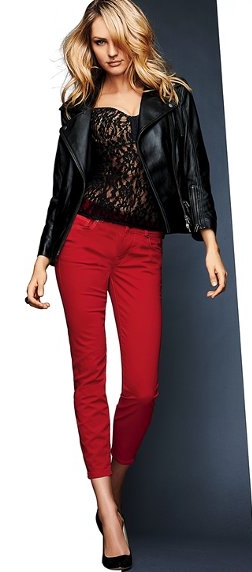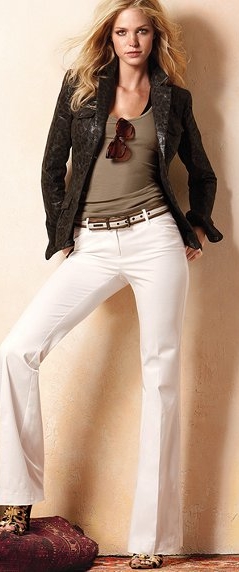 Well fitted cropped trousers or even tights in neutral color with a sheer blouse and a silk or cotton linen jacket will look great on anybody. Pay attention to the fit as anything too tight or too loose will mar the look. The jacket will keep you warm at night. Choose your colours wisely. Just because it is Valentines, you do not have to go all red. Neutrals and pastels look chic and are great for day as well as nightwear.


You could accessorize well – a long chain and some interesting amulets in contrast tones (could even be red) would look wonderful. Remember, when you are wearing something more detailed on your neck, you could go easy on the ear rings.  To complete the look, wear comfortable wedges, ankle high boots or flats for footwear and a clutch bag to hold your makeup necessities, cash and phone. You could have a minimalistic makeup to go by for the day with perhaps just some lip gloss and a hint of eyeliner and mascara and later in the evening, go ahead with add some color to your eyes and cheeks for a more updated look.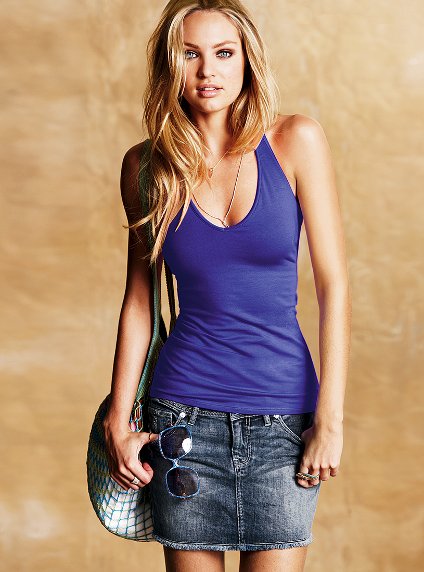 Another dress idea could be a skirt teamed with a well fitting tunic or blouse. The rules of dressing up the look and accessorizing can remain the same as above.
Chic and comfortable
Nothing beats a soft flowy dress when you want to create a feminine look. Opt for form fitting, figure hugging dress only if you have the perfect hourglass figure. Also keep in mind the practicality of wearing too tight dresses, if you are unsure of the places that you would be going to through the day.
While choosing a dress for an all day event, practicality and comfort should be the top two things to consider. And a practical and comfortable dress can be sexy too!! Opt for softer fabrics like chiffon and light weight silks in colors which you like. Opt for big floral prints in pretty pinks to up the feminine glam quotient. You could also play around with unique neckline shapes such as sweetheart, boat neck or asymmetrical. Choose lengths which do not drag behind you as you walk (reserve it for a romantic candle light dinner).Practical lengths could be as long as ankle and as high as a few inches above the knee.
Team your dress with comfortable heels as these look really great with a dress and throw on a stole to keep yourself warm and cosy. A nice piece of necklace and some bangles will look great and complete the look. To add to the sophisticated look, you could also carry a clutch bag in similar tones to the overall dress. For the feminine look, try and stick to subtle hints of pink ( if you are fair or bordering on fair) and peaches and oranges ( if you have a darker skin hue) on your eyes and lips. For the day, again keep it simple and not too over the top. For the night, highlight your best feature by making it prominent and keeping the rest of the face simple.
Formal night date at a swanky restaurant
Chic
Chic is what you should be aiming at! Most of us who are working will perhaps find this the best way to celebrate Valentines' with our special someone. It is definitely romantic to go to a swanky restaurant for a candlelit dinner with romantic music playing in the background and the company of a loved one!
When you plan to go for this kind of a date, take out all the dresses and jewelery pieces and makeup boxes that you had stashed away for a special event. After all, the date demands it!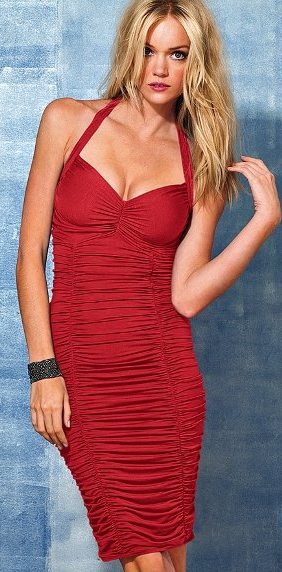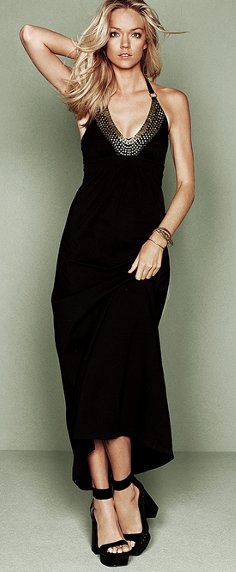 Pick up a designer dress in bold colors. The lighting at the restaurant will ensure that all bold colors look great on you. You could go for the classic red or black, or you could even choose other warm colors such as oranges and yellows. Solids look great so do floral prints and for the bolder – animal prints.  Go for figure revealing, waist cinching, strapless dresses as the restaurant is the best place to wear it to. If you are unsure of being able to carry it off well, wear a shrug with sequins to feel great and look comfortable.
Bold patterns call for simple minimalistic jewelery pieces and vice versa. So keep this in mind while dressing up for this date. Heels have never looked better than with this look. So wear your stilettos with aplomb. A clutch bag is a great accessory – choose one which is shiny and shimmery and goes well with your dress. As with your dress, go for bold makeup – it will all look great under the dim lights – smoky eyes, luscious wet lips, rosy cheeks , shimmery bronzer – all are great choices for the special night out!
While a dress is my most preferred choice for a dinner date, you could also opt for leggings and silk chiffon shirts to wear to a date. The rules about accessorizing, makeup and footwear remain the same – remember nothing is over the top for this date!
Stay at home date
Laid back chic
Ok, so you and your special someone have decided to be a little different and stay at home this Valentines' day to spend some quality time together. Needless to say, you do not need to lower your style quotient just because you are staying at home. The look that you should aim at should be laid back chic.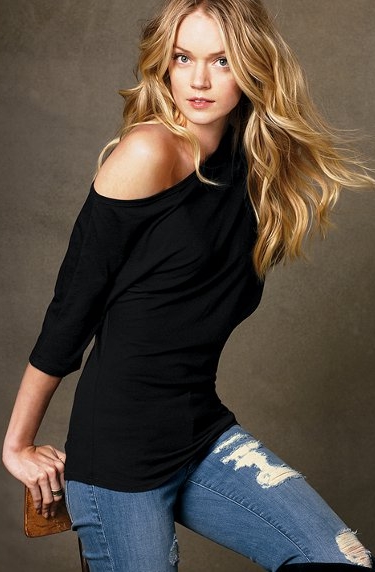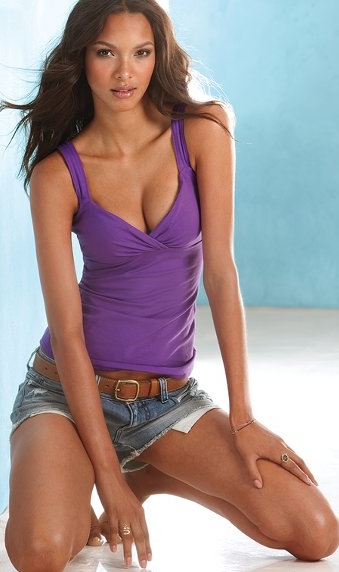 Take out your skinny denims or shorts and team it with well fitted western shirt or a wrap blouse worn with a thin belt to show off your waist, in flowy fabrics such as chiffons and silks. You can also team up your denims with a cool off-shoulder t-shirt. Go bold with colors of the shirt and match it with simple but statement and classic pieces of jewelery such as a long gold chain with pendants of his and your name initials. Try and keep the makeup simple as you do not want to appear too dolled up at your home!
Colors for the Valentine's day
Colors deserve more than a mere mention for this event where everything that you see around you is in red. While red as a main ensemble color, sure sets the mood of the Valentine day, it is not necessary the only color to wear. You could pick and choose colors which are unique, you know that they suit you and create a statement on their own.
Opt for warmer hues such as mustard yellow, wine and shades of orange for an evening event. You could even choose glimmer and glitter tones in silver, gold, pewter and bronze.
For day time events, choose peaches, lemon yellows, pinks, lilacs and purples. Blues and neutral colors should not be the main theme color for this colorful day.
Even when you choose neutral colors as your main ensemble, make sure you add a hint of the warm colors in the form of accessories, footwear etc.
Whether you choose to stay at home or go out for a movie or meal, the fact is that you are spending time with a person who is an important part of your life and how you dress up to make him feel extra special is just a step to reinforcing that faith in him!
Images: Victoria's Secret