They call her the black Lady Gaga, not for anything, but for her whacky, weird dressing sense. UltraMi sure dressed her usual bizarre self at the recent 5th Annual Design for Humanity event By Billabong USA benefitting the VH1 Save the Music foundation.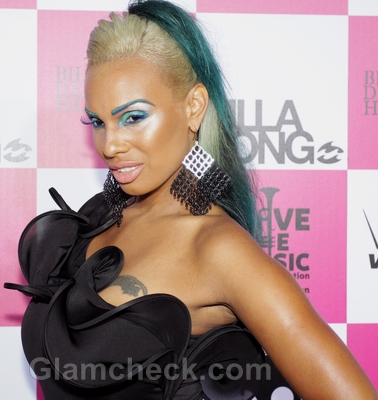 UltraMi fashion
The singer UltraMi was dressed in a fitted thigh high black dress with structured curl like structures covering her one shoulder while leaving the other one bare.
She carried a two tone Mohawk hairstyle, with the blonde covering the crown of her head while the turquoise bluish grey falling into a pony over the back of her neck. The turquoise grey- blue hair colour was replicated in the eye makeup as well. UltraMi dyed her eyebrows to have a similar color effect and used greyish blue eye shadow to highlight her smoky eyes.
Accessorized with a lot of chunky junk jewellery at the ears and bangles in pewter gun metal finish, UltraMi ensured that she left no stone unturned to complete her out of the ordinary look.
Image: P R Photos