American recording artist, actress, model and DJ Solange Knowles, is often, better known as the sister of the celebrity singer – Beyonce Knowles. At her recent 25th Birthday party celebrations at the LAVO nightclub in Las Vegas, Solange donned a Braided hairstyle with her cream and beige draped mini dress. The dress in itself was cool; however it is the braided hairstyle that definitely calls for some discussion.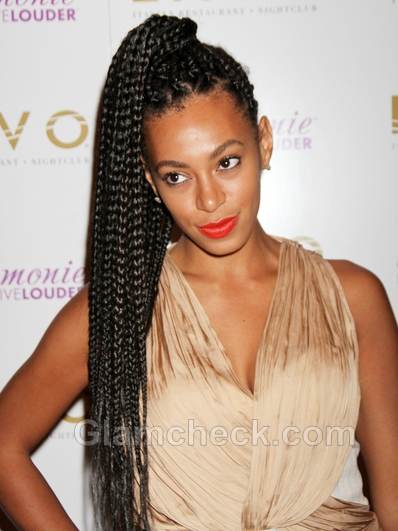 Solange Knowles braided hairstyle
The braided hairstyle, which is actually lots of thin braids gathered together and tied into a top pony tail is actually quite common and is often seen on the street fashion. So, while we call this braided hairstyle interesting, we are unsure if it did justice to the special event, Solange decided to wear it to.
Solange's look was cool – her dress a perfect fit, her makeup with the red lipstick included great. But do we really like the braided hairstyle Solange has decided to don – am not so sure.
What are your thoughts on Solange Knowles braided hairstyle?
Image: P R Photos