If you are up for something more casual, the messy side braid is boho-chic and perfect for a day by the pool. Ideal to be sported on a warm summer evening or to a party like, Serena style. This braid seems to take on a life of its own. It gives a toned-down look yet leaves behind a strong impression.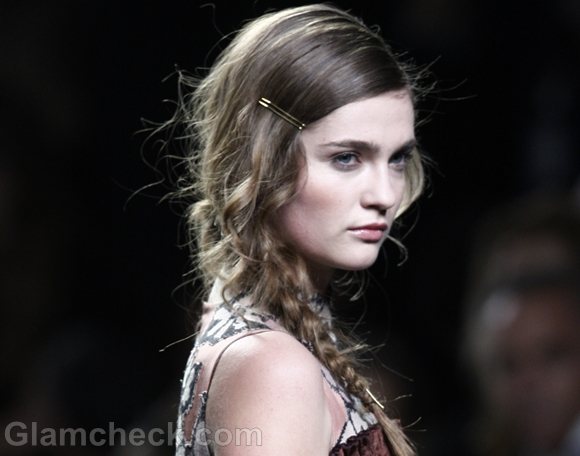 The messy side braid with fringe pin-up complimented perfectly the look of the casual girl of Victorio and Lucchino, at their Fall Winter 2012 collection presentation. Their eclectic collection had everything from little jackets to casual dresses in baroque floral patterns. The look was stylishly defined with a duo-tone hairstyle, with the fringe and the braid color different.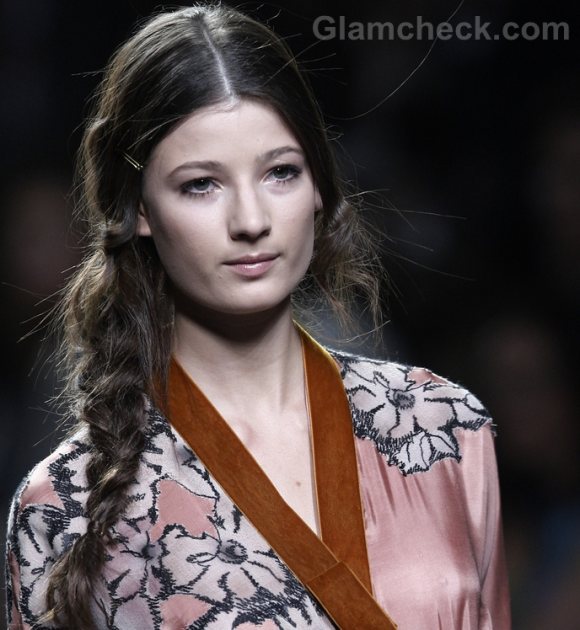 Messy side braid hairstyle has generated a buzz in town and you can take it as far as you dare. We know you can't wait to try this one, hence give you step-by-step instruction on how to get this messy braid ready.
You will need:
Hair-dryer
Rat-tail comb
Curling iron
Elastic band
Bobby pins
Step-by-step Guide:
Wash your hair thoroughly and use conditioner if required.
Dry out the hair completely, using hair-dryer.
Now brush through your hair, to remove all the knots, breakages and tangles.
Once the hair is smooth, divide it into sections using a tail comb.
Starting at the hairline, divide the head into two parts horizontally; one from the forehead to the lining of the crown and the other half beyond that.
Leave the front section, to be worked on later.
Take the section behind and put all the hair on one side and start braiding, in a regular fashion taking three strands.
Keep braiding till the end, and secure the braid with an elastic band.
Now, take the hair in the front and using a curling iron, curl a few stands unevenly and irregularly.
Either take the middle parting and pin the hair on the sides, or take all the hair on one side and pin it up using bobby pins.
Your unkempt braid is ready.
Tips:
The sections of the hair can vary. Unequal parts will add to the messier look more.
While braiding, you can pull out strands of hair from the loops of the braid for making it look more messy.
One can experiment with the parting and using the bobby pins.
Also, you can accessorize the braid or the curls in front with tiny flowers or decorative bobby pins for more fun.
Image: Shelly Wall/Shutterstock