A wedding is an occasion where every bride-to-be wants to look her best and as royal, regal and princess-like as possible. One of the best ways to achieve this effect is to opt for elaborate wedding hairstyles. Let us take a look at a few wedding hairstyles that will make you look spectacular, breathtaking and bring out the best in you – after all it is your special day, and you would want to look the part.
Wedding hairstyles : Chignon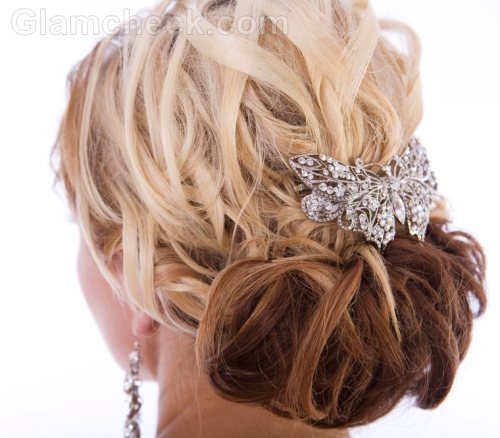 Chignon
This is one of the most popular wedding hairstyles and rightly so – due to its chic, classy, and yet girly appeal. It is made by pinning the hair close to the nape in a style that could be in knots, a bun, or just pinning up the hair in twists and turns. This hairstyle definitely makes the bride look pretty and also gives a softening effect to the face – adding to the overall "bride" look. There is also a timeless appeal about this hairstyle – no wonder it has survived from the ancient Greek times, and continues to ride on the popularity wave.
Wedding hairstyles : Bun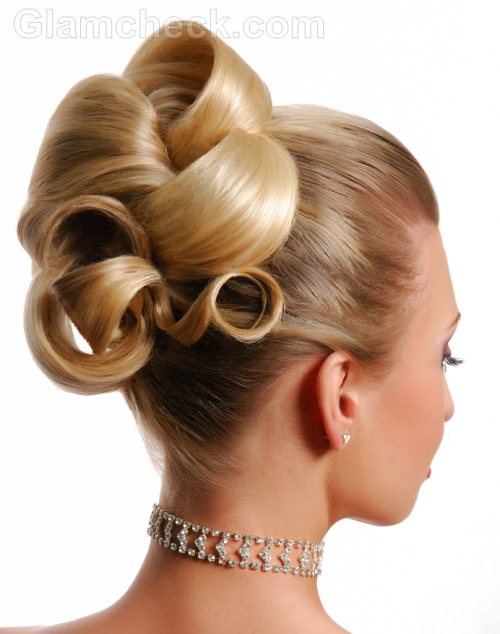 Curled updo
A lot of people equate the term "bun" with "boring" – and wrongly so. A bun can be anything but boring, if done up in style. Therefore, it is one hairdo, which has been sported as a wedding hairstyle by many brides. A lot can be done with a bun – don't confuse it with the "quickly turn around with the hand and pin it on the head" variety, because many interesting things can be done with it like the photo here. As you can see, the hair has been parted into sections and each of them has been smartly twisted through one another and pinned meticulously on the head. An advantage with the bun is that is also allows the face to get attention by keeping the hair out of it. The jaw line also looks sharper, and the face more sculpted – if the right kind of bun has been created. A bun lends an aura of elegance to the bride, and doesn't compete with her hair and makeup because it holds its own place to garner attention.
Wedding hairstyles : Floral Updos
Floral updo
Intertwining flowers in your hairdo is an instant way to glamorize it, yet look pristine. And whether you choose to sport a chignon or a bun or simply scrunch up your hair at the top – adding flowers will add more to the hairdo and actually make the style bloom to its full potential.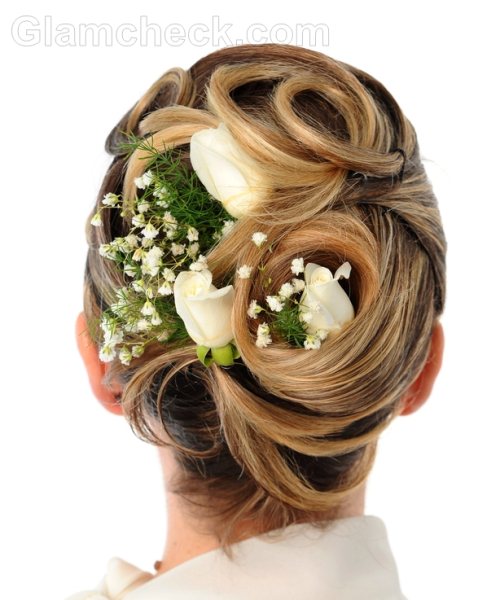 In fact, if you are a person who does not like fuss and just wants to go the registrar and get done with it, then you can still pick flowers on the way and put it in your hair to lend freshness and fragrance to your special day.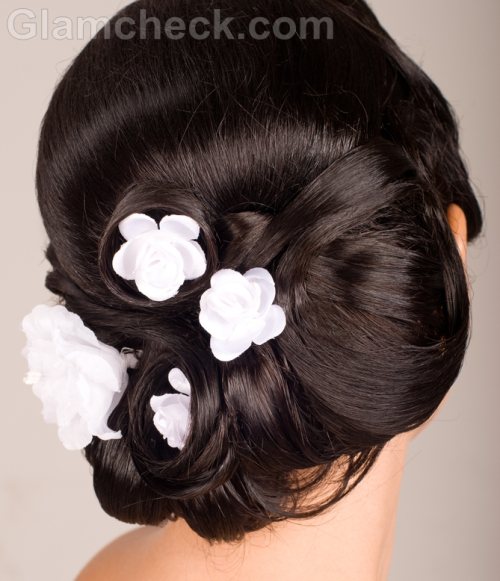 Since most girls usually wear gowns in shades that range from white to beige, and all the colors that come in between, you should choose flowers in the same hue.
So whether, you choose to sport a chignon, a high bun or braids crisscrossing each other to make an updo – tell your hair dresser to put in some flowers intricately.  
Wedding hairstyles : Floral Half Updos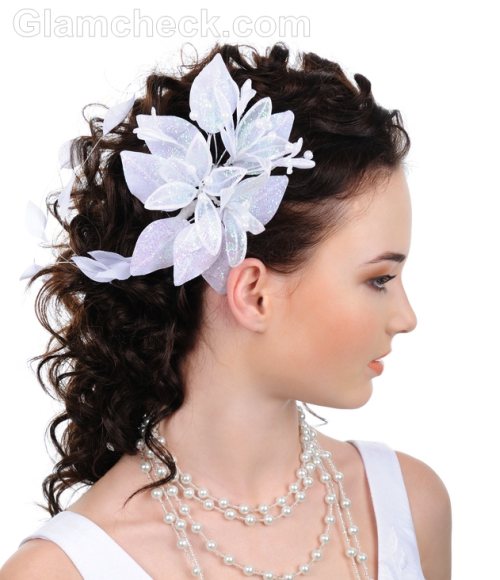 A half updo is gaining a lot of popularity these days and high on trend now – what with the most famous bride of this year, Kate Middleton, also opting for the same.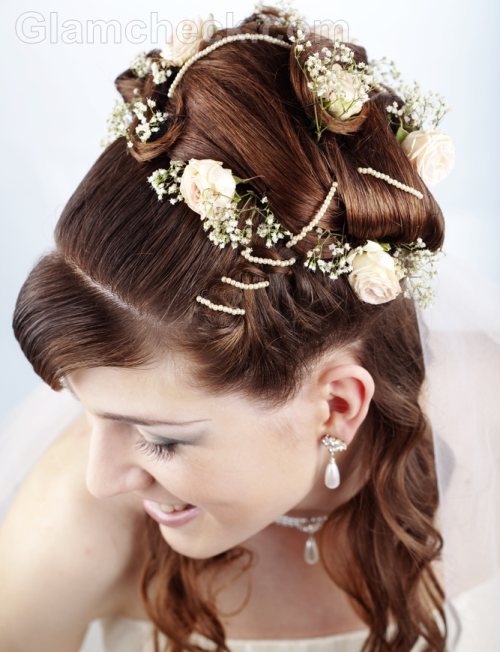 There is something very Grecian about this hairstyle that gives the person sporting it an air of mystery, charm, and sensuality – making it perfect for a bride.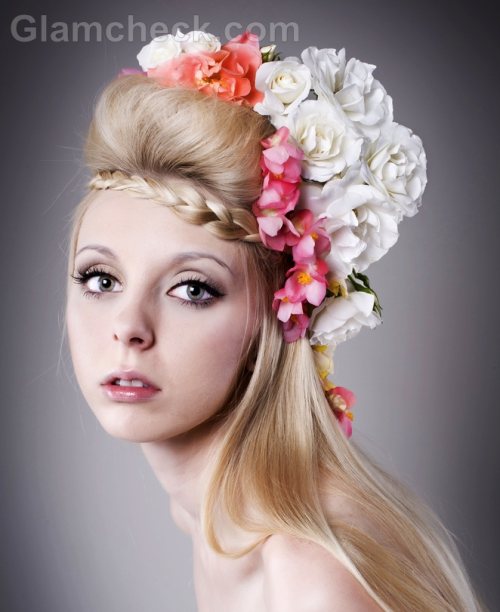 Adding flowers to this wedding hairstyle also adds to the charisma that the half updo offers.
Using floral accessories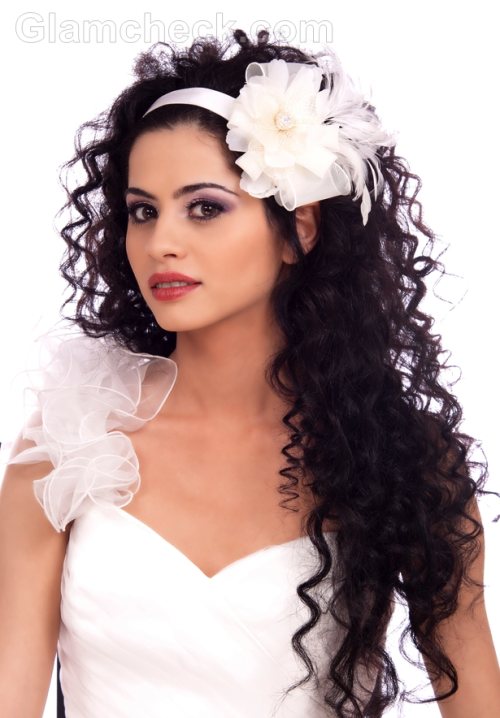 Wedding hairstyles
If you want flowers in your hair, but baulk at the thought, because of it being "too much" – don't worry, you can always choose to sport a safe floral accessory such as a headband with a flower on the side. It will be just right for those of you who have dreamt of having flowers in the hair while getting married, but think they will be making fools of themselves by actually doing so.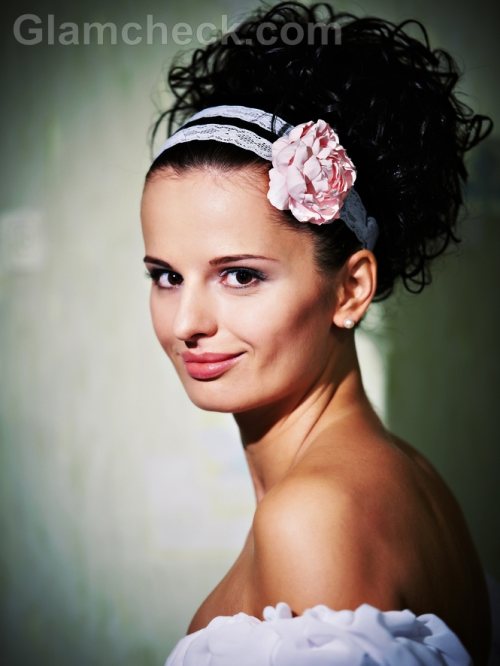 Using a floral headband will also hold your hair in place, and it can be used for both updos as well as hair that has been left open – as shown in the photos here.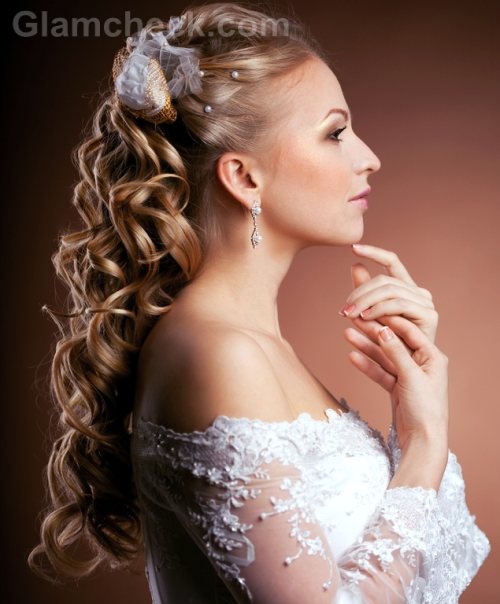 Alternatively, you can also tuck one flower or a small bunch of flowers behind your ear; these too will add a beautiful charm to your overall bridal look.
Wedding hairstyles : Curls and Waves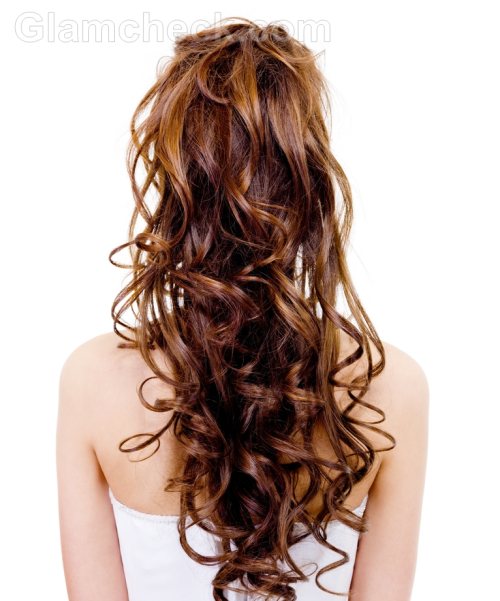 If tying the hair is not your style and you are more comfortable leaving it open, then instead of a plain blow dry or a simple wash & wear – you can try curls and waves. You can opt for loose curls, tight curls, waves or a tousled look – whatever you feel easy with, and it goes with your style. A lot of wedding hairstyles depend on curls and waves to add an exotic appeal.
Wedding hairstyles : Plaits and Fishtail Braids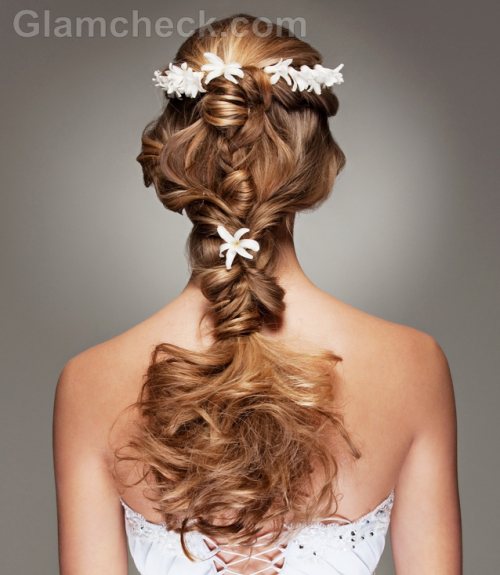 These days many of the wedding hairstyles also incorporate plaits and fishtail braids to lend elegance to a bride. You can ask your hairstylist to jazz these styles up to come out with trendier variations such as the picture shown here. One can also mess the style up a bit to soften the effect of this particular hairstyle.
Using the veil as an hair accessory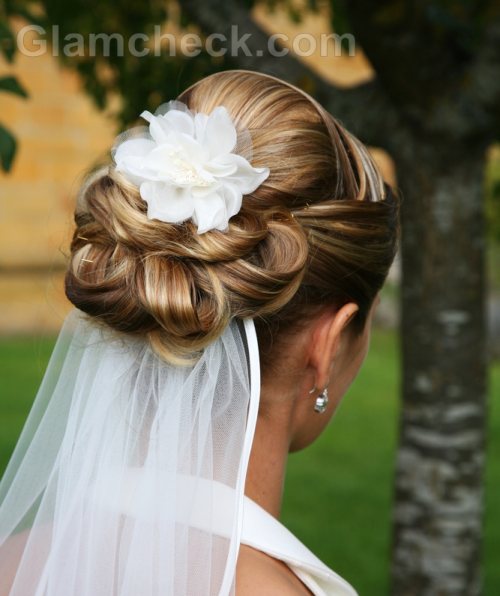 If you are looking for dressier wedding hairstyles then of course you can opt for an updo that makes use of your veil as an accessory and top it with a flower. Wedding hairstyles like these have a very fairytale like effect and can make you look like a queen – and isn't that what most brides-to-be-want?
You can also take a look at Indian bridal hairstyles for more inspiration and ideas, and while you are at it you may also like get more information on various wedding accessories.
It is important to note that wedding hairstyles can make or break the total look of the bride – so you have to be careful while choosing what kind of hairstyle you want. Also, your wedding hairstyle should not clash with your outfit in terms of elaborateness. So, if your wedding attire is extremely fancy then choose a slightly demurer wedding hairstyle, and that goes for your makeup too – you don't want to look like a Christmas Tree after all – totally choc a bloc with too many decorations!
Image: Shutterstock