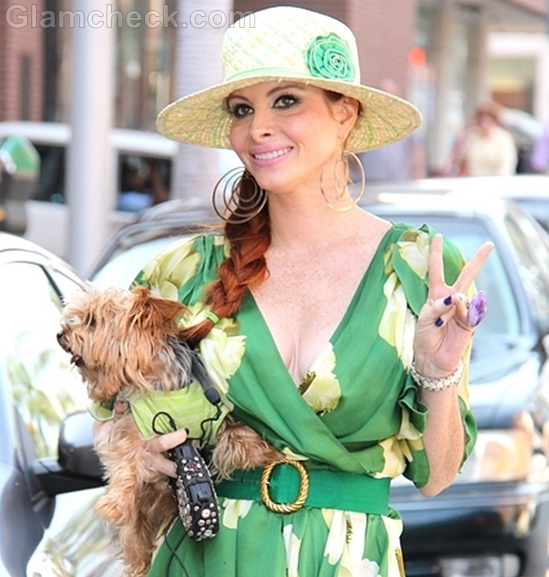 Phoebe Price was sighted taking a walk in Beverly Hills, California on Thursday in a summer print wrap mini dress.
She teamed the green and yellow dress with a green belt that added a dimension of glamor. Her large hoop earrings in a spiral shape and sling-back heels completed her look.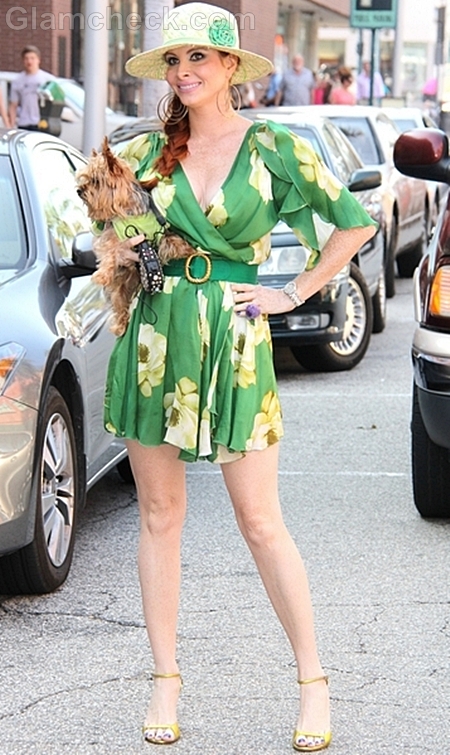 Her hair was done in a side plait that hung down her shoulder. And she kept safe from the sun with a straw yellow brim hat with a green flower on the side.
The actress was obviously dressed to be seen as her whole ensemble was chosen with care. Everything matched everything else. Even the small dog she carried had a green scarf tied around its neck to complement the dress.
Get The Look
A summer mini dress can be worn day and night if it's as stylish as Phoebe's. While it's always a good idea to have a couple of summer dresses in your wardrobe, it would be better to choose  those that suit your body type instead of copying a celebrity. Phoebe can pull off a mini dress with elan because she has great legs. If you are bottom heavy, then this is not a good choice for you. Pick something a little longer that flows up to your knees and hides the problem areas.
You can try hundreds of different accessories with a summer dress and they all have the potential to work. Long, beaded necklaces or diamond chokers, chunky bracelet or drop earrings – with a summer dress, you can rarely go wrong. For more tips read "How to wear Wrap Dress"& " How to wear mini dress".
Image: P R Photos