The mini dress spells fun, frolic and flirtatiousness. These short dresses are very eye catching and very vivacious. They are an absolute hit on the runway and on the streets alike. These versatile dresses can transform you into sexy diva or a doll eyed babe within minutes.  
The mini dress has been a fashion statement since a long time and it has on and off dominated the run way and the red carpet. 2011 saw the likes of Katy Perry and others favour this short number in vibrant colours- reds, oranges, blacks and whites.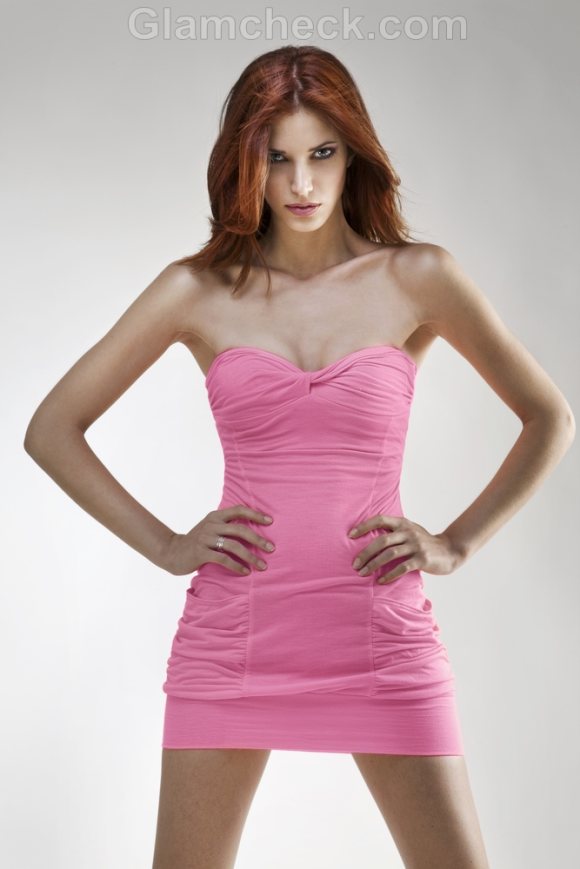 As stunning as the mini dress may be, it is not fit for every body type. You need to have a fit/toned body to be able to carry off the mini dress. It is not one of those dresses that is a 'must have' in every wardrobe. A mini dress is not for everyone- not for the people who are not comfortable with their body or think they need to tone up their legs or are ashamed of some body part. The mini dress makes you very conscious of your body and shows a lot of skin. But for those of us who are not scared to show some skin and have a toned sculpted body with a daring attitude need some tips on how to wear the mini dress and look great in them.
Keep in mind that the mini dress is for the vivacious and bold women. If you do not plan to make a fashion statement, do not attempt to wear this 'oh-so-hot' number.  This feisty number is very easy to go wrong wit, though with a little help on how to wear the mini dress you can adorn this hot number with its full potential. 
Things to keep in mind before wearing a Mini Dress
There are a variety of mini dresses in the market available to choose from. There are sexy ones and cute ones; you need to decide which is for you, though.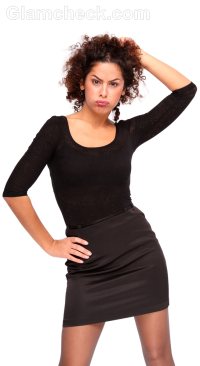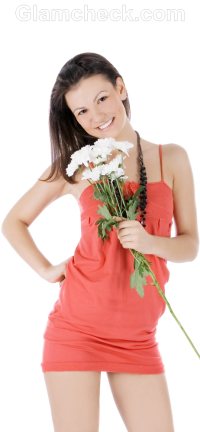 Mini Dress for your body shape:
If you have broad shoulders do not wear halters as they make your shoulders look even broader.
If your tummy is the problem area, choose a mini dress that does not fall too close to the silhouette, instead pick one that falls like a baby doll dress. A mini dress with an empire waistline that falls loosely in ruffles around our body.
If you have baby fat on your arms choose a sleeved dress.
If leg fat is what troubles you choose a mini dress that covers your thighs.
For small busts wear a heart shaped neckline to accentuate your cleavage and for a fuller figure.
For big busts wear big, round necks, that enhances your assets and still do not reveal a cleavage and make the dress look trashy.
Choose the length of the dress. The length factors depend primarily on your age, your personal style and how much would you want to reveal.  
Ask yourself 'how short can I go?' Stand in front of the mirror and check the length.
(1)  Wear the dress and stand straight in front of the mirror and put your hands by your side and check if the dress is longer or shorter than your finger tips. If it is shorter it is too short.
iii)   Keep your age in mind. You don't want to be dressed as a teenager in you mid 40's. Grace is a crucial part of overall beauty. Let the hemlines grow with your age too.
iv)   Your attitude needs to be very high on the confidence and boldness quotient. only if your are comfortable showing so much skin and love to be the centre of all the attention can you carry off a mini dress.
Keep the occasion in mind. You cannot wear a mini dress to office or official events.
How to wear the mini dress a la Diva



When wearing a mini dress you can try out different looks. They can make you look casual, dressy or like a diva. There are lot of looks one can experiment with while wearing the glamorous and versatile number.
You can either look classic or modern in the mini dress. You could take the modern version of this dress like t-shirt mini dress and team it up with a pair of bright neon tights or opaque stockings to get best results. To complete this look wear a pair of boots to match the ensemble and look stunning and very new-age, modern vixen. Wearing boots that match the tights or stocking to give the illusion of height.
A mini dress works very well as casual wear. For a relaxed casual relaxed look pick a bright orange or pink dress in casual cloth like cotton or linen. Team a long sleeved mini dress with bold prints on it, with bare legs. Team this look with ballet flats or strappy sandals in neutral shades. This works very well almost any occasion. It is a cool and very comfortable ensemble to wear.
If you want to dress up and look fancy for a special occasion the mini dress is a perfect option. Choose a mini dress in red or black for the look. Chiffons, satins and silks work as very good options for party wear. For the sexy Goddess look you need to wear a pair of ultra sheer stockings under your dress that match your skin tone.  Team up the ensemble with a sexy pair of high heeled strappy sandals in a metallic colour.
Footwear for the mini dress
The mini dress is very versatile and can carry of many looks. Experimentation and personal styles are the key words in looking good while wearing a mini dress besides confidence.
You need to completely own the look while wearing the dress. Improvisation is very important.
You can either wear the mini dress with flats or with heels.
For a casual feel and a more toned down look that does not demand extra attention go for the flat sandals or pumps. This ensemble does not shout for attention while making the wearer look very chic and comfortable.
If you want to turn the attention 10 notches up then wear heels or wedge sandals. The stilettos make the sexy meter gallop to new heights. These embellished beauties can transform a cute dress to hot little number. Wedges are more relaxed, though not as much as flats. But they bring a retro feel to the dress and take us back to the free 60's.  
Tights and legging
If you do not want to show too much sin wear leggings or tights with your mini dress. Bright neon legging are very in and go very well with the vibrant mini dresses.  If the dress is a micro mini and you are not sure about how to carry it off the best way is to wear a pair of leggings. They immediately jazz up the dress and make it very dressy.
Accessorize the mini dress



Due to the different looks that the mini dress can be worn with you have a lot of options and scope in styling and accessorising the dress.
Different bags can be carried with different looks. Carry a tote for an evening out with friends, a satchel for just lazing around or hanging out and glittering clutch for a party diva look.
Since the mini dress in vibrant, bold colors is a lot to handle in itself so too much of junk jewellery can make you look overdone!! Wear small pearl studs or thin danglers for the everyday look with a long string of contrasting bead as a necklace. For the more outrageous look you can go overboard like Lady GaGa and wear a heavy necklace and earring and a big cuff for the wrist. 
You hair and makeup should also go with the time, place and occasion. For the day time, you can leave your hair on your shoulder casually and choose nude shades for makeup.
For a party of for a fancy outlook wear dark shades of eye-shadow or lipstick and keep the skin glowing with a shimmer or bronzer. Wear your hair up in a fancy pony tail or wear it poker straight depending on how you prefer it. 
Tips and warnings
If you decide to wear the mini dress you should be ready to be noticed and given a lot of attention. People might turn back and give you second or third looks if you have got the look right.
If you have a large figure and still want to wear a mini dress, choose a mid thigh length dress and team it with a pair of tights to cover up the legs and wear a belt on slimmest part of your waist to give the illusion of a tiny waistline. Also needed to go with the look is a bold attitude. That is always the chemical X that is needed to wear mini dresses.
You need to keep in mind that you might want to sit down and if the dress is too short it will ride up revealing more that wanted. Therefore keep a strict check on the hemline.
A mini dress is definitely not office wear. It is strictly for power dressing at unofficial events.
Do not wear a mini dress until you think you are ready to wear one, especially if you not sure about it, as you will keep feeling conscious about yourself and keep tugging and pulling at it.
Once you have found your style and how you like your mini dress it is a lifetime friendship with this little dress. It is very easy to look good in a mini dress once you have mastered the art and follow some simple rules of do's and don'ts. Always before buys a dress wear it and walk around it, feel comfortable in and sit down in it. You know exactly how you'll look when you are walking or sitting in it. It very easy to either look stunning or crass in a mini dress, so be careful while choosing yours. Wear the dress unapologetically and with confidence.
Only go as mini as you feel comfortable in. Do not think it'll make you look good even if you are not comfortable wearing it. There are different lengths you can choose from micros to almost knee length. Once you have found your perfect dress you are all set to be the centre of all the attention and thrive on your new found love and glory!!
Image: Shutterstock