2011 has been an amazing year for celeb hairstyles. The stars have never shone brighter. There are a few celebrity hairstyle trends that were repeated more than once, and with good reason – they look fabulous. Here's a recap of some of the best celebrity hairstyle trends in 2011.
Celebrity Hairstyle Trends 2011 – Messy Hair
Messy Side Swept Hair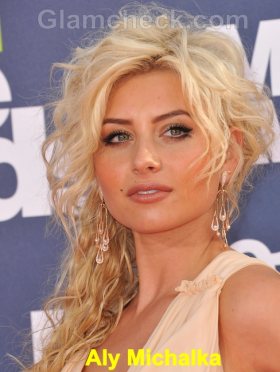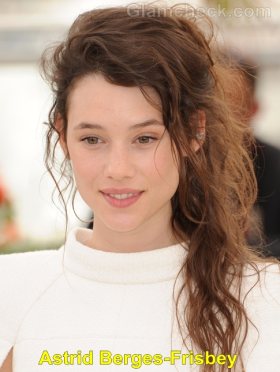 Although many of our celebs prefer being immaculate on the red carpet, there are a few adventurous souls who opt for messier hairstyles which make them look casual and add a wonderful wildness to their look. Aly Michalka looks like an unattainable goddess with her blond messy locks swept to the side. This was  a really well-executed hairstyle and it's very messiness is proof enough that it took a lot of skill to create. Dainty and fantastical Astrid Berges-Frisbey's messy side swept hair makes her look like a vision from a dream.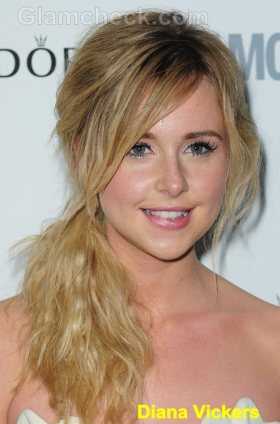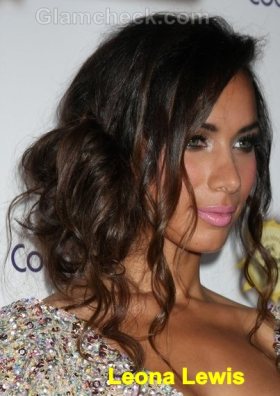 Diana Vickers, on the other hand, looks capable and stylish in her version of messy side swept hair. Leona Lewis' mass of curls with her messy side swept bun makes her the wildest of them all. The singer looks sensuous and her chocolate brown hair reinforces the effect.
Messy Side Plaits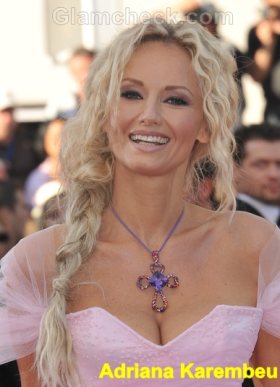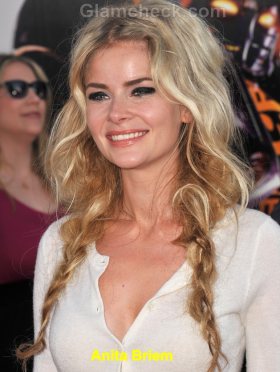 Adriana Karembeu may not have made much of an impression with that dress, but her fairytale messy side plait is something we'll remember. Lovely Anita Briem's messy side plaits do wonders in softening her face and enhancing her femininity. Although the majority of the world was blinded by Miley Cyrus' daring neckline just a few days ago, fashion lovers recognized the success of her gorgeous side plait. Tyra Banks' messy side plaits at a book-signing recently made her look years younger than her age.
Celebrity Hairstyle Trends 2011 – Braids
Side Plaits and Fishtail Plaits
Both these braid hairstyles have been very on-trend with younger celebs in 2011. They are in fact very youthful hairstyles and can take years off your face and overall look.
Side Plaits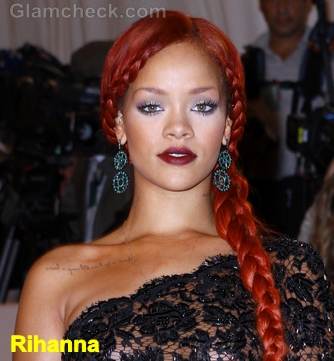 Rihanna scores a double whammy with this hairdo. Not only is her hairstyle a very trendy side plait and one of the most elegant we've seen, it's also colored a sensuous shade of red that complements her skin tone and is one of the hottest hair color trends of 2011.
Fishtail Plaits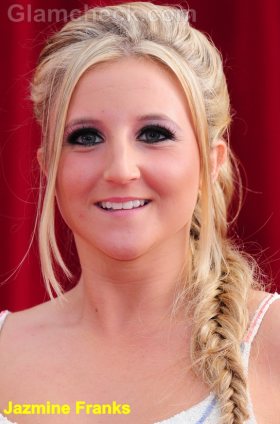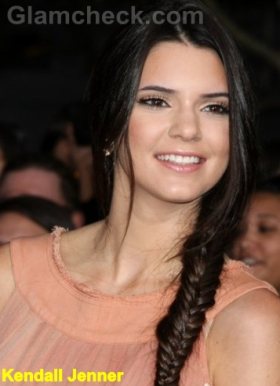 Jazmine Franks is a hit with her blond hair in a casual fishtail braid. And young Kendall Jenner's fishtail braid lends the final touches to her red carpet look.
Braided Bangs and Milkmaid Braids
Undoubtedly the most charming celebrity hairstyle trend of all, milkmaid braids – and the simpler variation with the braided bangs – have transformed many a celeb hottie into the approachable girl next door. Although challenging to create, milkmaid braids are the epitome of feminine hairstyles.
Braided Bangs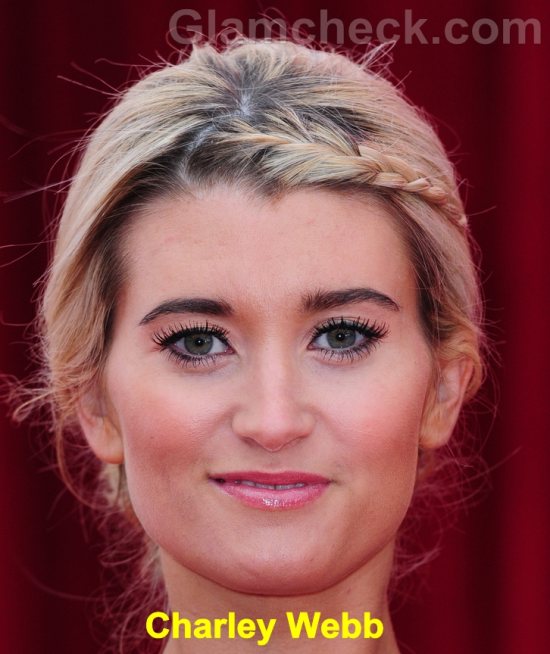 Charley Webb braided her bangs and pulled the braid back into her low updo.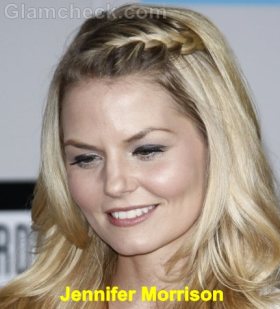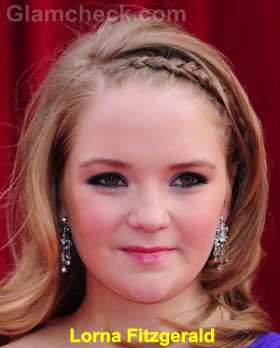 Jennifer Morrison in particular is very fond of braided hairstyles. She sported braided bangs, the end of which was tucked away in the back while her remaining hair was left loose. Lorna Fitzgerald's version of the braided bangs is intricate and youthful.
Milkmaid Braids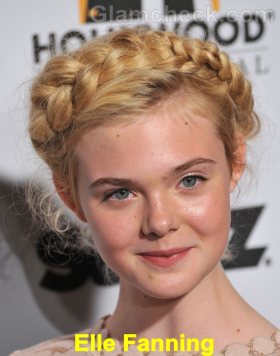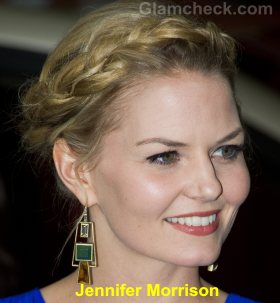 Elle Fanning looks like a gentle Grecian goddess with her beautiful milkmaid braids. And here's Jennifer Morrison again in quintessential milkmaid braids that perfectly offset her elegant outfit.
Celebrity Hairstyle Trends 2011 – Buns
Made famous on the runway, high buns and top knots seemed to have survived for several seasons now with no signs of wear and tear. The sleek top knot and the messy top knot have both gained favor this past year and the style is being emulated in several striking variations that remind us of why we look to celebs for fashion tips.
Sleek Top Knots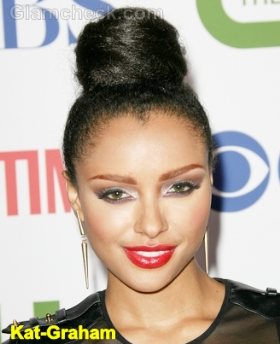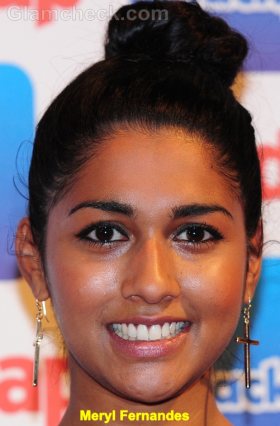 Kat Graham tames her unruly dark hair into a sleek top bun that sits high atop her head. Meryl Fernandes' sleek top bun hairstyle gives her look a perfect finish.
Messy Top Knots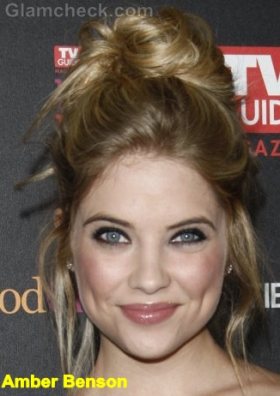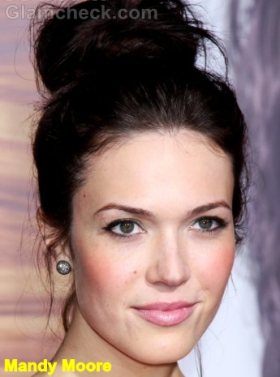 Amber Benson's messy top bun is inspired. She looks trendy but relaxed, in a way that you know she's having a good time. Mandy Moore's fashion-forward messy top bun has an uninhibited appeal.
Celebrity Hairstyle Trends 2011 – Retro
It's OK to live in the past if the past has something worth holding on to. A couple of hairstyles that have survived the ravages of time and are still holding their own include the retro waves and beehives.
Retro Waves or Marcel Waves
The vintage look will never go out of style. And neither will hairdos that go well with vintage outfits. The retro waves or marcel waves are a highly glamorous hairstyle trend that several Hollywood divas have sported this past year.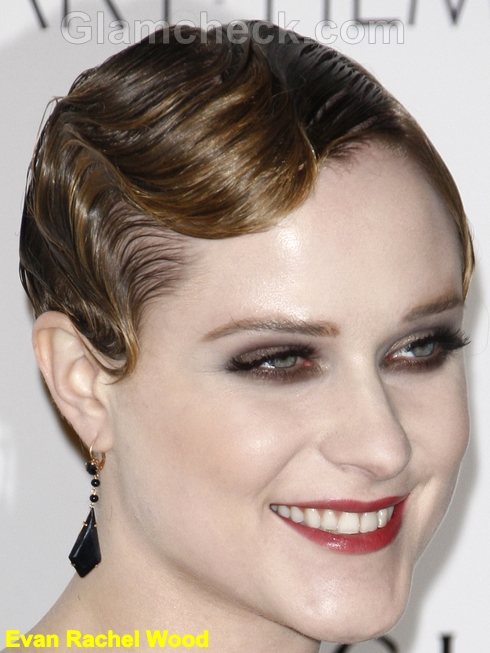 Evan Rachel Wood uses the retro waves hairstyle on her pixie short hair and makes us think of what  the fiercly-private, enigmatic icon Greta Garbo would look like today.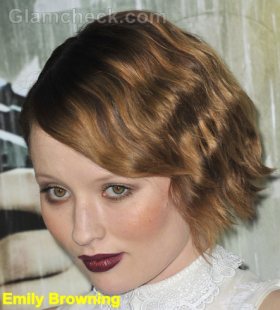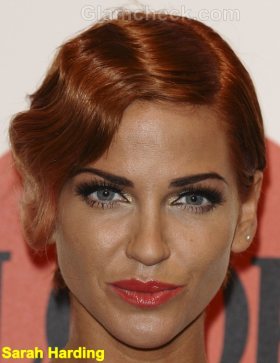 Emily Browning gives her plain white outfit a mega-boost of sophistication with her retro waves hairstyle. Her medium-length hair is perfectly suited for the retro waves. The waves that are swept to the side on her forehead give her a mysterious, dreamy air.  Sarah Harding's burnt orange hair looks sleek and elegant in the retro waves hairstyle.
Beehives
Borrowed from the 60s and thought to be brought back in fashion by late singer Amy Winehouse who passed away earlier this year, the beehive hairstyle has gained popularity once again and has been sported by more than one hot celeb on the red carpet and beyond.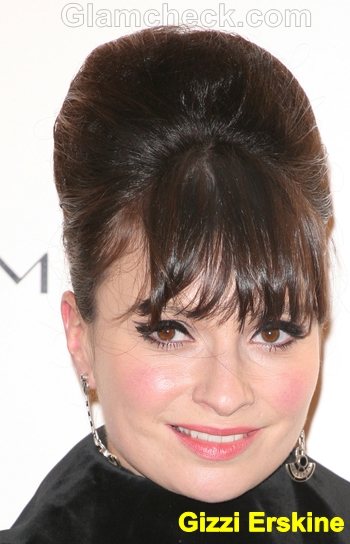 Gizzi Erskine adds bangs to her beehive hairdo to make her look fun and youthful.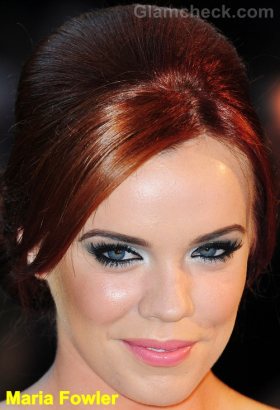 The lovely Gabriela Marcinkova looks unimaginably elegant in her beehive hair accessorised with a black headband. We love Maria Fowler's unique and modern take on the traditional beehive hair. Her silky straight copper tresses are done up in a more subtle version of the beehive.
Celebrity Hairstyle Trends 2011 – Voluminous Hair
Big voluminous hair goes in and out of style. But if you think you can pull it off with your outfit, then you can try it out just like these beauties did this past year.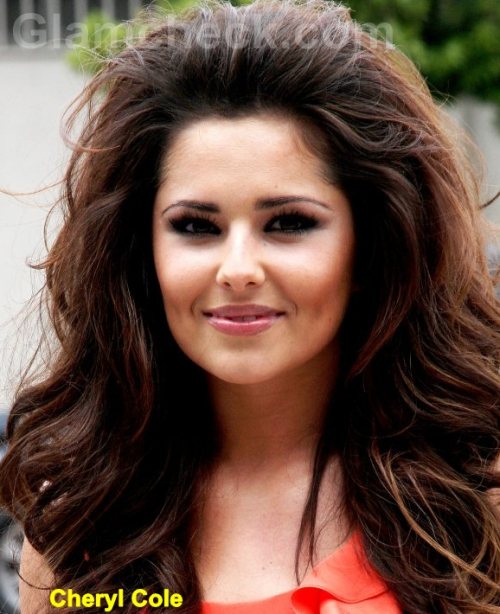 Cheryl Cole knows that size matters, and her voluminous hairstyle proves it.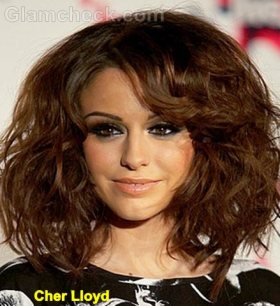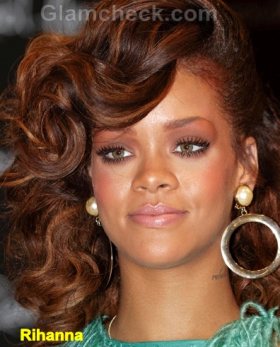 Cher Lloyd shows off her bountiful mane by opting for big voluminous hair. Rihanna mousses up her side swept curly hair to give it extra bounce and volume.
Celebrity Hairstyle Trends 2011 – Hair Colors
Celebs have always experimented with hair colors. Sometimes to be trendy, sometimes to shock, but most of the time just to have some fun. This year, we've seen three colors take dominance over others.
Platinum Blond Hair Color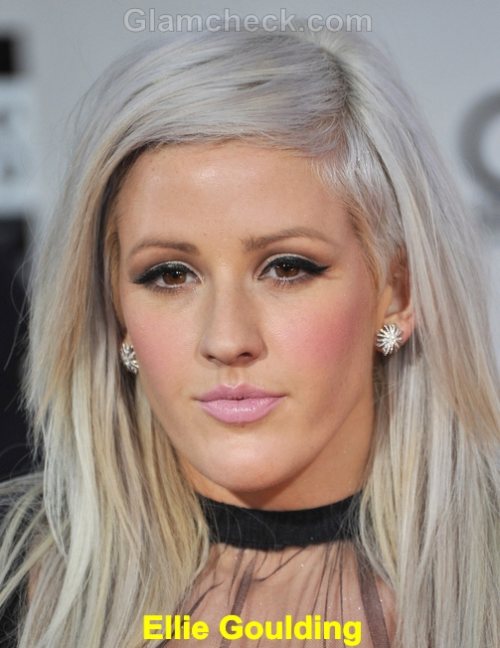 Platinum blond equals bombshell. Period. Ellie Goulding could have used some more makeup to glam up her look, but her sleek platinum blond hair is flawless.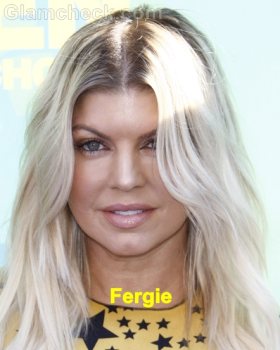 Alecia Moore looks absolutely stunning in her cropped platinum blond hair. Fergie is a natural stunner, and her platinum blond hair gives her more oomph than we can handle.
Pink Hair Color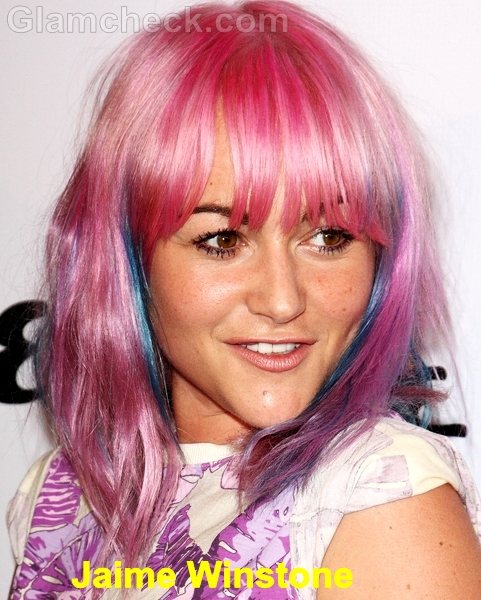 From Barbie pink to baby pink to combining pink with other colors, pink has undoubtedly been one of the hot hair colors in 2011. Jaime Winstone has fun by infusing her pink hair with streaks of blue and purple.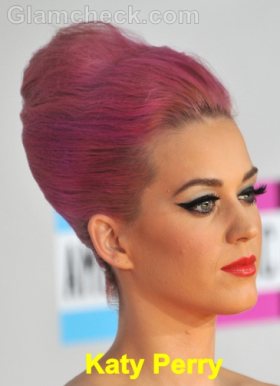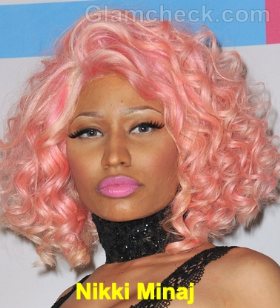 Katy Perry goes all pink and looks fab while she's at it. Nikki Minaj's baby pink curls are breathtaking.
Red/Burnt Orange Hair Color
There are  hundreds of shades of red, and our celebs have tried them all. Red continues to be a very popular hair color and all the A-listers have sported the color at least once this year.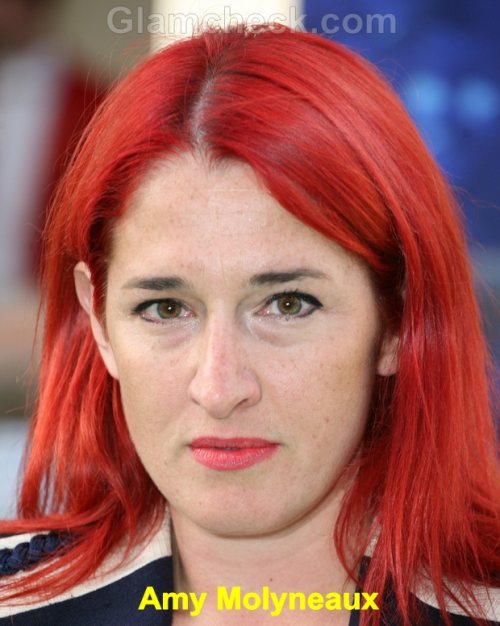 Amy Molyneaux went with a brilliant red that borders on orange.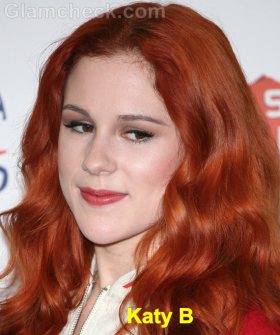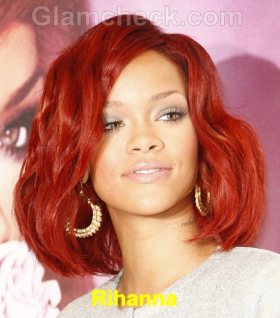 Kelly B's burnt orange hair color is goes great with her skin tone, although she should have used a different shade of lipstick. Red hair color suits Rihanna to a T. The sexy singer looks provocative and enticing with red hair, and she's been spotted in variations of red hair color on several occasions.
Image: Shutterstock, P R Photos