Actress and supermodel Rosie Huntington-Whitely made news and has remained in the news ever since she replaced Megan Fox in Transformers 3. And we gotta tell you, we're not surprised in the least. Even if she wasn't walking the runway for major designers or gracing the cover pages of the world's famous magazines, she'd still be one of the most written about people in the news simply because of her celeb looks. You can spot her on any day, even the most casual ones, looking her best and giving us average mortals something to learn from.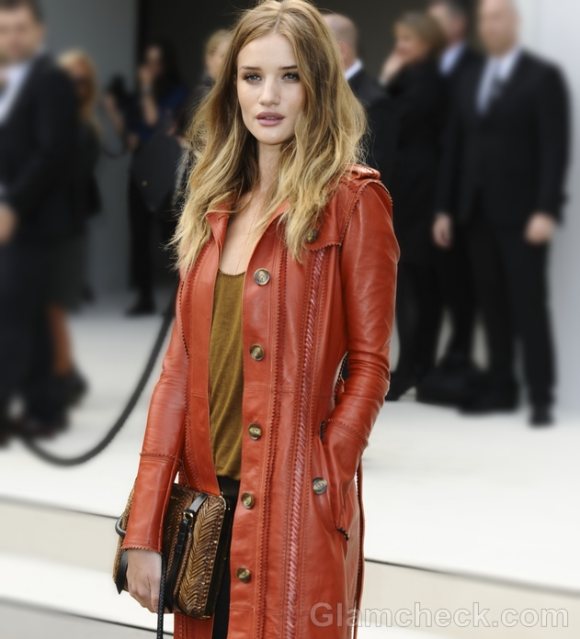 Here, for example, she is seen in an outfit dominated by leather, looking chic and stylish as always, not to mention sexier than usual. Yes, leather will do that to you, especially if you have a rocking bod like Rosie's.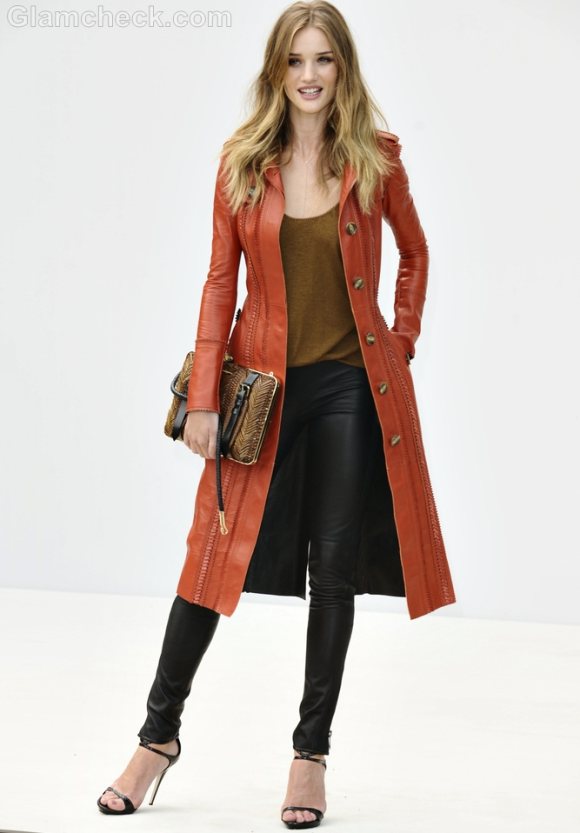 The 24-year-old wore a burnt orange, knee-length overcoat with large buttons from Burberry, pairing it with black leather pants, also from Burberry, and a deep mustard yellow blouse. She completed her simple yet uber stylish celeb look with black stilettos and a large leather clutch purse.
This natural beauty doesn't need much makeup to stand out from the crowd. She kept her makeup natural, and left her highlighted blond tresses loose and messy with a center parting.
These earthy tones are wonderful winter colors, and this is one gorgeous outfit to put together in the colder seasons. God knows it's hard enough to look glamorous on winter days. It's a good thing we have Rosie to show us how with her impeccable celeb looks.
Get The Look
This is a pretty simple outfit to put together. It doesn't have to be exactly like Rosie's to get it right. Just make sure that the colors are not gaudy. Pick two or maximum three earthy tones with the different pieces of your ensemble.
But don't forget that celeb looks are only about getting tips from those who know how to dress. You must make an effort to make the style your own; otherwise you're nothing more than a copycat. One way of doing this is to wear a different pair of shoes. Pumps would look great with this outfit, as would different colored stilettos.
Another way to make this look your own is by doing your hair in a style that reflects your personality. Try super-straight hair. Or perhaps an up-do if you have the time and skill, or access to a good hair stylist.
You can wear this look to a formal party or even when you're just going to be hanging out with friends. Its versatility makes it an appealing choice for both formal and informal events.
Image: Shutterstock