This post brought to you by PINK. All opinions are 100% mine.
I've always wanted good quality pushup bras that gave me a boost without the bulk of extra padding. But I also want fun colors and prints, various styles of the pushup to wear with my different outfits, and above all, comfort. Although there have long been attempts to create just such a product for women like me, sadly none of them quite meet the standards that I'm looking for. No one knows underwear like Victoria's Secret. PINK's vibrant range of new  Total Sweetheart Bras has the same high standards that are synonymous with the brand.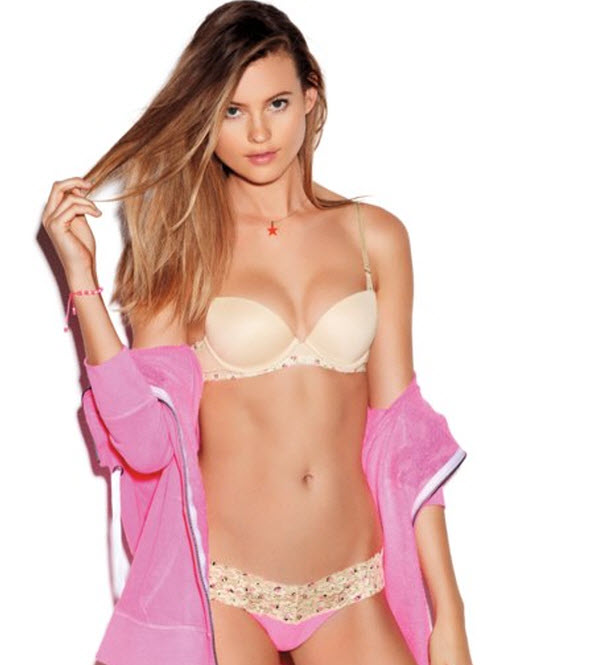 Victoria's Secret Pink
Total Sweetheart Demi Bras give you a lovely shape with a slight push, and they are lightly lined so no extra padding. What's more, they are super-comfortable, super-soft, and they come in so many nifty colors and prints that you will be spoiled for choice. Although I went in wanting the light padding and great shape of these bras, what I ended up loving most about them is the delightful prints and patterns they are available in – leopard prints, funky floral patterns, lace-trim, stripes, and bold colors that will drive you wild. I think there's something for every woman with PINK's New Total Sweetheart Demi Bras.
The demi shape makes these bras the perfect choice for everyday wear, especially under your T-shirts and tank tops. But the ideal top for this bra is undoubtedly the racerback. Either convert your bra to a racerback so the straps are hidden, or be a little flirty and let them peek through.
Want panties to match your Total Sweetheart Demi Bra? Make your own set with Total Sweetheart trim thongs.
Words will not do justice to the femininity and fun of the Total Sweetheart Demi Bras. So check out the new range for yourself Bra 101 (bra guide). Also check out the video below for a quick look at some of the PINK's Total Sweetheart bras. You'll fall in love with it.
Available for sale online and in stores since January 26th. Check out the the Total Sweetheart Demi Bras right now and select what you'll be taking home. 
I can't be the only one totally enamored with Total Sweetheart Demi Bras. Take one look and you will be too. What do you love most about this smashing new bra range?