Accessories are an integral part of completing an outfit and giving it a finished look. However, there are days and moods when even accessories fall short of it. These are the times when well-manicured nails too can grab the focus for you and balance the outfit, and when it is a glitter nail polish then its shimmer can help to see you through a dressy evening as well which makes it a boon. However, a glitter nail polish to have an impact, application of multiple coats are needed which is eventually finished by a coat of clear nail polish. The result is secure but at the same time the removal of the polish gets as difficult and challenging. Extra force and rash removal can leave your nails scratched and untidy which in the long is not what one looks for in a well groomed look.
Removal Ideas:
We all know of the easiest and classic way of removing nail polishes using cotton and a nail polish remover. However, as discussed the glitter type need an extra effort but it definitely makes the ordeal of removal a much easier one.
The three things you will need to do the 'magic' trick would be cotton, nail polish remover and small strips of aluminium foil, each for your nails.
Here are the steps to get it right: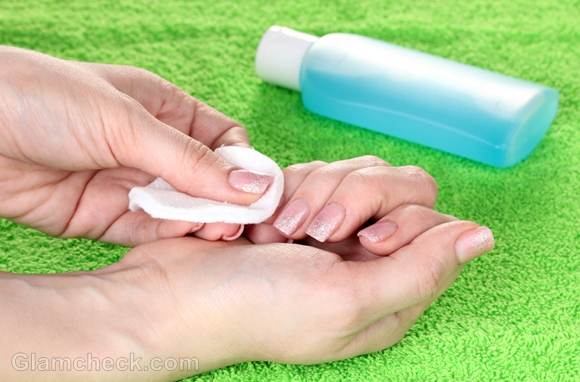 How To Remove Glitter Nail Polish
Take a small cotton ball which however, is big enough to cover your nails.
Dab it with any nail polish remover and place it over a nail.
Cover and secure the cotton with the foil and ensure that it is sealed properly to avoid any escape route for the remover and let it soak into the nails.
Repeat the steps for all your nails and keep them sealed for 4-5 minutes.
When one takes off the foil and cotton, one finds most of the glitter nail polish off your nails. The tiny left over bits can be removed manually following the usual routine. This definitely is a delightfully much easier way of removing the glitter nail polish. One would know the struggle of the usual ways if you have not tried this before.
Also Read:
Image: Shutterstock.com