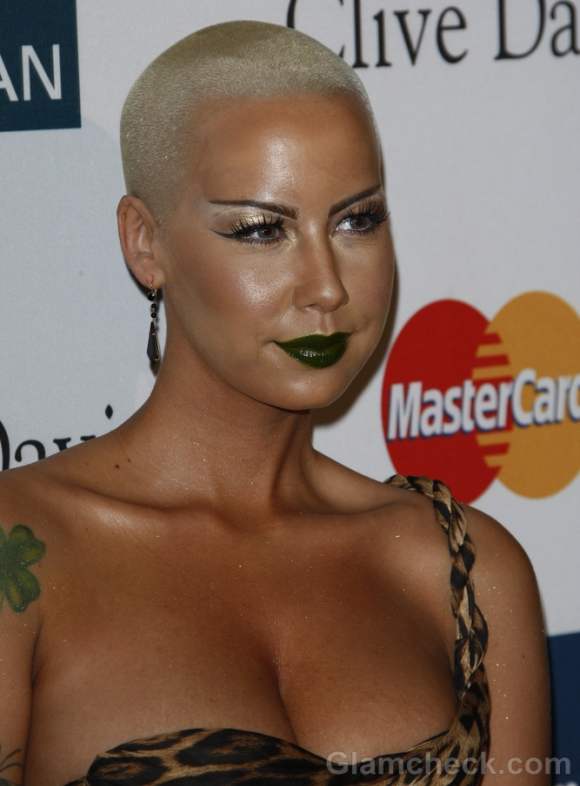 Mere hours after Whitney Houston's passing at the same hotel which hosted the Clive Davis and the Recording Academy's 2012 Pre-GRAMMY Gala on February 11 in Beverly Hills, California, the celebs were out in all their glory. Model Amber Rose was one of the more noticeable attendees at the event, thanks to her incredibly low-cut animal print gown.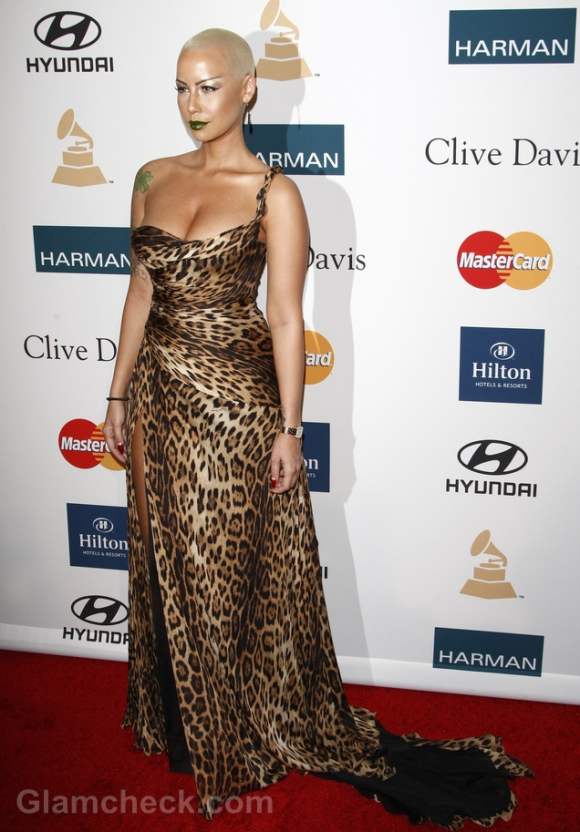 The 28-year-old sported an astonishingly sexy gown with a split that started at the beginning of her thigh and extra fabric that trailed along the floor. But the selling point of this braided-strap one-shoulder number was the extremely deep cut of the neckline, so low it was in danger of falling off. Thankfully, there were no wardrobe malfunctions. She accessorized the heart-racing ensemble with strappy embellished heels, a wristwatch, bracelet and dangle earrings.
Although massively revealing, this gown has a lot of fabric and all of it in an animal print. But you never for one moment think that Amber should have used a belt or some other accessory to break the monotony of the pattern since the design of the dress itself is so unique that the cinched-in, stretchy pattern on the waist creates the necessary visual deviation.
Amber has really gone all out with this outfit. She pulled all the stops to make her look as dramatic as possible. Here's something we've never seen on the red carpet before – green lipstick. Normally, you'd associate zany colored lipstick with a Halloween outfit. But it looks right on her. Plus it matches the shamrock tattoo on her bare arm. She also wore fake eyelashes with cat's eye makeup and added some bronzer.
Other curvy celebs who showed off their figures in daring ensembles at the pre-Grammy party included socialite Kim Kardashian, pop princess Britney Spears and tennis legend Venus Williams.
Image: Shutterstock