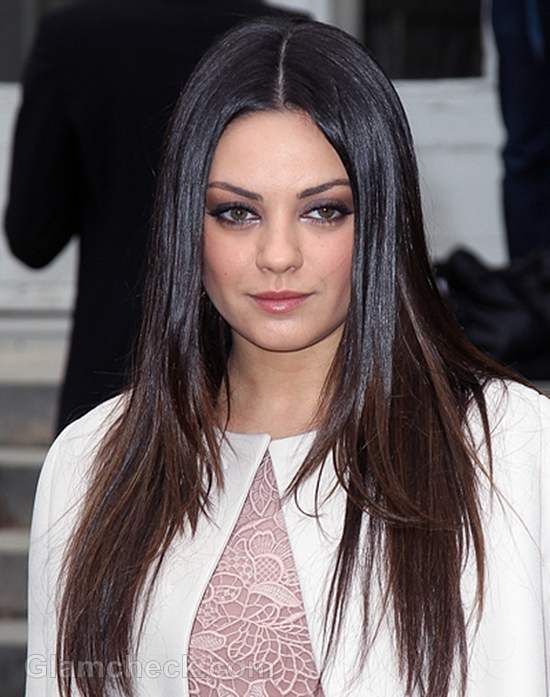 As the new face of Dior, actress Mila Kunis had to be on hand at the label's showing at Paris Fashion Week Womenswear Fall/Winter 2012 Collection at the Musee Rodin in Paris, France on March 3.
The 28-year-old said she had already been privy to the new collection but was keen on watching it displayed on the runway since that was a different experience. When asked if she would walk the runway herself as part of her contract with Dior, she responded that she would probably never take to the ramp since she did not feel she had the talent for it.
She may not think she has runway model potential, but she does a great job representing the label off-stage. Just check her out in one of their gorgeous creations at the event.
Mila donned a pale pink lace dress by Christian Dior. It was of knee length, accentuated by a patent leather black belt and the lace design was intricate but not overwhelming. She toned down the outfit with a relaxed white cashmere coat.
To accessorize the pretty pink, Mila wore only a pair of hoop earrings by Kara Ackerman and to-die-for patent leather peep-toe pumps in the same blush pink shade as the dress. She also carried a burgundy purse with a strap although she held it like a clutch most of the time.
Everything from head to toe is by Dior, by the way, except for the jewellery.
The winning point of this outfit is, of course, Mila herself. The beautiful brunette left her long hair loose and straight with a center parting.
Her delectable makeup offered more to the outfit than all of her accessories combined. She wore her usual dark eye makeup to accentuate her striking eyes. Her eye shadow was a delicate shade of mauve that blended sensuously into her olive skin. She also wore a shiny eye shadow under her lower lids which made her look even more glamorous.  Finally, she sported a deep pink lipstick that offset her delicate pout to perfection.
No one could have pulled off this look quite as effortlessly as Mila does. She owns the outfit and makes it a part of her inherent grace and elegance.
Image: P R Photos