Don't you just love days of celebration? Birthdays, Halloween, Christmas, Women's Day, Valentine's Day, et al. It gives us an excuse for a holiday. It also gives our ever-trendy celebs the chance to have some fun with their outfits on the red carpet and elsewhere.
A recently popular trend in honor of St. Patrick's Day (March 17) was the color green. We saw a lot of A-listers sporting the color at movie premieres and fashion shows in the last week. Some only added elements of green to their ensembles while others went all out with fully green outfits. All their styles are gorgeous though, which is what has brought them into the limelight in our book today. Let's take a look at how the celebs have worn the color green. Maybe you'll be inspired enough by them to bring a little color into your own wardrobe.
Alexanne Hopkins
A boring ensemble can be spruced up with a touch of color as proven by Alexanne Hopkins as she attended the 12th Annual Girls Today Women Tomorrow Leadership Mentoring Program Fashion Show.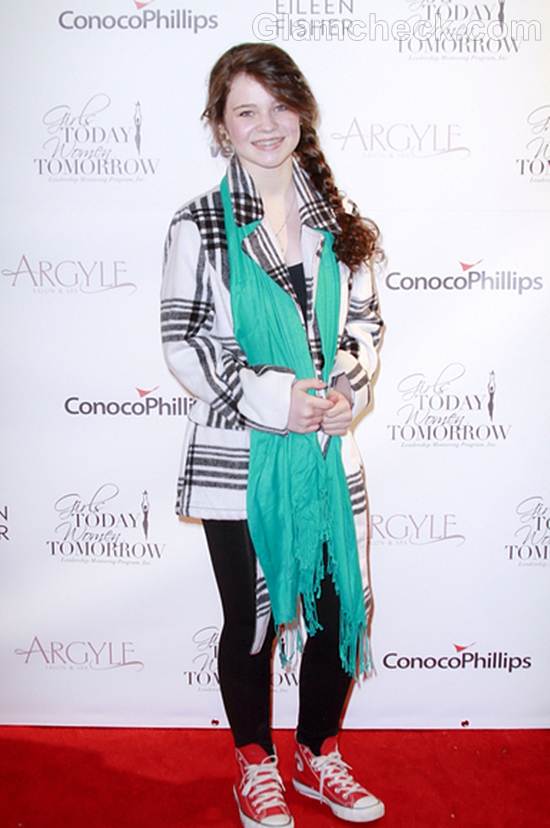 Young Alexanne's outfit was youthful and eclectic. A white and black checked jacket over leggings and red canvas shoes are a little muted and not exactly post-worthy. However, add that shamrock-green stole to the outfit and the burst of color elevates the outfit to a trendier status. P.S. – We love the cute side braid too.
Ali Landry
The premiere of the latest film adaptation of Snow White – "Mirror Mirror" – brought some big names to the screening in Los Angeles. Ali Landry stands out on the red carpet because of the contrasting colors of her casual ensemble.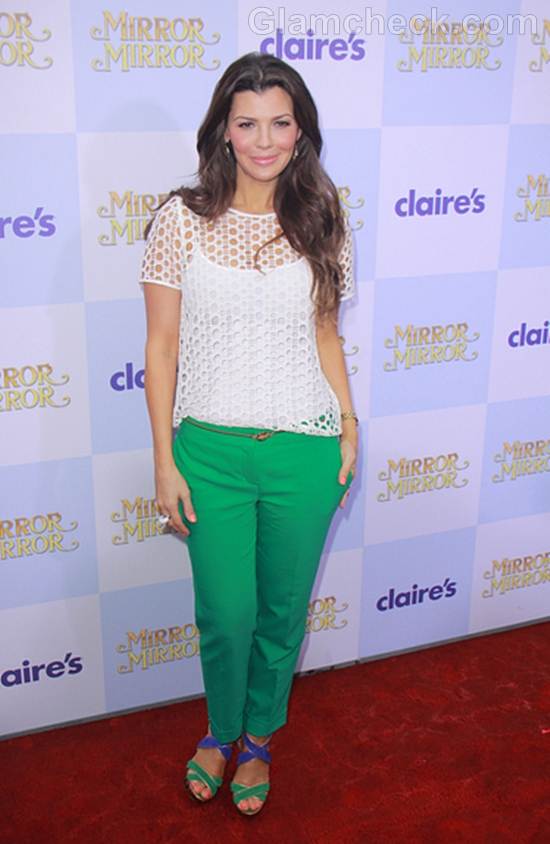 The model/actress went simple with a white tank top under a netted white top. She paired this with comfortable green pants and a gorgeous pair or green and blue strappy sandals. The pants were accessorized with an incredibly slim belt. We love the brunette beauty's relaxed hairstyle – wavy and brushed over one shoulder. Since the red carpet needs a little glamor, she wore a humongous diamond ring which could knock you out cold.
This is a comfortable and pretty but practical look which we recommend for a brunch or a day time event. A great selection for when you want to dress down but not lose your stylish edge.
Jacqueline Emerson
The style that Jacqueline Emerson adopted for the premiere of "The Hunger Games" would be considered minimalistic. We think it makes the redhead look foxy and give a wholehearted thumbs up to her green dress.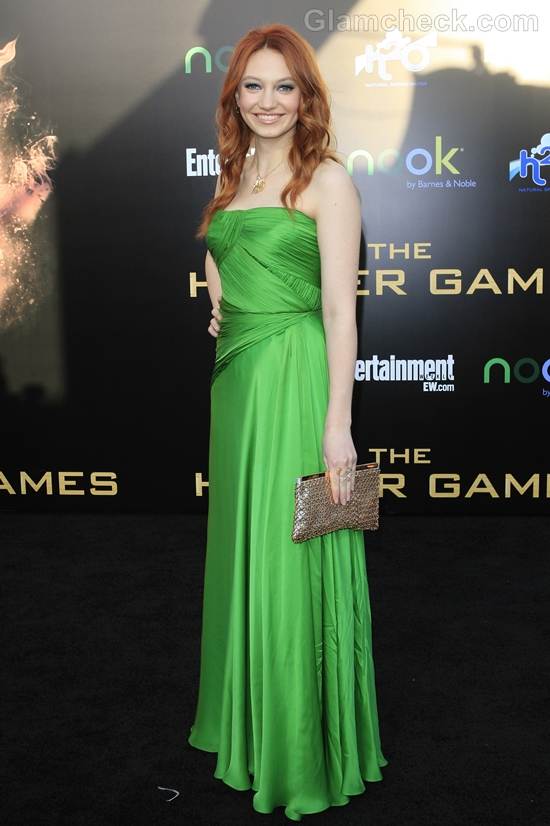 Off-shoulder and full-length, Jacqueline's green silk gown by Reem Acra makes her skin and hair radiant. The elegant outfit was accessorized with a sequined bronze clutch purse by Bulgari and a simple gold necklace by Van Cleef & Arpels. Her gorgeous locks were curled and left loose, forming the perfect frame for her fresh makeup – both courtesy of the talented Sophia Banks-Coloma.
Jackie was oozing glamor in her fab green gown as she blazed a trail on the red carpet thanks to this striking green hue.
Maggie Grace
Maggie Grace looked chic in the green frock she donned at the 9th Annual John Varvatos Stuart House Benefit on March 11.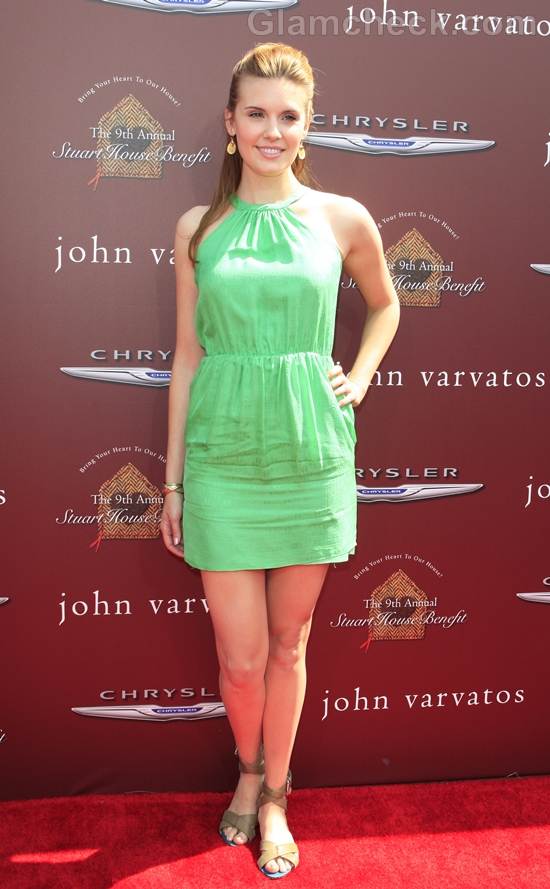 The short dress featured a halter neck and a slightly cinched waist. The 28-year-old actress accessorized her outfit with gold dangle earrings, a gold cuff bracelet and flat ankle-strap sandals in an earthy green shade. The redhead straightened her long hair and pinned them back away from her face. The lower half of her tresses were left loose and swept behind with a small portion of it combed overt shoulder so as not to appear too neat.
Marisa Coughlan
Vivacious Marisa Coughlan too attended the much-hyped premiere of "Mirror Mirror" in Los Angeles with her youngest child.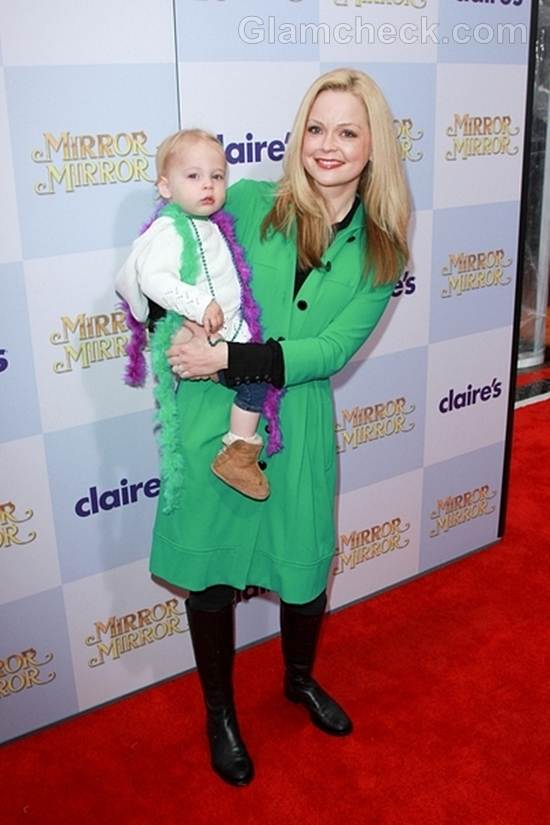 She chose to add green to her outfit with a knee-length green coat with large black buttons. We're not sure what she wore underneath the coat but that was all black too in addition to her black boots. A slash of strong red on her lips is beautifully offset by the green.
Even her baby is seen with hues of green in the ensemble in addition to a pair of really cool booties. Are we witness to a red-carpet fashionista in the making?
Marlo Hampton
Real Housewives star Marlo Hampton created a stir at the 6th Annual Fine Art Fashion Show presented by Neiman Marcus and National Black Arts Festival in a full-on couture lace and emerald green ball gown by Oscar de la Renta.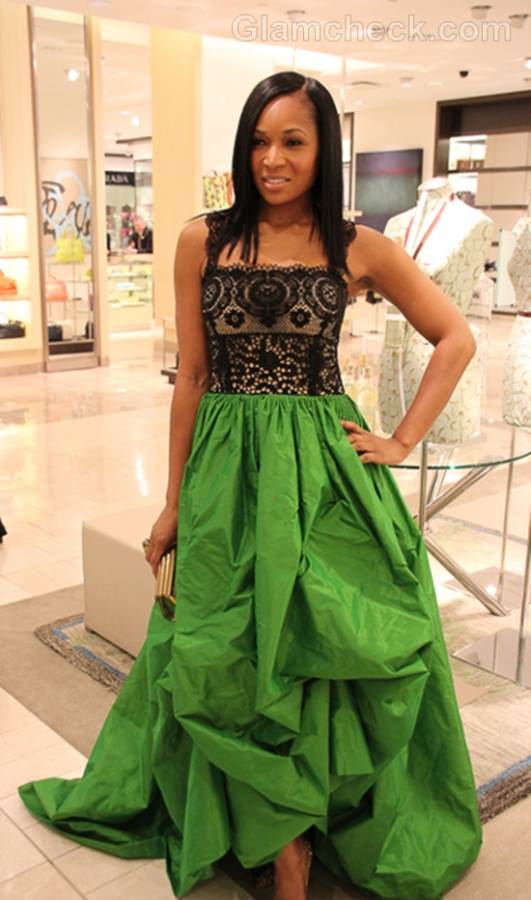 The taffeta dress featured a black lace bodice and a ruffled, floor-sweeping green skirt. Marlo let the gown do the talking by keeping her hair and accessories simple. Her black tresses were straightened and left loose with a side parting while a gold clutch purse and gold pointy heels added the glitter and glam – a must for any high-fashion event.
Nancy Dell'Olio
Italian businesswoman Nancy Dell'Olio wore a trendy dayglo green to the National Luxury and Lifestyle Awards 2012. She went over-the top with her accessories which were perfectly suited to the event she was attending.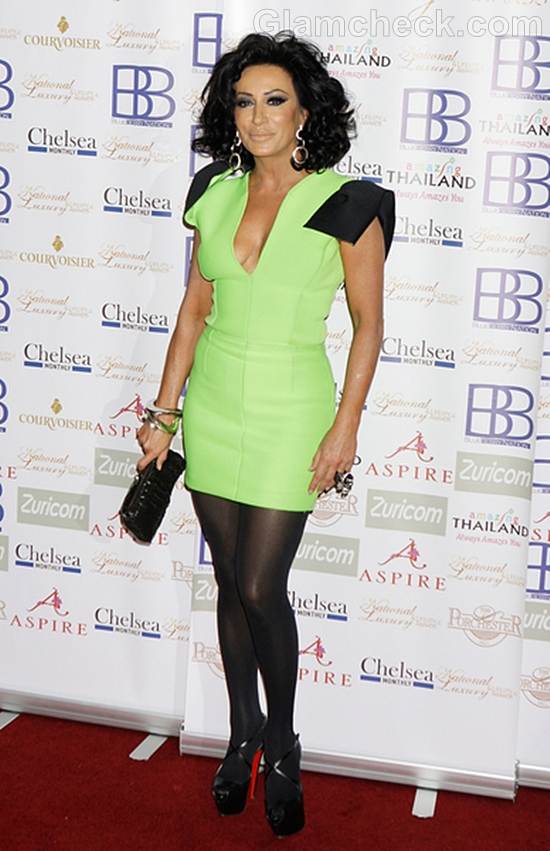 The body-hugging mini dress had a revealing neckline and black panels on the shoulders which were perhaps a little young for the 51-year-old. But she pulled it off with her carriage and undeniable confidence. Black stockings, black heels and a black clutch purse brought elegance while her huge ring, green and gold cuff bracelet and large dangle earrings were obviously intended to draw they eye and elicit envy. Dramatic makeup and a voluminous hairdo complete her ensemble. Nancy's has never played down her love for glamor and we applaud how she revels in this look. 
Phoebe Price
We can always count on Phoebe to be trendy. Even though she is partial to the Bohemian look, she still manages to blend the latests fashions into her look without compromising on her personal style.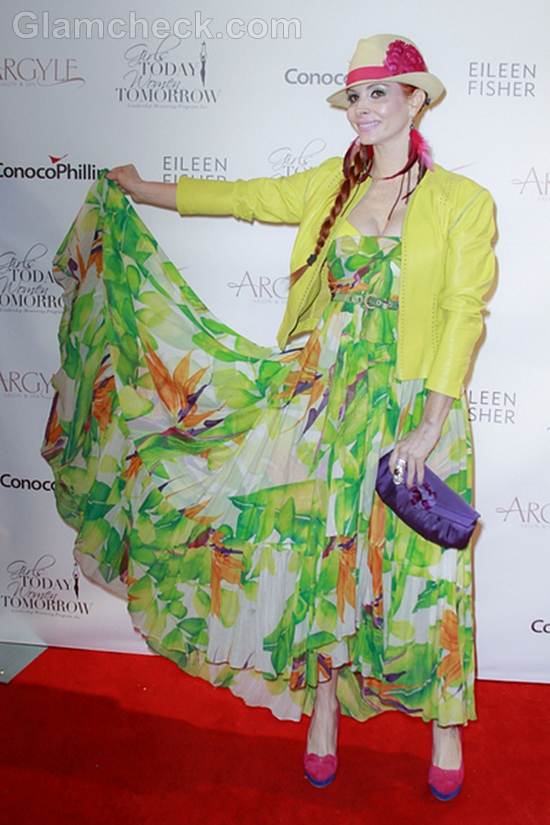 Check her out in this flowy, leaf-patterned dress that she wore to the 12th Annual Girls Today Women Tomorrow Leadership Mentoring Program Fashion Show. Although green is the dominant color here, it in no way overwhelms the outfit. It's a cooling, calming hue that reminds you of summer days. The flowy skirt is kinda dreamy as it sways with every step.
Phoebe loves color, as is apparent from the bright yellow jacket, her royal purple clutch purse and the pink and purple shoes. She tops her look off with a cool, off-white hat that has another pop of color – pink this time – in a ribboned band with a flower. Bursting with celebration, Phoebe's take on the green trend is perhaps the most joyful and life-affirming. She's a sight for sore eyes in this outfit and you can't help but smile at how she's obviously having so much fun with it.
So there you have it. Over half a dozen ways to wear green with pizazz. As you can see, it works well for casual, semi-formal and uber elegant outfits. You don't have to wait for St. Patrick's Day to sport this effusive hue either.
Image: P R Photos, Shutterstock