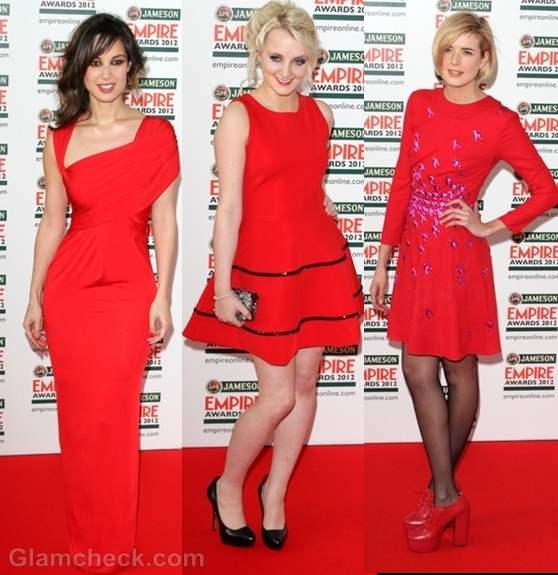 It was a night of the goddesses dressed in Red at the Empire Film Awards 2012 which was being held at Grosvenor House / London, UK. The bold and beautiful made it to the award ceremony in styles that were put together to create a massacre..     
The first one on our list is the "Bond Girl" Berenice Marlohe. The French actress will hit the screen in the latest bond franchise "Skyfall" opposite the very sexy Daniel Craig. She looked simply stupendous and defined that beauty can be achieved with minimum efforts.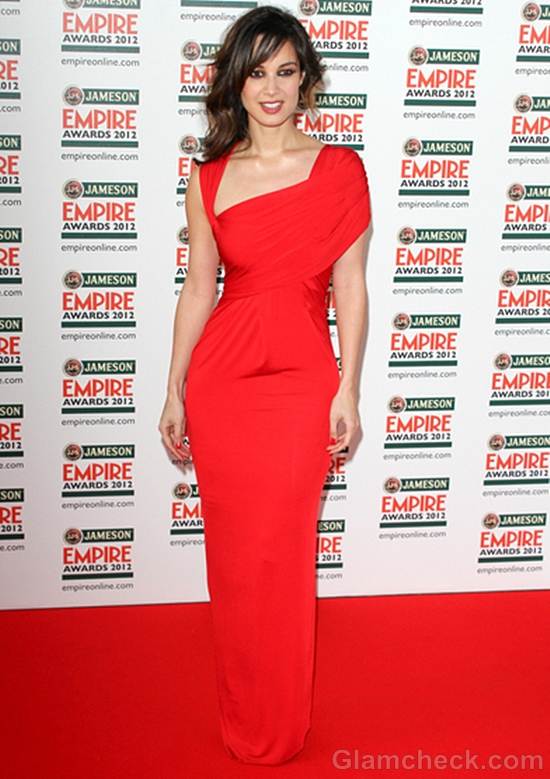 She wore a dramatic scarlet column gown by Donna Karen which had an asymmetric neckline and shoulder draping. She decided to skip on the accessories and we are definitely not complaining for this attempt because she looked absolutely gorgeous just with that gown. Her hair was swept sideways which had a messy touch to them. It only made her look like a Greek goddess coming directly from the heaven above. She continued the red theme with her nail color and that in a very minimalistic way completed the look.
The makeup was bare minimum with the emphasis on those striking eyes, a hint of blush and matt lip color. She definitely deserves to be one of the hottest bond girls and we are so waiting for her to dazzle us on screen.
Also seen at the event was Agyness Deyn who gave an appearance after quite a long while. The model/actress looked effortlessly chic in a red number by her designer bestie Henry Holland.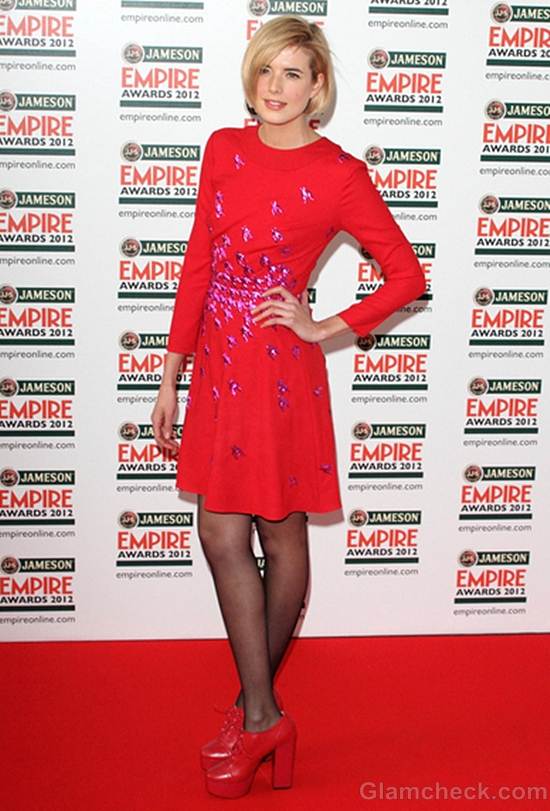 The house of Holland full sleeve dress had pink hounds tooth prints scattered over the dress. I have to admire her courage of picking up an ensemble which had the very offensive combination of red and pink. It's like the top deadly disastrous combinations one could ever pick up. But no people, Agyness is one helluva person who can carry anything with grace and be given full marks for it.
She paired the dress with red platform pumps as was shown on the runway with sheer black stockings. Agyness is known for her ever changing hair colors which was blonde this time. Her hair was neatly tucked behind her ear on one side and fell in a perfect outer curve on the other. Makeup was perfect with defined eyes and lips. She also decided to boycott the accessories and we definitely agree with that decision.
Next on our hot red list was Tiana Benjamin who set the red carpet on fire by wearing a fiery red dress.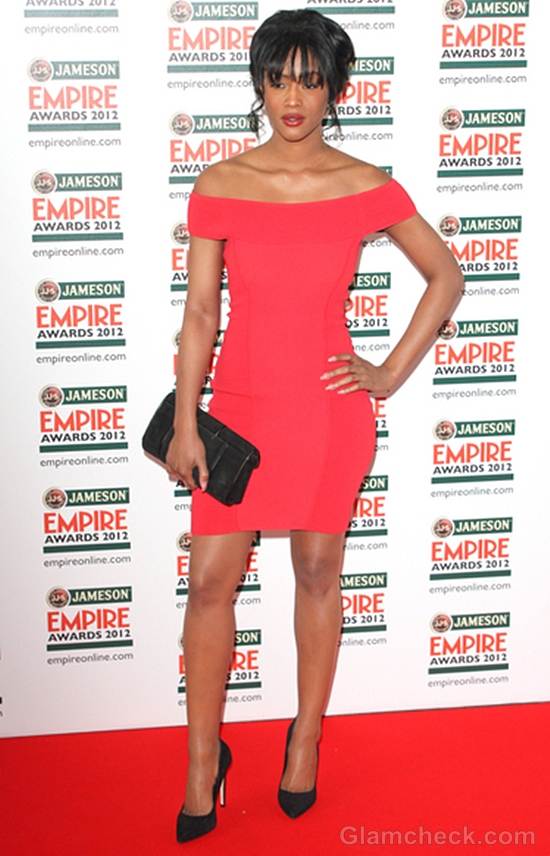 The East Enders actress chose to wear 80's inspired smoking hot off shoulder body – con cocktail dress which showed all her curves at the right places. The bare neckline definitely added the oomph factor and the color suited her perfectly.
She paired the dress with a pair of black pumps and a black clutch. The hair was tied up in a bun with strands curled up and left to fall over her face. The makeup was of a nude base with blush details, defined eyes and deep red mat lip color. She also followed into the league of the "No Accessory zone". The look was in sync with everything and nothing seemed to go out of place for her.
 Also spotted was the beautiful Michelle Ryan who was also successful in defining that simplicity will always be the beauty of a woman.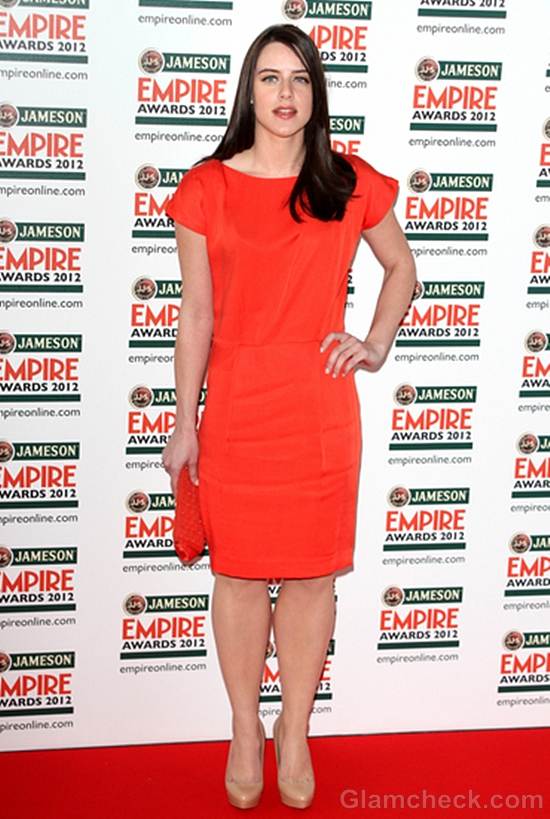 The Merlin actress picked up a simple shift dress by Carolina Herrera. The look was simple, defined and clean which only made it more appealing as you can concentrate in appreciating the plain and trouble free style.
She paired the dress with a pair of nude pumps and maintained a no accessory look. The makeup was as expected nude with definition on the eyes and lips. The hair was straight and sleek and fell perfectly on the shoulders.
Another one to join the red bandwagon was MyAnna Buring who will be reprising her role as "Tanya" in the second part of the Twilight – Breaking dawn franchise.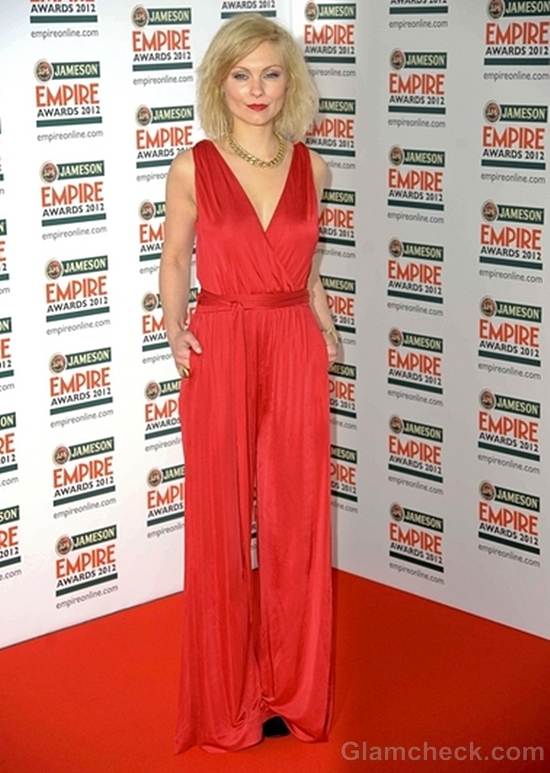 She picked up a classy jumpsuit by Carolina Herrera with a plunging neckline and an overlapping top. The fabric flow was absolutely stunning and she paired it up with a pair of black pumps. After a long list, she did accessorize herself with a gold chain neck piece and gold bracelet.
The only thing that disappointed me was her makeup and hair which gave her a look of a 50 year old rather than a 27 year old. She should have opted for a sleek and straight hair look rather than that old frizzy look which only kills the look. She could have definitely given her cheek bones some definition by applying some blush.
Over all she did not end up as a disaster but she could have looked way better if only she worked with her makeup and hair.
Lastly we have the young and very stylish Evanna Lynch who would be continuing with the Harry Potter's last series.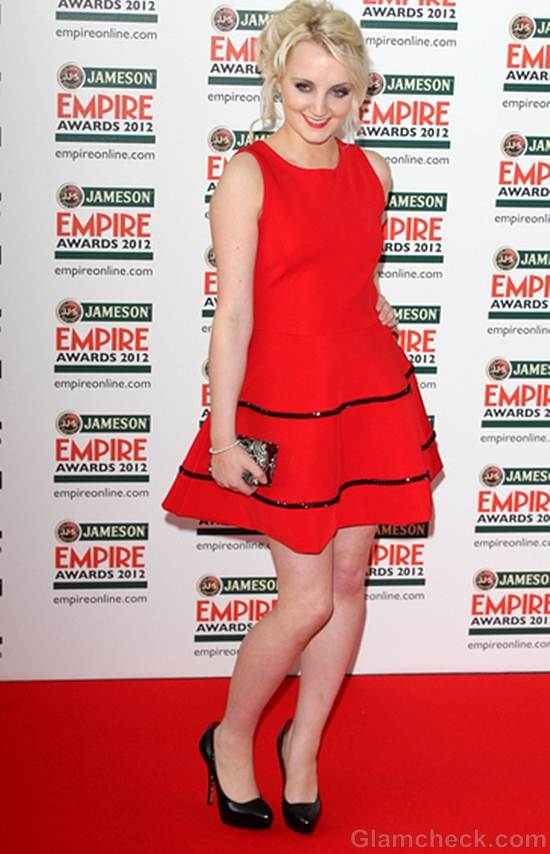 She looked cute in a sleeveless scarlet a line dress with black lines running over in the bottom half of the dress. The dress looked simple and elegant and managed to keep the virtue intact.
She paired it up with a pair of black pumps and sequined clutch. She accessorized herself with a bracelet and a ring. I absolutely loved the semi messy hair which was tied up into a bun and few strands allowed falling freely on her face.  The makeup was of a nude base once again with a hint of blush on the cheeks. The eyes and lips were well defined and completed the look with sheer perfection.
Image: P R Photos