Your hair is one of your most precious assets. A great hairstyle epitomizes your beauty. The main way of getting your hair to look awesome is by blow drying it. The unfortunate thing is that although almost everyone uses blow dryers, not a lot of people know how to blow dry properly. It's quite sad really because for want of a little specialized knowledge you damage your hair in the long run.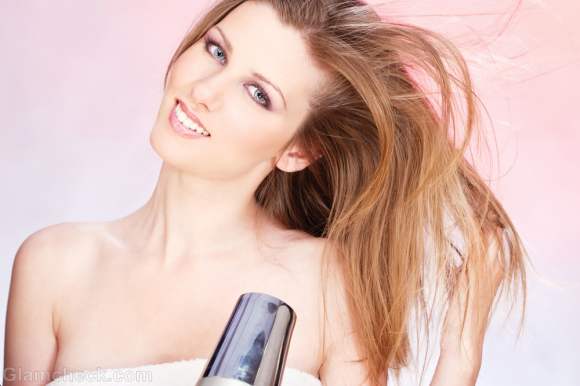 The good thing is that learning how to blow dry hair is actually quite easy. There are a few simple techniques you have to keep in mind and one or two trial runs are all it takes to get the hang of proper blow drying. Pretty soon, you'll be drying your hair like a pro. Take a little time now to learn some more about blow drying. The more you know, the better equipped you are to protect your hair.
How Blow Drying Works
When your hair is wet it is more pliable, which means that it is easier to tease it into shape at that point. Even if you do not blow dry your hair, you must have noticed that it will usually retain the shape of whatever you do with it when it is wet. For example, if you tie your hair into a braid when it it wet, it will remain wavy and have the crimps from the braiding once it has dried and you leave your hair loose. However, it will not retain the exact shape for more than a few hours unless you use some hair product to set it into place or if you blow dry it.
While hair styling products use chemicals to retain the shape, blow drying uses a much simpler principle to do the job – heat.
The heat of the blow dryer and the moisture from your wet hair cause changes in the structure of your hair. So when you blow dry wet hair, you are quite literally changing the shape of the bonds on the outer layer of your hair which is known as the cortex.
The cortex contains bonds of hydrogen which break down easily with heat and moisture. When you blow dry wet hair, any combing, brushing or teasing with fingers that you do causes the bonds to stretch and break. As the heat is applied with the blow dryer, the moisture is removed from your hair and it re-forms into whatever shape you are trying to get it to be.
Hydrogen bonds are very vulnerable though. So if your hair is exposed to either heat or moisture again they will break down and the shape will give way. Even regular moisture from humid air can be absorbed by hair and ruin the style. But don't worry, this is where those hair sprays come in handy.
Advantages of Blow Drying Hair
You can style your hair in any way you like. Straighten it, curl or create a wind-blown or just-out-of-bed look. Blow drying your hair allows you to create styles that may not be possible with your regular hair type.
If you have thin, lanky hair, blow drying can help to add incredible volume. If you have very thick hair, blow drying can help to make it look more sleek. Curly, unruly hair can be made more manageable with blow drying.
Your hair style is crucial to your overall look and the success of your ensemble. Blow drying hair helps give your look a good finish.
We all know that looking good can boost your confidence hundredfold. When you have more confidence, you are more assertive and more productive. You feel good about yourself and who you are and that alone works wonders in making life better.
Disadvantages of Blow Drying Hair Too Often
Blow drying hair dries out your tresses and your scalp which weakens follicles and hair. This means that your hair is more prone to damage if you blow dry than if you don't.
Split ends are often caused by improper blow drying techniques.
Tips to Blow Dry Hair Properly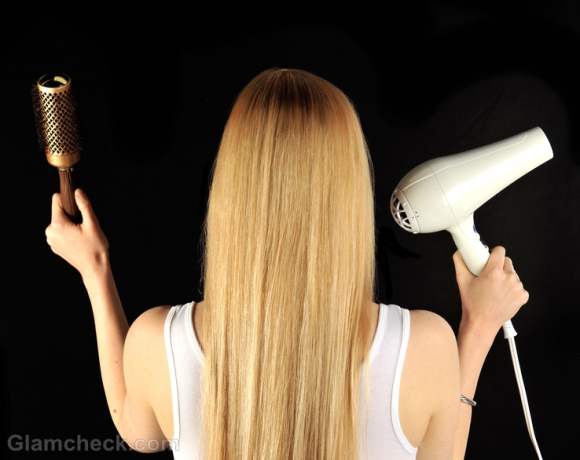 First shampoo and condition your hair. Dirty hair will make your blow dried look appear greasy within a few hours. Shampooing is especially important if you want your blow dried look to last for more than 24 hours. Try to find a moisturizing shampoo instead of the regular kind. Remember that blow drying actually does strip your scalp of its natural oils and dry out your hair. So the key is to start protecting it before you actually do any blow drying. Moisturizing shampoo will, as the name suggests, provide your hair with extra moisture to counteract the ill-effects of blow drying.
Towel dry your hair. If your hair is wet, it will take much longer to blow dry it. We want to speed things up not make more work for ourselves. However, do not let your enthusiasm run away with you. There is no need for vigorous rubbing as this will cause split ends and frizziness. Just press the towel onto sections of your hair to get rid of the drippiness. You can also wrap the towel around your head and squeeze so that the towel absorbs the moisture. Or just leave it there for about ten minutes and the towel will do all the work for you.
Untangle knots with a wide-toothed comb or even with your fingers if your hair is short and manageable.
Next, apply the styling gel or mousse of your choosing. Styling gels, lotions, sprays and mousses create a protective coating on the hair which prevents moisture and heat in the atmosphere from being absorbed and thus breaking the bonds again. So you hair will stay in shape longer if you use one of these styling products plus it will give your hair a salon-like finish. The products you use at this point will make all the difference in the success (or downfall) of your blow drying attempts. Make sure that you put in enough time and effort in finding the products that are right for your hair type and which will get you exactly what you are looking for. This is not an idealistic notion as there are quite literally thousands of hair styling products out there which cater to absolutely every hairstyle requirement. So look around till you find yours.
Now use a comb, brush or your fingers to shape your hair into the rough look you want. This gives you something of a draft to work with.
It is easier to blow dry the hair in sections. So your next task is to create clean sections in your hair which are easy for you to blow dry separately. You can use small hair clips to hold each section in place while you blow dry the others. This way, once you are done with one section there is another one ready to be blow dried and the hair that is not being blow dried stays out of the way until you are ready for it.
Start blow drying from the bottom half of your hair and move towards the crown. 
Position the blow dryer about six inches away from hair at all times so that your tresses do not burn with the intense heat at closer range.
Another thing to remember while blow drying hair is to blow dry in a downwards motion. Blow drying upwards causes a lot of damage to hair.
Do not blow dry in the same spot for too long as again there is a chance of damage due to heat. Keep moving the blow dryer around. However, do not wave it or jerk it around. Smooth movements along the part you are brushing are all that is required.
A newbie blow drying mistake is to dry the hair fully till every last bit of dampness is gone. What this does is dry out your hair completely thus making it more vulnerable to damage. Instead, leave your hair a little damp. This will allow your hair to absorb the remaining moisture and make it soft. It will also help it better recover from the blast of hot air of the blow dryer.
Blow dry each section separately while running your hair through either with a brush, comb or your fingers if you want a more relaxed look. Do not move on to the next section till the one you are blow drying is properly dry.
Finally, switch your blow dryer to a cold setting and blow the cold air on your hair for the final few seconds. What this does is to lock in the shine. Remember – heat to shape your hair, cold to lock it in.
You can then gently apply an anti-frizz hair serum or hair moisturizer to give your hairdo a proper finish.
Techniques & Precautions for Blow Drying Hair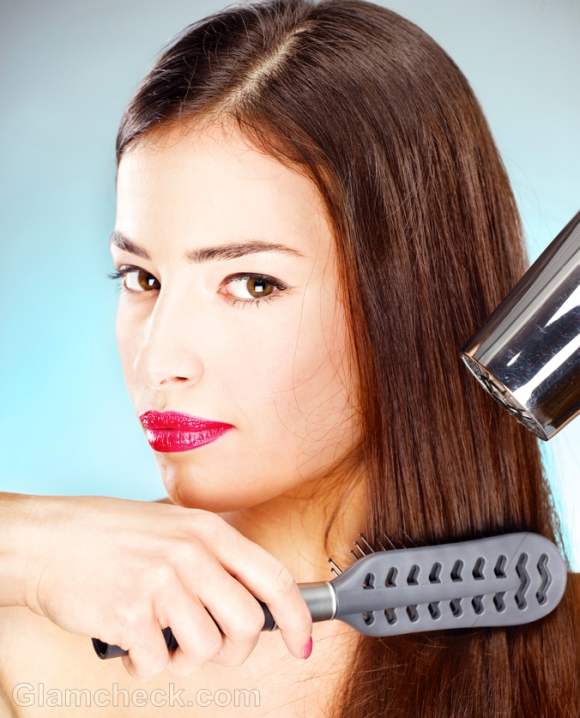 Your motions with the blow dryer must be simultaneous with the movement of your brush. The dryer must move over the section you are brushing if you want to set your hair to perfection. This is a skill that you will take time to develop so don't worry if you don't get it right the first time around.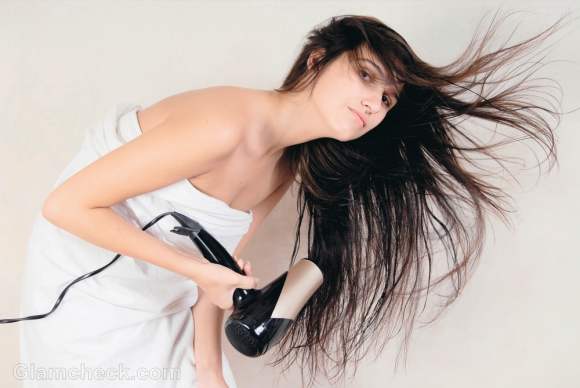 Flip your hair upside down and blow dry for volume and softness. Remember to blow dry in a downward motion.
For that extra lift to add even more volume, put a couple of large curlers in the hair at the crown while your locks are still warm, apply hair spray and blow dry for a few minutes. Finish with a blast of cold air. This process gives the hairstyle a sort of bouffant-esque lift on the front.
Do not use a comb while blow drying hair. Use a brush which has soft bristles. This will actually make your hair softer too.
To get better results with your blow drying, use a rounded brush which has a metal center. The rounded brush will allow you a greater range of movement while styling your hair and the metal center, which will get hot with the heat of the blow dryer, will contribute further to setting your hair more proficiently. For smaller curls, use a smaller-sized rounded brush while a bigger brush will give you larger, more relaxed curls.
The rounded brush is recommended for when you want to give you hair curls, waves or other bendy looks. For straight hair, a paddle brush is best.
Have a stubborn fringe that juts out and makes you look like an unruly schoolgirl? The secret to getting the perfect fringe is to blow dry in the direction opposite to the one you want it to set in.
Remember that achieving salon-like results is a time-consuming process. Your best bet at success is to take the whole thing slow. Deal with each divided section individually and do not move on to the next until you are completely satisfied with the one you are working on. It is this attention to detail that will get you the salon-fresh style.
If the heat of the blow dryer is too strong, you will feel a burning sensation on your scalp and even your hair will get too hot to handle. If this occurs, stop at once. When your hair has cooled down sufficiently so you are comfortable, resume blow drying at a lower heat setting.
Blow drying for long periods of time is known to cause headaches. If you get a headache while you are blow drying, it means that you have been doing it for too long and it's time to stop. If you have particularly long or voluminous hair or if your hairstyle is complicated and requires longer periods of blow drying, break the session into sections of an hour and a half each. Take a break in between to allow your body and hair to acclimate.
Don't blow dry in the bathroom near a bath tub or a sink full of water. You could get electrocuted in the event of an accident and it could be fatal.
Most blow dryers nowadays have multiple heat settings. If yours doesn't, perhaps it's time to welcome yourself into the 21st century with a new one that does. Stick to a medium heat setting to prevent the blow dryer from over-heating.
Post blow-drying, use a comb to groom your hair rather than a brush. This is gentler and does a better job of maintaining your blow-dried look. Brushing can be vigorous, thus creating heat and breaking the bonds again, which in turn ruins your set look.
How Often to Blow Dry Hair
There's no doubt that blow drying makes your hair look fabulous. However, the process is not entirely kind to your hair and you thus have to limit your blow drying sessions if you want to maintain the health of your hair.
It is recommended that you blow dry only three times a week. This too only if it is absolutely necessary. The more you let your hair air dry, the softer and healthier it will be. For example, don't blow dry on the weekend when you have a few hours at home and can thus allow your hair to just be after a shampoo.
In case you do have to blow dry hair on a regular basis, i.e. three times a week or more, then ensure that each blow drying sessions lasts no longer than an hour and a half.
If you blow dry responsibly, there is no reason that your hair will be damaged over time. Just follow the tips in this article and learn how to blow dry hair properly now so that your tresses can benefit in the long run.
Image: Shutterstock