Actress Kristen Stewart has a unique red carpet style. It's not that she wears outfits that are any more dramatic than other celebs, it's more that she brings her down-to-earth personality and her fairy-like impishness to the fore which in turn contributes a certain inexplicable element to her ensemble. You'll see what we mean as we take a closer look at the exquisite creation she donned to the world premiere of "Snow White and the Huntsman" which was screened at the Empire Cinema in Leicester Square, London on May 14.
What she wore:
Other-worldly Marchesa gown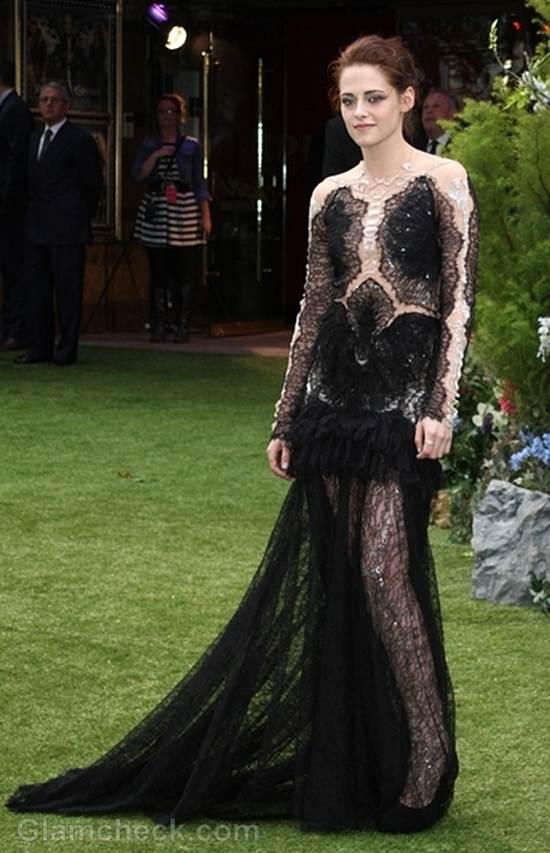 The Twilight star looked like a character from The Lord of the Rings. All the fantasy movies these days seem to be inspiring the designers a lot too. Kristen wore a lace gown from Marchesa's Fall 2012 collection. The upper part of the dress was actually a full-sleeved bodysuit which was embroidered with black and silver lace in such a way that it created the illusion of a skeleton.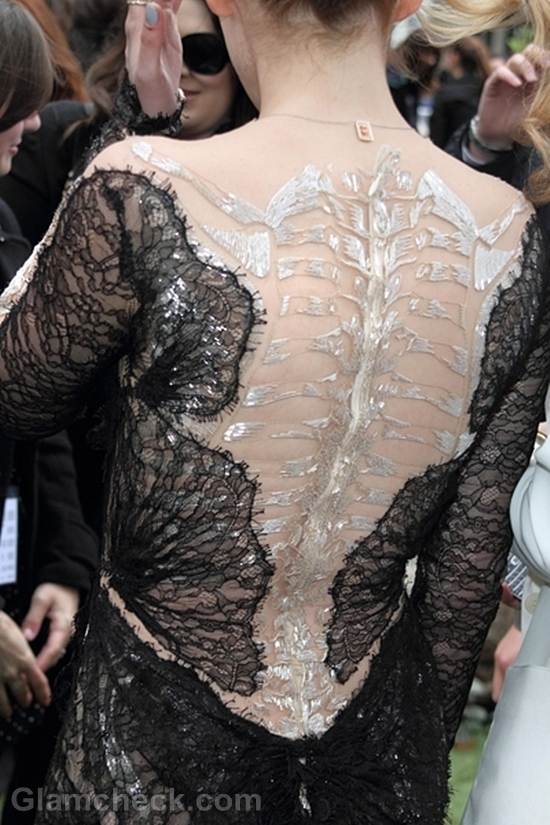 The skirt of the dress was sheer lace, blazing out into a train that gave her the look of a gothic bride. A perfect choice for this premiere.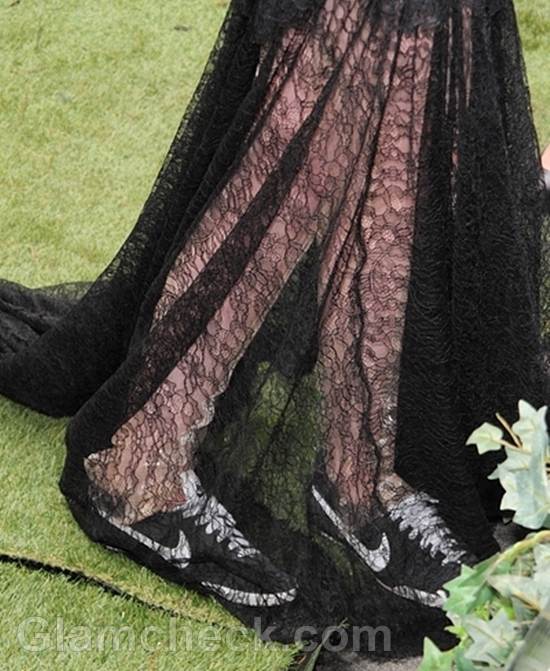 Now although she wore a pair of gorgeous black pumps from Jimmy Choos' Eros line, Kristen being Kristen decided once the photo shoots were done that she wanted to get a little more comfortable. So she ditched the high heels in favor of Nike sneakers.
She accessorized the outfit very simply with a few rings by Kara Ackerman Designs.
Hair & Makeup:
Bun, natural makeup, dark eye liner
Kristen adopted the less-is-more principle for her hair and makeup. Her brown hair was casually pulled back into a dainty little bun hanging low on the back of her head, intertwined with gold accents. Her makeup was just as minimalist with only black eye liner to accentuate the peepers and a touch of pink on her lips to deepen the color to just a shade above their natural hue.
From top to toe, this is classic Kristen – elegant, confident, slightly edgy, beautiful and still just the girl next door at heart.
Image: P R Photos