TV presenter Noell Reno went with a timeless color as she attended Omega House's "Brazil Night" party at the House of St. Barnabas-In-Soho, London on August 10.
What she wore:
White skirt and blouse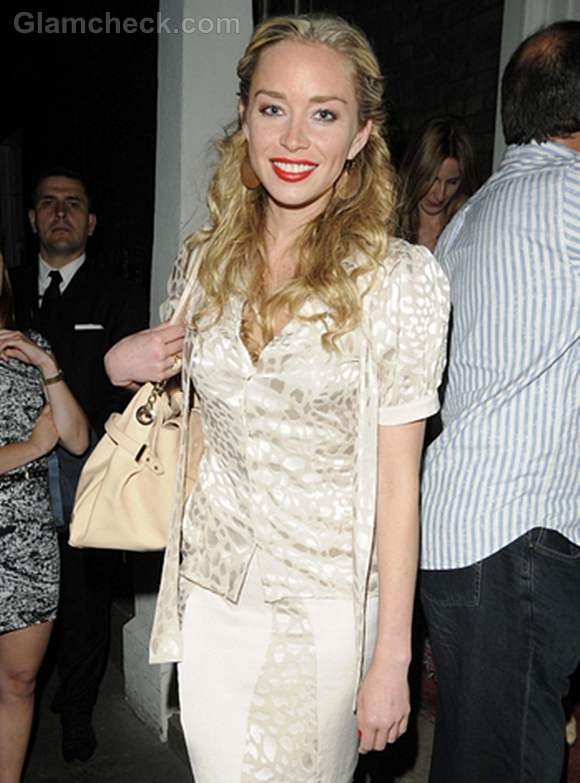 The lithe beauty slipped into a white skirt with floral-print panelling on the front, pairing it with a slightly-poufy-sleeved blouse made entirely of that same printed fabric on the panelling. She accessorized her outfit with strappy orange sandals, a cream handbag, and a pair of interesting dangle earrings made of translucent material.
Hair and Makeup:
Curly hair; coral lips
Noelle left her blonde hair curly and natural-looking, holding a portion of it back but leaving the majority of it loose. She completed her look with a swipe of mascara, invisible-ish blush, and a bright coral lippie.
Get the Look
Coral lipsticks are really hot these days, but you should make sure the rest of your makeup complements it. Although it looks great on Noelle, the fact that her cheeks look a little too pale makes the bold coral draw more attention to the color deficit on her cheeks than to the arresting quality of her lips. There's a fashion lesson to be learned here – don't expect a bold or statement piece of your ensemble to completely overshadow a faux pas somewhere else in your ensemble. Usually, the good will just highlight the bad.
Image: P R Photos