Ever wondered how the Newtonian law of gravitation can apply to your skin! The appearance of those first lines and folds on your skin which later on can develop into a hung and saggy skin, is enough to make you experience this law. What exactly happens to the skin and how to make sure that your skin is one of the objects of envy; read on….
When skin hangs down due to gravity causing droopiness, wrinkles and bands to appear on the skin surface, it is known commonly as, 'Sagging Skin'. You can understand it as an excess skin and an analogy can be made to a dress that has become too large to wear for the one who has lost his weight recently. Sagging skin is one the most non appreciable facts of people's lives. To deal effectively with the problem, there is a need to first accurately identify the cause behind it and then identify the sagging skin prevention measures followed by a look at the sagging skin remedies to be adopted.
The most common reason for the appearance of sagging skin is ageing. The second factor is instant weight loss as loosing large amounts of weight over a small period of time can result in a sagging skin. Exposure to the sun is another cause for the skin to sag early and last but not the least, poor muscle tone can also lead to a sagged skin.
Sagging Skin Prevention Measures: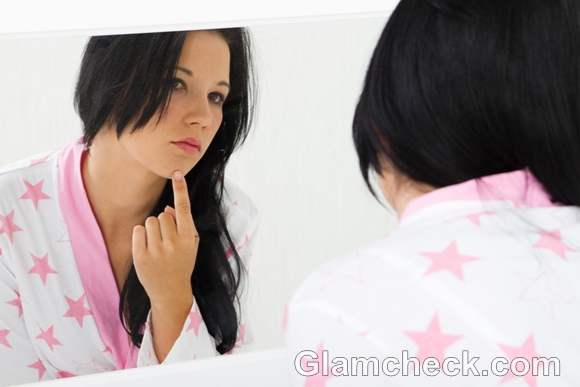 The best preventive measure against a saggy skin is that you adopt a proactive approach towards skin care and make sure that you include the following simple steps to keep your skin safe from the early inception of it. Here are these tips:
Physical Activity:
Building the muscle under your skin can help prevent sagging. In some cases where the skin shows early traces of a sagged skin, this sagging prevention activity reduces sagging to a degree where it isn't visible enough. But physical activity doesn't suffice enough to prevent a sagging skin. To improve the look of your skin, it is recommended to undergo small weight and exercise trainings. If you take the muscle as a target for preventing a sagging skin, it is more effective as muscle unlike fat helps hold the skin shape better. Start out on such a program that works on your overall muscle mass and try to focus on building longer and leaner muscles.
Proper Hydration:
Water is the source of life on earth and in case you are looking for utility of water in preventing the occurrence of sagging skin, it doesn't disappoint you. It is recommended that you drink at least 8-9 glasses of water each day as water is skin's best friend. It acts as a natural purification system by flushing out the toxins and those waste products whose accumulation might lead to a saggy skin. So drink lots of water if you want to prevent early sagging.
Using a Moisturizer:
Moisturizer is a good choice, if you want your skin to look younger for an extended period of time. Apply a moisturizer preferably containing vitamin A, vitamin E, vitamin C or hydroxyl acid on your face and arms at least three times a day to help reduce the visibility of sagging skin marks on your face.
Protection from Sun:
A high exposure to suns rays causes a premature sag in the skin and leads to the appearance of wrinkles. If you are planning to move out for longer than an hour, it is advisable to apply a sunscreen lotion with an SPF of more than 15 points or more on your face, hands, feet and arms.
Sensible Diet:
Make sure that your diet has low quantities of processed sugar as it assists in skin breakdown. Instead have a diet full of fruits and vegetables and include nutrients like zinc, amino acids in your diet on a regular basis as both help in the formation of a strong collagen. (which helps prevent sagging)
Evening Care:
This sagging skin care prevention tip is for those ladies who go to bed with heavy make up on their faces as make up blocks the pores on the skin. As soon as you return home in the evening, it is advised that you wash your face with a cleanser to remove the make up and dirt of the day, but be gentle on your face rather than rubbing or scrapping your skin in the process.
Body Care:
There is a tendency in people that they over-cleanse their bodies. It is recommended that you give more of your attention to those sweat areas of your body and after you finish up with your shower moisturize the body with aloe, cocoa butter and shea butter.
Stop Smoking:
It is advised that you avoid smoking at any cost, if you smoke occasionally and for chain smokers, it is highly recommended that they adopt concrete measures in a phased manner to get rid of the addiction permanently. Smoking plays a more direct role in making sure that the ageing signs appear earlier on your face and any of the above 'sagging skin prevention measures' is bound to give no results if you continue smoking a cigarette.
Sagging Skin Remedies
A sagging skin problem doesn't have to be permanent; there are various treatments available to deal with the problem. Following is the list of the most popular ones:
Laser Surfacing:

For many dermatological problems, laser surfacing is a successful treatment. In this technique, skin is heated to restructure the damaged collagen, which in turn tightens the skin and reduces wrinkles. Although this sagging skin remedy might take more than two visits to your doctor, it carries the advantage of a shorter recovery time.
Replacing Lost Collagen: In this treatment, the lost collagen is replaced to fill out the    skin. Collagen, fat cells and other fillers are injected beneath the skin to tighten it. Depending on the type of filler that is used, the treatment may take a few months to a few years for the result to show up.
Cosmetics: There are some cosmetic products like Retinol products, Collagen products which are very useful as a remedy for a sagging sin. These products are available as lotions or as a serum helping the skin to spring back to its original shape. While retinol products are recommended for use over the face, collagen products are advised for the body. Make sure that you apply such products two or three times a day.
Facial Peels: With the help of a dermatologist or a plastic surgeon, facial peels are a good remedy against the sagging skin. These peels are of different levels with the deeper ones producing more dramatic results but  requiring a lot of down time in the process.
Face Lift: It is a surgical procedure to treat the area around your mouth, eyes and jaw. The technique is to tighten up the skin surgically by removing the excess skin around these areas. The results may last for several years with mild side effects like swelling, tenderness, bruising for the first few weeks after the surgery.
Facial Exercise: This sagging skin remedy can produce face-lift like effects without a surgical operation. Blood flow is improved when movements are specifically undertaken for some muscles which results in the production of new Elastin and Collagen.
By following the above suggestions you will certainly win one front of your battle against the sagging skin as you incorporate a healthy regime to prolong its signs. Measures to prevent sagging skin are much easier to follow and implement than the remedies hence one needs to start working on them straightway.
Image: